CMA Dishmachines Commercial Dishwashers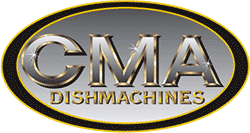 Cleanliness and cleaning standards should never be taken for granted. That's why at GoFoodservice, we know that your reputation is your lifeblood. We also know that your reputation will be negatively hampered if you don't have access to secure & safe CMA dish cleaning equipment and appliances needed to keep your dishes looking great and up to code. This naturally has a major impact on business, and it's why we are proud to work with CMA dishwashers to help you get around this problem as soon as is possible.
CMA Dishwashers are recognized as a leading brand in the cleaning industry, having been in operation since the 1970s. CMA Dishmachine's longevity and commitment to quality cleanliness means we are proud to always offer out the latest and greatest tools from CMA. They have many useful options, from standard CMA dishwashing equipment to tools like CMA conveyor dishwashers and CMA single-rack dishwashers. This makes the CMA dishwasher a fine choice for any business. We also have some excellent supplementary tools for you to use, including CMA booster heaters. These booster heaters will help you to make sure that the standard of cleaning is right. If you are having any problems with a dishwasher, then we recommend that you take a look at our extensive CMA dishmachine parts list too.
Keep dish cleaning standards higher with CMA Dishwashers
With our CMA Dishmachine solutions, you can easily find some very easy to work with CMA dishwasher parts. These CMA parts will make sure that you can get your dishwasher hardware running safely and easily, all while making sure that you can continue to maintain those high standards you are so renowned for.
It's also these reasons mentioned above that form a large part of the reasoning why so many are happy to take part in using the CMA dishwashers that we have at GoFoodservice. If you are unsure about what is the best CMA dish washer for your budget, then let us know and we can help you to make the right choice as soon as is possible. If you don't want to find yourself in a spot of bother due to poor cleaning standards, invest in a new CMA dishwasher with GoFoodservice.
CMA Dishmachines Best Sellers
CMA Dishmachines UC50e
30 Rack/Hr High Temperature Undercounter Dishwasher w/ Drain & Chemical Pump
$4,716.00 /ea
Free Shipping
CMA Dishmachines UC65E
30 Rack/Hr High Temperature Undercounter Dishwasher w/ Drain & Chemical Pump
$4,966.00 /ea
Free Shipping

CMA Dishmachines E-C
40 Rack/Hr Door Type Dishwasher, Low Temperature Chemical Sanitizing, Single Rack
$4,630.00 /ea
Free Shipping

CMA Dishmachines EST-AH Ext
40 Rack/Hr Door Type Dishwasher, Low Temperature Chemical Sanitizing, Single Rack
$4,928.00 /ea
Free Shipping
CMA Dishmachines CMA-180-VL
40 Rack/Hr, Ventless 3 Door Dishwasher, High Temperature Sanitizing, Single Rack
$13,246.00 /ea
Free Shipping
CMA Dishmachines Categories