Restaurant Guide - New Commercial Kitchen Equipment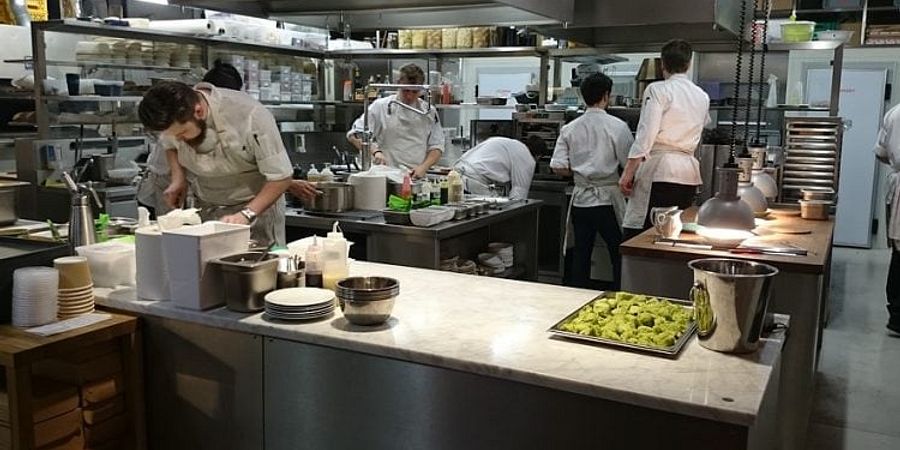 You have your new restaurant location, you have your "theme" and you have your menu, but this is only the beginning. In order to ensure a smooth transition from "dreamer" to "business owner", we have compiled the following restaurant guide to provide a few pointers to get you started with furnishing your new commercial kitchen equipment.
Location is everything when it comes to operating a successful business.  A good location serves no purpose for your restaurant if your building and kitchen aren't suitable for providing top-notch quality service to your customers.  If the kitchen is the "heart of the home", then a commercial kitchen is the entire central nervous system of your new restaurant!  Nothing is more important in a kitchen than having the right equipment since even the top employees cannot perform to the best of their abilities with subpar equipment.
Create and Stick To Your Budget
Purchasing commercial restaurant equipment can be rather costly. When you are planning your kitchen, it's important to set a budget for your equipment and to STICK TO IT!
Finding a balance between quality and optimal pricing is key. A higher price does not necessarily mean higher "quality". Restaurant kitchens need equipment that will produce better quality food as well as work more efficiently leading to utility savings and will last a long time with proper maintenance - not to mention equipment warranties vary from manufacturer to manufacturer.
Prioritize your equipment budget based on the items that are most essential for your business (e.g. a BBQ restaurant that serves their customers food on paper plates with disposable utensils will find more value in cooking equipment versus a top of the line ware washer), determine which pieces of equipment are most important and make them your top priority.
Measure, Measure, Measure!
If you take away one bit of information from our restaurant guide - please take notes NOW! Bargain hunting for "used" equipment may seem practical for your new restaurant, but before you jump on what appears to be a good deal you must make sure the equipment is a good fit for the layout of your kitchen. Workflow is a critical element in commercial kitchen design and must be taken into consideration along with expected menu items, production expectations, and line requirements prior to purchasing equipment. For optimum workflow and production efficiency, each piece must be measured, sized, and installed correctly in the best location possible in your kitchen.
What about electricity and outlet availability in your kitchen?  Do not overlook the electrical requirements for your new appliances. It is extremely unsafe to hook up an appliance to an outlet that does not match the equipment's voltage requirements!  If you are unsure of these requirements, for the safety of your restaurant and your customers, contact a certified electrician in your area.
Can I Safely Move My New Commercial Kitchen Equipment Into The Building?
This may seem like a ridiculous question, but many new commercial kitchen equipment buyers have been forced to refuse deliveries for this very reason. Before you order a single piece of equipment for your new restaurant you must ensure the access points of your kitchen can accommodate the dimensions (width, height, depth, etc.) of the unit you wish to purchase. You will also need to measure hallways, tight turns/corners, or other constricting spaces you might have to navigate for clearance.
Now that you have measured and you confirmed you have space for the equipment you want to order - ask yourself, "How can I get these heavy pieces of equipment from "Point A" (i.e. the delivery truck) to "Point B" (i.e. your kitchen)?  Do you have access to a forklift to get the equipment off of the delivery truck?  Do you have access to a dolly to move the equipment and set it in place?
These questions seem trivial until you're standing in your parking lot looking at the fancy new commercial kitchen equipment that should be inside your restaurant. Again, if you buy "used" equipment you may be left figuring this out on your own. However, if you purchase new equipment from an authorized dealer - such as in the US, our team of Customer Service Experts can talk you through your needs and customize a solution for your specific situation.
DO NOT Buy Residential Equipment for Your Restaurant - ALWAYS Buy Commercial-Grade!
While residential equipment may appear to be a better bargain, price-wise, it is not rated to keep up with the daily demands of a commercial restaurant or kitchen. We would be doing you a disservice with our restaurant guide if we failed to mention the following. You may save money on your initial purchase of residential equipment, but misuse of residential appliances in a commercial setting will void the manufacturer's warranty. Once your warranty is void you will be responsible for any repair costs and if you are using residential equipment in your commercial kitchen, it isn't a matter of "IF" your equipment will break down, it's a question of WHEN.
Also, do your research! Depending on your local health codes, if your kitchen equipment is not NSF approved or UL Sanitation certified you run the risk of paying fines or failing your health inspection until your equipment meets proper regulations. When equipment is certified it ensures that the equipment falls under the guidelines of one of the most respected organizations in the foodservice industry to ensure it meets food safety standards. A failing health score can be detrimental to your new restaurant. You do not want to risk losing customers and their business simply because you wanted to save a few dollars. Certifications are listed on the "spec sheet" of your equipment
Can't afford it? FINANCE IT!
Before you say, "I can't afford brand new commercial kitchen equipment for my new restaurant…" you need to consider the fact that new Energy Star qualified appliances can use 40% LESS energy than conventional models sold in 2001!  When you purchase an Energy Star Certified piece of equipment you become eligible for a Federal tax credit of 30% and possible rebates from your local energy provider in addition to monthly utility savings!  When combining utility savings with the additional credits and rebates available to you, upgrading to an Energy Star appliance will pay for itself multiple times over the life of your equipment.
Many new businesses suffer from a lack of "cash flow" that seemingly makes significantly large purchases, like commercial kitchen equipment, nearly impossible. There are many opportunities available to you even if you have bad credit or no money available to open your new restaurant such as grants or zero/low-interest Government Small Business Loans.
If your financial resources are still limited, feel free to contact us or checkout our GoFoodservice Finance Page for more info.
Comments
CFS, thank you for your blog post. Really thank you! Awesome.

Thanks for stopping by and for the positive feedback!

Thanks for explaining how Energy Star qualified appliances can save you a lot of energy. My brother is looking to start up a restaurant and is trying to figure out how he wants to lay out his kitchen. I'll be sure to let him know about the advantages of financing quality appliances.

Great post. It is very informative. Thank you for the sharing. Keep more like this.

I appreciate. This is an amazing restaurant guide for Commercial kitchen equipment. This blog very helpful for everyone. Thank you for, sharing with us.
Share This!