Everything You'll Need to Start Your Own Food Truck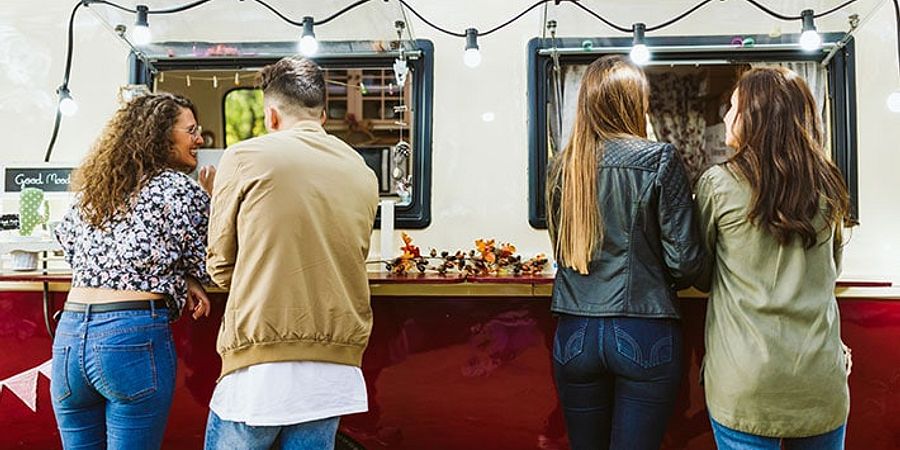 Food trucks have become the first step toward owning a restaurant for many entrepreneurs because food trucks require less start-up capital and can open quicker than a physical restaurant location. If you've dreamed of starting your own food truck, it's important to know what commercial restaurant equipment you need to make sure you can prepare your food properly, easily, and above all else - safely.
So what do you need to start your own mobile food business? We've prepared a list of the must-have items for your new enterprise.
Commercial Work Tops, Tables and Storage Options
Just like a regular commercial kitchen, your new business requires a dedicated staff, reliable food prep, and cooking equipment. However, available space is a luxury in a food truck; you need to use your space effectively and efficiently. A commercial worktop or table will give you and your staff a good place to prepare the food to be cooked. Most tops or tables feature a shelf for storage, letting you store cookware easily.
If you need even more storage, you may want to add commercial shelving units, which come in freestanding or wall options. The best way to determine your needs is to see what you have to store, how easily it needs to be accessed, and what amount of space you have to use. From there, you can look at your budget and see what commercial food storage options would be best.
Cookware and Cooking Utensils
Speaking of cookware, you likely need plenty of pots and pans to prepare your dishes. Be sure you get a solid set that can stand up to the wear and tear of a traditional food truck's busy times. It's wise to buy a set of industrial or commercial cookware rather than a set you'd use at home -- you'll be pleased with how long it lasts and how durable it is compared to those for home kitchens. Commercial cookware includes stockpots, broilers, grilling pans, woks, and so much more, so you're likely to find exactly what you need for your food truck's unique dishes.
Utensils are just as important as commercial cookware because, without them, you can't prepare your dishes just as expected. Invest in a good amount of appropriate tools, such as a pizza cutter, spatulas, meat forks, and paddles, to pull off your dishes with flying colors.
Meat Grinders and Other Tools
Hamburgers, cheeseburgers, and other meat dishes may be on the menu of your food truck. If you need to prepare large batches of meat-based dishes quickly, a meat grinder makes sure your meat is just the right texture and consistency for delicious meals. You can save yourself from shaping patties manually by investing in a commercial hamburger press as well. After the meat's done, you can slap cheese on the burgers quickly by using a cheese slicer to prepare slice after slice.
Countertop Appliances
If you serve sandwiches, panini, and other bread-based meals, there are a few pieces of equipment you may want to consider. First, don't go using a residential toaster, but instead invest in a commercial pop-up toaster, because those are made to handle repeated use much better than a residential model. Are you serving sandwiches or paninis? Panini and sandwich grills can help you deliver fresh, hot, and evenly-cooked sandwiches, and they come in a variety of sizes, so you can find one that fits your space needs.
Some food trucks specialize in smoothies and other blended drinks, so if those are on your menu, be sure you get a commercial blender. A commercial blender is made to make a series of drinks one right after the other and features better horsepower than residential models. You can make all the milkshakes, blended coffee drinks, or smoothies your customers desire with a reliable commercial blender, and their slim design makes them perfect for food trucks.
Food Truck Supplies
Your customers may need napkins, condiments, lids, straws, and other items once you've completed their order. A condiment dispenser will make sure that ketchup, mayo, and other toppings are always within reach, while a napkin dispenser will let them grab their eats and go without making a mess. You may also be providing cold drinks, and that's when you need a good commercial lid dispenser to make sure your customers' drinks are well-topped.
This list will help you start to figure out everything you need to start your own food truck. No two food truck's needs are alike, so the specific equipment will come down to the following variables:
What type of food you'll be serving
Food preparation needs
How many staff members you'll anticipate having
The regular pace of business
Your budget
Once you determine these elements -- if you haven't already -- then you can truly plan to buy commercial restaurant equipment for your business that meets your needs. Whether you're serving just hamburgers or a full array of dishes, having great food means having reliable equipment, so be thorough in how you stock your kitchen. Good luck with your food truck!
Share This!