Glissen Chemical Company Nu-Foamicide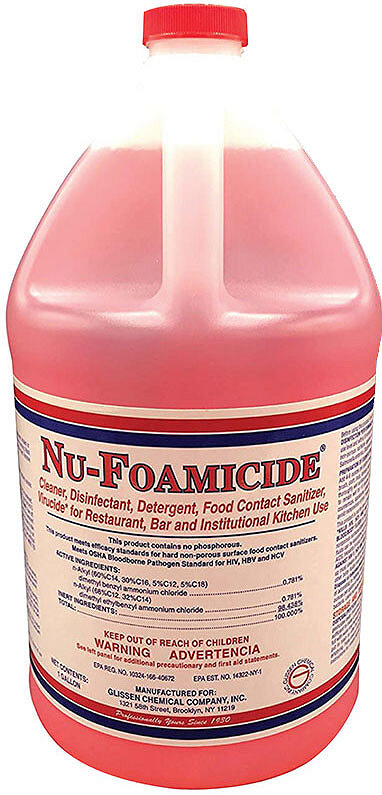 Glissen Chemical Company Nu-Foamicide, 1 Gallon Surface Sanitizer / Disinfectant
Glissen Chemical Company Nu-Foamicide Overview
Features & Benefits:
One step cleaner kills up to 99.9% of viruses, bacteria, and germs on non-porous surfaces
Highly concentrated disinfectant is great for use in kitchens, bathrooms, nursing homes, hospitals, and more!
Simply leave the solution on a surface for 60 seconds and then remove excess fluid with a cloth
Can be used in buckets, basins, or spray bottles
1 Gallon bottle
Notes: Use only as directed on the label. Mask should be worn when spraying. Not for use with foggers.
Product Brand

View more from Glissen Chemical Company
Certifications

Nu-Foamicide Resources
Glissen Chemical Company Nu-Foamicide Specifications
OEM
OEM Numbers
Nu-Foamicide, M-8507
Details
Chemical Form
Liquid
Type
Disinfectants
Type
Sanitizers
Quantity
1
Size
1 Gallon
Product Condition
New
Customer Q&A
Could u spray the classroom with a fogger machine when the kids have water bottles and snacks on their desk?
It's always suggested that any area being sanitized, be clear of any items that may be ingested. The best method for sanitizing with most solutions is to clear the area, spray, and then allow 10 minutes for the surface to air dry. These items (product link) (product link) are some good options to use in a school setting, but we still suggest that all food items be removed from a surface before cleaning. Here (category link) are some other sprays we have to offer.
– GoFoodservice
Customer Reviews
Be the first to review this item!