Guide to Vulcan's GR Series Fryer Line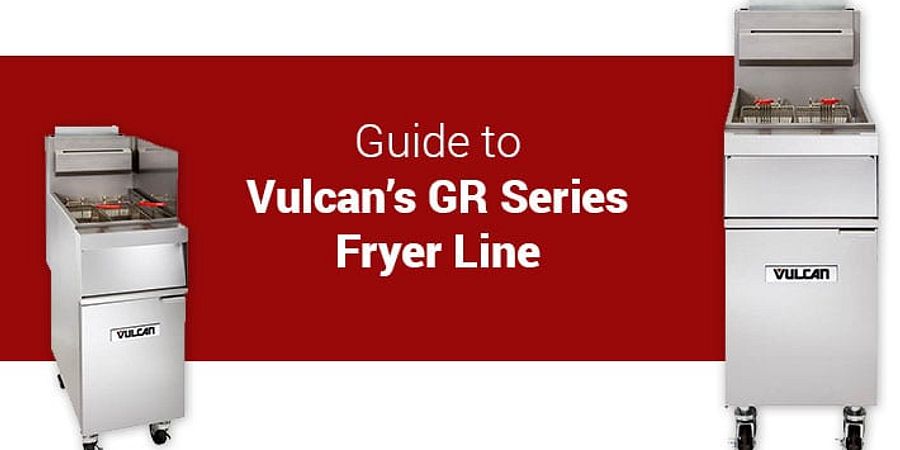 Foodservice operations ranging from large restaurants and sports bars to food trucks and concession stands rely on commercial fryers to consistently serve up hot, crispy, perfectly cooked French fries, seafood, chicken fingers, and much, much more. One fryer many operations rely on to get the job done? The Vulcan GR Series Fryer.
Here's everything you need to know about this reliable piece of kitchen equipment.
About Vulcan GR Fryers
GR fryers from Vulcan set the standard for ease-of-use and time-saving convenience. Designed to meet the volume needs of many different types of operations, including independent restaurants, supermarkets, and stadiums, the GR fryers are available in 45 lb., 65 lb. or 85 lb. vat sizes and can be combined in up to 4 batteries.
Whether you have low volumes of frying or are a high-output operation, there is a dependable GR fryer suited for your kitchen environment.
Features of Vulcan GR Fryers
All Vulcan GR fryers share several advantages, starting with stainless steel fry tanks and cabinets. Not only does this increase durability and cleaning ease, but it also ensures that these hard-working pieces of equipment are prepared to stand up to the daily wear and tear of even the most demanding kitchen environments. Standard adjustable casters provide mobility and a 10-year limited tank warranty offers additional peace of mind about the reliability of the equipment while simultaneously reducing the cost of ownership.
GR fryers also come standard with millivolt controls, eliminating electrical hookups and thereby adding flexibility in terms of fryer placement under the hood. The freestanding 45 lb. and the 2-battery 45 lb. GR models are also available with solid-state analog controls. This control type offers shorter recovery times, higher productivity, and more precise temperature control supporting better cooking consistency from batch to batch.
Additionally, the two-, three-, and four-battery Vulcan GR fryers come standard with Vulcan's patented KleenScreen PLUS® Filtration System, which facilitates more frequent filtering between batches and dayparts and improves filtration thanks to a reusable stainless steel mesh screen with an optional microfiltration fabric envelope. The result? Not only is oil life extended by as much as 400 percent, but users also save as much as $1,300 annually on paper filter purchases with Vulcan GR fryers.
Add-on accessories like the Frymate™ holding station, mesh crumb screen, and stainless steel removable splash guards add to the functionality of these commercial kitchen workhorses.
Choosing the Right Vulcan Fryer
With so many professional fryer styles on the market, selecting a new one can be a challenge. Vulcan's line of professional GR fryers offers many outstanding benefits for today's time-conscious, results-minded foodservice operations.
About Vulcan Equipment
Vulcan, a division of ITW Food Equipment Group LLC, is a leading manufacturer of cooking equipment in the U.S. with a broad line of products including ranges, convection, and combi ovens, fryers, griddles, charbroilers, steamers, braising pans, kettles, and heated holding cabinets. Vulcan sells both to the foodservice and food retail end-user segments, including chain and independent restaurants, hospitals, assisted living facilities, nursing homes, K-12 schools, colleges/universities, hotels, casinos, recreation, corrections, and grocery stores.
Share This!