Refrigerated Food Merchandiser Buying Guide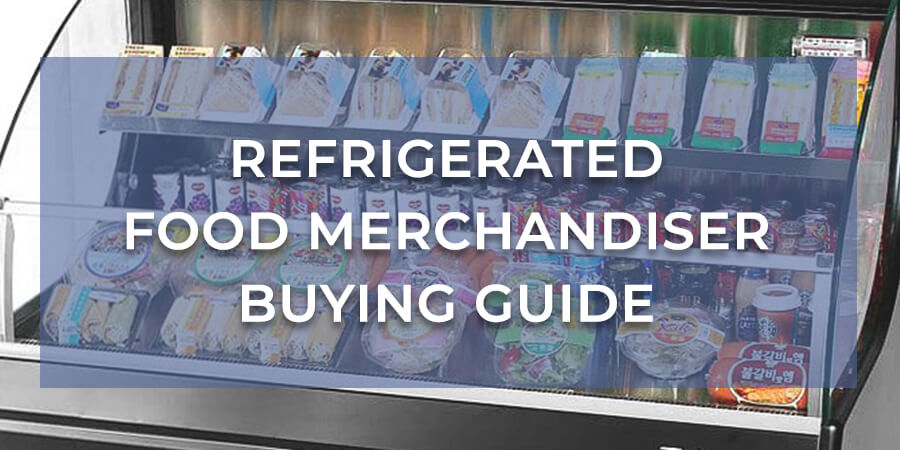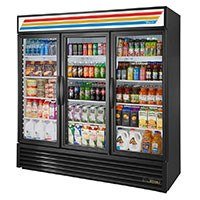 The way you display products for sale is an often underappreciated part of operating a business that sells refrigerated products to consumers. Creating refrigerated merchandiser displays that are inviting to consumers to browse your refrigerated selection can take a lot of trial and error. However, for many businesses, the cost associated with "trial and error" testing is too expensive and time-consuming to do realistically. Most businesses that deal with refrigerated products need to get it right the first time or risk losing money.
The following refrigerated merchandiser buying guide is designed to help you save money and avoid costly errors.
1. Merchandising Refrigerators and Freezers
There is an important distinction to make between glass door merchandisers and glass door reach-in refrigerators. Glass merchandisers, sometimes called refrigerated display cases, should not be used to store open food products like fruits, vegetables, or uncovered pots and pans of food. A commercial food merchandiser is limited to closed food products like sealed beverages and other packaged products because the interior of reach-in refrigerators (even glass door models) uphold stricter sanitary guidelines, whereas merchandisers are not.
2. Types of Commercial Merchandiser Refrigerators
Commercial Merchandisers vary in size and functionality depending on which application you intend to use them. Someone who is looking for a floral merchandiser, for example, would be unwise to purchase a wine merchandiser. To help clarify, below is a run-down of several different types of merchandisers and the products that each is ideal for:
Convenience Store Merchandisers
Glass Sided Merchandisers
Floral Merchandisers
Wine Merchandisers
Convenience Store Merchandisers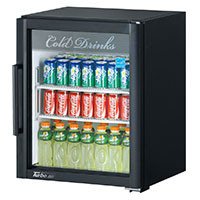 Convenience store merchandisers (like the True GDM-72-HC~TSL01) are great for storing sealed beverage products in convenience store, grocery store, or gas station settings. The type of convenience store merchandiser you need will largely depend on your space and capacity requirements. While three door units, like the previously mentioned True GDM-72-HC~TSL01, have a much higher capacity, if you have limited space, a smaller countertop refrigerated merchandiser like the Turbo Air TGM-5SD might be more suited to your needs.
Glass Sided Merchandisers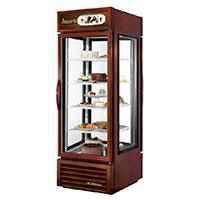 Glass-sided merchandisers excel when you need the maximum visibility possible for baked goods or other food products that demand a premium presentation. Their popularity in bakeries (or bakery departments of grocery stores) has led them sometimes to be called bakery merchandisers.
Floral Merchandisers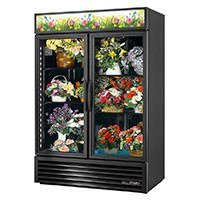 Floral merchandisers are designed specifically for holding flower arrangements. The lights used to illuminate your floral bouquets help reduce premature discoloration. In combination with an airflow system that helps maintain proper humidity and temperature conditions, floral merchandisers are a great benefit to florists and other businesses that maintain an inventory of fresh flowers.
Wine Merchandisers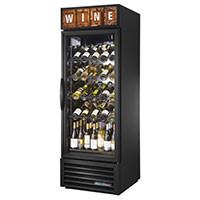 Wine merchandisers are similar to standard convenience store merchandisers regarding functionality and temperature control. However, wine merchandisers swap out parallel wire shelves with angled racks that display wine at an optimal angle, encouraging customers to view the wine selection, browse longer, and ultimately make a purchase.
3. Additional Tips
Before you rush out to buy refrigerated merchandisers for your business, there are a few more things that you may want to keep in mind.
Be certain that the merchandiser you are looking to buy is the correct one.
As mentioned before, buying the wrong model merchandiser can be a costly error that many businesses (especially start-ups) simply cannot afford to make. If you have questions, feel free to contact our team either through the live chat function on the bottom right-hand side of the page, through our contact form, or via telephone.
Know your space and energy efficiency needs.
Space constraints are always a concern, especially because of the cost associated with additional square footage. With sliding door merchandisers, you reduce the need for wider aisles but sacrifice some energy efficiency. Consider the trade-offs of both options before making a buying decision. Additionally, opting for merchandisers that feature energy efficient LED lights can help reduce energy costs. When you are budgeting for the month after you install your new merchandiser, be sure to update the new costs of electricity in your budgeting spreadsheet or software.
Know how to finance your purchase
While this is much less of a concern with major chains or grocery stores, for start-up mom and pop outfits, financing can be a problem. Gather a plan for financing your merchandiser purchase by shopping around for business loans. Alternatively, GoFoodservice does offer financing for merchandisers.
4. Sell Better With Refrigerated Merchandisers
Making an educated decision on which refrigerated merchandiser is right for your business does not have to be a difficult process. However, with so many misconceptions and lack of educational materials, it is easy to fall into a purchase that isn't optimal for your situation. Like all of our buying guides, this refrigerated merchandiser buying guide should help clarify some of the basics of refrigerated merchandisers, their functions, and styles. If you have any additional questions, contact a member of our customer service team!
Comments
Do you provide rental service on the Refrigerated Merchandisers?

Unfortunately, we don't offer rental services or sell used equipment. We only offer brand new items.
Share This!