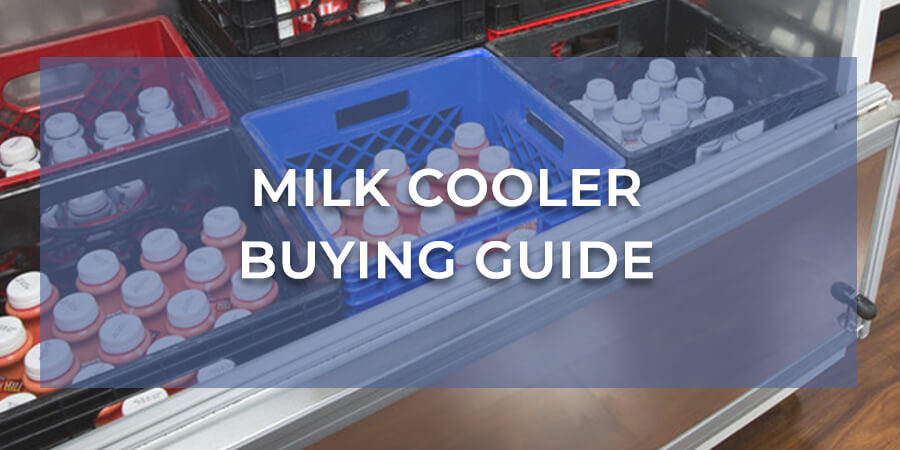 A milk cooler is an essential unit that is mandatory in numerous establishments. We know what you're thinking: what is there to know about milk coolers? The item seems quite run-of-the-mill.
Nonetheless, as with any other important purchase, you should take the time to get acquainted with the functions and characteristics of the product. And this is the main purpose of this guide.
It goes without saying that a milk cooler is specifically useful during the summer. Still, this doesn't mean that it is less functional during the winter, considering that these commercial units are used in cafeterias and restaurants around the year.
So, if you own a school or run a hospital cafeteria, then you should consider getting a milk cooler. Keep on reading this article if you want to find out more on this topic!
1. Why Do You Need a Milk Cooler?
Milk tastes the most refreshing when it is cold – not to mention that it is safest to consume. Since it is a perishable drink, there is a significant risk of spoilage if it isn't stored in the right conditions.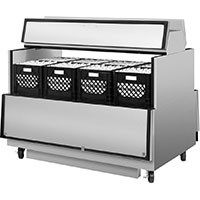 If you didn't know until now, you should note that milk cooling is an important step, because it preserves the quality of the milk. That is to say, if the milk is cooled right away, it will remain fresh and flavorful for an extended timeframe.
Moving on, the temperature at which milk starts to leave udder is 25 Celsius degrees. In this view, by storing it at the right temperature – at around 4 Celsius degrees, you can significantly diminish the growth of microorganisms. This way, you actually prolong its shelf life.
Furthermore, not only that the temperature of the storage room is critical, but the cooling time in order to reach that temperature matters just as much.
On that note, certain milk coolers are engineered to reduce the milk temperature before it actually enters the tank. This way, the cooling process is sped up.
That being said, what are the main advantages associated with milk coolers? Let's have a look.
It Is a Worthwhile Investment
This applies to farmers, in particular. Since milk cooling decreases the growth of microorganisms, the milk is preserved for more time.
Nevertheless, this isn't important to farmers exclusively. Cafeterias, restaurants, and similar establishments can benefit from such an investment because the quality of the milk will be maintained.
Thus, this minimizes the probability of unwanted incidents – such as causing illnesses to employees, students, customers, so on and so forth.
No Spoilage Incidents
When the milk is stored in an appropriate cooler, your concerns about spoilage are eliminated. That's because the milk is kept at the ideal temperature to remain fresh for a longer time.
By diminishing spoilage, a milk cooler also reduces waste; hence, it allows you to save money over the course of time.
Extending the Milk's Shelf Life
As we've highlighted before, milk should be stored at a specific temperature. Every rise in temperature will imminently decrease the shelf life of the product.
On the other side, if a given temperature is maintained, the milk is safe to use for an extended timeframe. In short, a milk cooler is a reliable, quick solution to keeping the milk fresh and accessible to employees, customers, and the list may go on.
2. How to Choose Your Milk Cooler
Now that we've covered the main benefits linked to milk coolers, we'd like to present the main aspects that you should take into consideration.
It goes without saying that your needs should be a priority. That being said, why are you thinking of investing in a milk cooler? Do you need it for a cafeteria, restaurant or café?
Of course, you should also consider your audience before making the investment. Is your audience made of students, children, employees?
Essentially, picking something that won't address your specific needs won't serve you any good. This is why we encourage you to factor in the following aspects.
Size
To start with, we consider the size of milk coolers to be really important. The size is usually measured in the number of cartons or crates that a milk cooler can accommodate. This allows you to get the unit that meets your specific needs – so that you don't invest a lot of money in a large commercial unit if you don't really need to do so. We also advise you to have a look at the weight and height of the unit. This is the safest way you can ensure that it will fit your space like a glove.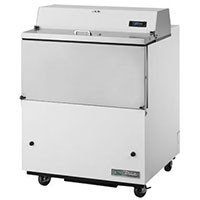 If you don't need a really big unit, then an item with a capacity of 384 cartons will address your needs. For instance, the True TMC-34-HC is great for schools and cafeterias. It is specifically designed to keep milk at the right temperature so that it tastes great.
On the other hand, if you need a bigger milk cooler, the True TMC-58-S-SS-HC has a capacity of 768 cartons. This is a solid, efficient, and easy to clean unit that is engineered to address your individual specifications.
Evidently, there is also the in-between version – namely a milk cooler with 576 cartons capacity – the True TMC-49-DS-HC being worthy of your attention.
In the meantime, there is the Turbo Air TMKC-58D-N-SS, which is a considerable investment, but definitely worth the purchase. It can accommodate 16 crates of milk, featuring four doors for easy access.
It weighs 396 pounds, meaning that it is a commercial milk cooler by definition. Furthermore, it comes with a nice set of features, like most products we've listed in today's guide.
Construction
Evidently, the unit's construction matters just as much. That's because it will inevitably affect the durability factor. We all know that a unit is worth investing in if it's durable. That being said, make sure you always assess the craftsmanship and materials used by the manufacturer.
Typically, stainless steel is a popular material used for manufacturing commercial units.
That is primarily because of its durability and resistance to corrosion. In general, the doors are made of stainless steel, whereas other parts of the unit might be coated with Epoxy. Depending on the place where you want to accommodate the unit, you should bear in mind that stainless steel construction is more likely to resist abuse.
On a different note, milk coolers are created to accommodate milk crates on floor racks. Once again, these racks should be made of stainless steel in order to withstand continual, heavy-duty utilization. This is essential, as a crate filled with milk cartons might weigh up to 30 pounds.
That is to say, the exterior construction of the True TMC-49-S-HC is of stainless steel. Obviously, a stainless steel construction equals durability. At the same time, the aluminum interior is wholly insulated with high density, polyurethane Ecomate, in order to retain the temperature at the ideal level.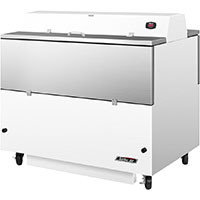 Moving on, the self-service doors are also made of stainless steel, featuring an excellent opening system.
Still, other units are made of a combination of stainless steel and vinyl. The True TMC-49-DS-HC is such an example.
What is more, the exterior top and doors are sturdy, so that they would withstand heavy-duty use. This is really convenient, considering that most milk coolers are situated in busy cafeterias. As you might expect, the entire structure of the product is further coated with Ecomate – which provides the perfect level of insulation.
As for the Turbo Air TMKC-49D-WS, it features high-density polyurethane insulation. To be more precise, the entire unit is coated with a high-density material, which is also environmentally friendly. Additionally, the unit is equipped with heavy-duty floor racks for a boost of durability.
Cleanout Drains
Furthermore, you should know that milk coolers are equipped with cleanout drains. The purpose of these drains is to facilitate the drainage of water and other liquids or spills from the interior of the milk cooler. It goes without saying that maintaining the unit properly will play a crucial role in its durability, as well.
In some cases, you can locate the outlets of the drains over a bucket or floor drain, to ensure that the waste liquid is disposed of accordingly.
For example, the Turbo Air TMKC-49D-WS features a unique self-cleaning system. That is to say, it is equipped with a daily automatic brushing, which maintains the condenser clean and at top form, while diminishing system failures.
As for the floor drain, it is situated in the rear, on the right side of the unit, facilitating easy cleaning. Moreover, the hose adaptor enables you to connect the unit to the drain hose without any problems whatsoever.
Take into account that maintaining the unit in a proper condition is critical for preventing any issues. Hence, if you invest in this unit manufactured by Turbo Air, it would be safe to say that you'll save in ownership costs.
Thanks to the forced-air refrigeration system, the milk is maintained at the right temperature even after a prolonged time – keeping it fresh and cold.
Digital Thermometer
We've already established that the milk should be stored at the right temperature, in order to prevent it from going bad. This is why many state-of-the-art milk coolers come equipped with digital thermometers that are really convenient to use.
This feature allows you to monitor the temperature and ensures that it remains constant throughout the day. Thanks to this level of precision, you can ensure that the milk remains fresh and safe for use.
For example, Turbo Air TMKC-49D-WS is equipped with a digital thermometer, which is incredibly helpful.
The Turbo Air TMKC-34S-N-WA is another dual-sided unit featuring a digital thermometer. A great feature of this item is that it utilizes hydrocarbon refrigerants, bringing forward an innovative and eco-friendly technology.
In other words, hydrocarbon refrigerants aim at meeting the new standards of DOE and EPA in 2017. To be more specific, the good thing about these refrigerants is that they don't deplete the ozone layer, having a minimal, even insignificant contribution to global warming, especially in comparison with older units.
The same applies to the Turbo Air TMKC-58D-N-SS, which is another deluxe product that is equipped with these state-of-the-art characteristics.
Type of Door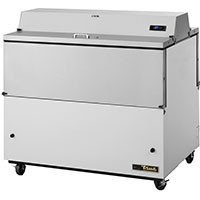 Depending on the design of the unit, there are two primary types of doors – namely dual-sided and single-sided. This will depend on the capacity of the milk cooler, as you might expect. The True TMC-49-DS-HC, for example, is a dual-sided unit that promises unmatched durability and efficiency.
Essentially, this means you have access to the milk from both sides of the unit. Additionally, it is designed to accommodate twelve milk crates whose dimensions are the following: 13" L x 13" D x 111/8" H.
The best part about dual-sided units is that they can serve two lunch lines at the same time. That is to say, you might consider installing a dual-sided milk cooler between two lines. Another option might be positioning the unit near a wall between a kitchen and walk-in cooler.
Of course, if a single-sided door is more convenient for you, as the space in your cafeteria is limited, you should get the True TMC-34-HC. It is also coated for enhanced protection against corrosion.
3. Final Thoughts
Milk coolers are nearly everywhere – cafeterias, schools, and restaurants – in short, any place that serves food. It goes without saying that they are created extensively for commercial use – in the sense that there are little chances you might benefit from getting a milk cooler for your house.
The good thing is that there are numerous products on the market to choose from. We encourage you to consider our product recommendations, as they are engineered by top manufacturers in the industry.
At the same time, they come with the right set of features, so that you could benefit the most from such a unit. Now, it's up to you to carefully assess your needs, the characteristics you're looking for in a milk cooler, and invest in the one that fits best.
Share This!