Cooking Release Sheets, Baskets, Trays, Wraps, & Liners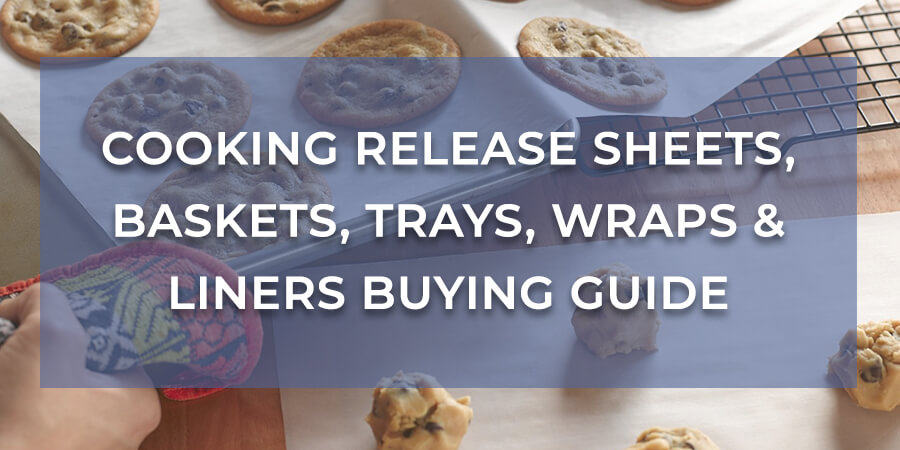 If you want to open a new restaurant, you'll need to invest in pricey kitchen equipment. As you might expect, a commercial kitchen should be adequately equipped with industrial-grade machines made to withstand heavy-duty utilization.
We could argue that the kitchen represents the heart of the restaurant. This is the place where the meals come to life. Therefore, it should be perfectly organized, so that the staff members can operate there effectively. Not only that, this will save time and increase productivity, but it will also make working there more enjoyable.
In today's guide, we'll go beyond the typical pieces of equipment such as commercial ovens, microwaves, fryers, and so on. We'll focus our attention on the items that are often overlooked. Nonetheless, even if their importance is undermined, that isn't to say they are any less significant. With that in mind, let's proceed, shall we?
Grill Release Sheets: Why You Should Use Them
First, grill release sheets can really make a difference in the cooking process. A commercial kitchen is quite a busy place. At peak hours, things tend to get quite hectic. Therefore, it makes sense to use all the resources you have at your disposal to ease your employees' job.
Grill release sheets definitely fit into this category. They make the actual process of grilling less time-consuming. More specifically, your staff won't have to concern itself with attentively cleaning the grill after each cooking session. You must know that time is of the essence when it comes to running a business. So, this allows your staff to concentrate on more important aspects.
At the same time, this can be really helpful when you're running on limited staff members if you've just started out your business.
A Cleaner and More Efficient Kitchen
When you own a restaurant, it is essential to respect the FDA rules and regulations – especially when it comes to cleaning and maintaining your equipment and kitchen in top form. However, continually having to clean the grill might eat a lot of your staff's time and productivity.
Therefore, grill release sheets are really helpful, allowing you to keep up with your grilling consistency.
Grill Release Sheet Considerations
Size
Evidently, the grill release sheet you get should be customized to your individual sizing. Otherwise, you won't get any use out of it. With that in mind, make sure you assess the size of the grill so that you don't encounter any unwanted complications afterward.
Material
Moving on, it's self-explanatory that the manufacturing material of the grill release sheet matters just as much. In fact, we could say that if the material isn't right, you won't get the results you expect from the grill release sheet. It's as simple as that.
With that in mind, most commercial grade grill release sheets are made from essential ware PTFE or Teflon. This is primarily due to the material's non-stick performance, of course.
Material
PTFE or Teflon
Characteristics

- High flexural strength

- Low coefficient of friction

- Chemically inert

- Hydrophobic

- High melting point

Why Use Them


Ensures long-lasting and non-stick performance in any commercial kitchen
Thickness
Moving on, some grill release sheets are thicker than others, of course. As a rule of thumb, the thicker the grill release sheet, the better. That's because the thickness is somehow connected with the durability index of the sheet.
You can easily identify these sheets, as they usually have multiple applications of PTFE. In other words, the texture underneath will be, for the most part, almost invisible.
How to Clean Grill Release Sheets
It goes without saying that maintaining and cleaning your grill release sheets plays a fundamental role in their longevity. That being said, make sure you don't use any abrasive cleaning items. As a matter of fact, you should respect the guidelines that usually apply when it comes to cleaning Teflon units.
Using a scratch pad or any other type of abrasive cleaner will inevitably damage the PTFE coating. Hence, to eliminate the pesky residue, it would be best to utilize a soft scrub pad instead.
Now, in the case in which the sheet is really messy, then the sheet should be left to soak for a few hours, which will significantly simplify the cleaning process. Of course, it is contraindicated to use metal grill utensils on the grill release sheets.
Usability of Oven Baskets & Trays
Other essential appliances that are mandatory in each commercial kitchen are oven baskets and trays. That's because these contribute to making your staff's job much easier.
So, why should you consider investing in appropriate oven trays? Basically, these will make it easier for your staff to get organized. Not only that they are helpful in terms of organization, but they make a difference in regard to the overall management of the back of your kitchen.
Simply put: both basket and oven trays ensure a smooth, safe and effective operation – particularly in a commercial kitchen.
Purpose of Oven Baskets and Trays
Oven baskets aim at improving the airflow directed towards the food, in order to accomplish quick and crispy results. It's no secret that fried chicken, or anything fried for a change, is a popular, much-beloved type of meal. Therefore, if you're planning on serving the famous chicken wings, investing in the right oven baskets is a must.
Nevertheless, an oven basket does an excellent job when it comes to preparing all types of dishes that include potatoes, fish sticks, shrimp, wings, appetizers, and the list could go on.
As for the purpose of the tray, it is used to collect all sorts of flakes, crumbs, drips, and splatters. This way, your oven will be maintained spotless – as much as possible, of course. But, for the most part, the oven won't have to be cleaned as often as it would be without an oven tray, for instance.
Offer a Healthier Way to Cook
Nowadays, more and more restaurants prepare meal alternatives that are healthier. That's because people have shown an increased interest in healthy eating; therefore, restaurants ought to abide by this general trend.
So, this diminishes the level of frying oil when cooking the dishes mentioned beforehand. More specifically, with the right oven baskets and trays, the foods will taste infinitely better, not to mention that they'll be healthier.
General Guidelines to Finding the Right Oven Baskets & Trays
Of course, purchasing the first oven basket or tray that comes your way isn't the most sensible choice – particularly when it comes to commercial units. When you're shopping for commercial-grade kitchen equipment, your priority should always be focused on longevity and durability – regardless of what you're shopping for.
Aside from that, here are some general tips that you'll find useful.
Non-Stick Coating
Moving on, many oven baskets are made from a non-stick material. Naturally, this is an important characteristic you should keep an eye out for. A non-stick coating ensures a quick and easy cooking experience – this becomes primordial in the cooking industry when time is of the essence.
Plus, another benefit of choosing a non-stick coating is that you can use the oven basket to cook without oil, butter or cooking spray. The choice is entirely up to you, giving you flexibility.
Manufacturing Material
Obviously, the next thing on your list should be the manufacturing material of the oven basket or tray. Of course, each material has its main benefits and potential limitations. In order to make a fully informed decision, do consider our brief comparison below.
Material
Stainless Steel
Ceramic
Benefits

- Versatile

- Can use it for many years if you maintain accordingly.

- Safe for all types of applications.

- Environmentally-friendly choice: you can recycle stainless steel cookware if the cookware isn't handled accordingly.

- Lightweight

- Easy to use

- Coated with tough fired clay, which enhances the strength and durability of the material

- Doesn't retain flavors or bacteria from previously cooked foods.

- Can withstand temperatures of up to 700 degrees Fahrenheit.

Potential Limitations

- Generally on the heavy side, which might be an inconvenience to some people.

- Not as easy to clean as ceramic.

- Once chipped, ceramic cookware can no longer be utilized. Even if this is less likely to happen, it's worth taking into account.
How to Properly Care for Your Oven Baskets & Trays
Your oven baskets and trays represent a long-term investment for your business. Therefore, you should get your facts straight regarding the maintenance process. Depending on the manufacturer's recommendations, you might need to season the tray or basket. Once again, this isn't a general rule that applies in all cases.
At the same time, it might be a good idea to cook with medium-low heat. Usually, using high temperatures is likely to damage the coating – if the oven basket or tray is coated, then you should keep this in mind.
Toaster Belt Wraps – Why You Should Use Them
Obviously, toasters are important pieces of equipment that shouldn't be missed out on in any restaurant, diner or café. And while you should direct plenty of thought into picking the best toaster for your needs, getting a toaster belt wrap is just as mandatory. In fact, after getting one, you'll find it difficult, if not impossible to go back to the time when you didn't have it.
To that end, if you want to be sure that your toaster operates at maximum capacity, to the correct standard; toaster belt wraps will do the trick.
So, what is the purpose of a toaster belt wrap, and why should you make this investment? When you run a restaurant or a diner, things can be quite busy all of a sudden. Of course, you cannot allow having one of your appliances out of order – and this includes the toaster, as well.
This is where the belt wrap comes in: it allows you to get your high-speed toaster back into function right away. With that in mind, a belt wrap will maintain your toaster line running effectively and quickly.
Toaster Release Sheets – Making Your Job Easier
Cleaning kitchen appliances can take a lot of time – time that your employees could direct towards completing different tasks. What if we told you that there is a safe and secure way of diminishing the length of the cleaning tasks? We're referring, of course, to toaster release sheets, which make toasting much easier and effortless.
These release sheets allow your staff to utilize commercial grade toasters without encountering some of the most commonly met problems. In other words, investing in decent-quality toaster release sheets facilitates the ease of clean up.
Dealing with residue post-toast is not a piece of cake – quite the contrary, might we add. It is time-consuming work, which can be better off avoided, if possible.
Nevertheless, a toaster release sheet enables the employees to wipe off the residue by simply using some soapy water and a damp cloth. As a matter of fact, it can be placed inside the dishwasher, which is the ultimate definition of convenience.
Faster Cleaning & Maintenance of Your Kitchen
When running a business, it makes sense to use all the means and appliances you have at your disposal to make the clean-up process time-efficient and less stressful. So, by getting toaster release sheets, you will optimize the speed at which your staff operates.
Toaster Release Sheet Factors You Should Consider
Since there are various types of toaster release sheets on the market, then you'll find it easier to make a decision once you know what to shop for. Here are some aspects worth taken into consideration.
Non-stick coating
It's no secret that nothing is more annoying than dealing with food leftovers that stick to all types of surfaces in the kitchen. Not only that it makes the cleaning process difficult, but it will give your kitchen a messy look. This is where toaster release sheets featuring non-stick coating come in.
Thanks to this characteristic, your staff can quickly get and serve the food without worrying that the cleaning will take hours. It can really make a difference in this respect.
High-temperature resistance
Obviously, the food is cooked at high temperatures; therefore, the majority of high-quality toaster release sheets have a high degree of temperature resistance. The temperature resistance index will depend on the material out of which the sheets are made.
Material
Next, we'll move our attention to the material of the toaster release sheet. Most are made from PTFE or Teflon, thanks to its non-stick characteristic. The food won't get stuck; therefore, it won't cause unwanted mess and chaos in your kitchen. This also means that your staff won't have to worry that the toaster will run slow because of bread that may end up stuck.
At the same time, the triple-coated fluoropolymer material facilitates a long-term non-stick performance. Depending on the type and amount of coatings, the toaster release sheet might be more durable than others.
Size
Depending on the size of the package, you can get a good deal for your money. For example, some packages may include a number of ten sheets, while others will feature a higher number. As a rule of thumb, when the number of sheets increases, you are likely to get excellent value for your money. When running a restaurant, considering that you'll inevitably need accessories such as toaster release sheets, it might be a sensible option to get a larger package.
Width and Depth
Also, don't forget to check the width and depth of the toaster release sheet. You should know that the width of toaster release sheets can vary greatly, which is why this detail shouldn't miss your attention. The same can be said about the depth.
Final Thoughts
This concludes our brief guide regarding some of the most overlooked, yet important accessories required in a commercial kitchen. To many people, the accessories we presented beforehand might seem like unnecessary purchases. Nevertheless, this is not the case, as their purpose is to ease your staff's work. When your staff doesn't have to worry about constantly cleaning the toaster or the oven, it can concentrate on more important tasks.
At the same time, investing in these accessories might mean that you can save some money on staff wages. Of course, it pays off to analyze your needs beforehand, as the needs and specifications of each business out there depend on several aspects. Hence, we couldn't say that each firm will get a lot of use out of a specific appliance or the other. It's entirely up to you to establish what your needs are.
As with anything, you should shop from a reputable manufacturer, in order to enjoy quality, longevity, and performance. This is a golden rule that applies in all cases.
Share This!