Commercial vs Residential Dishwasher Guide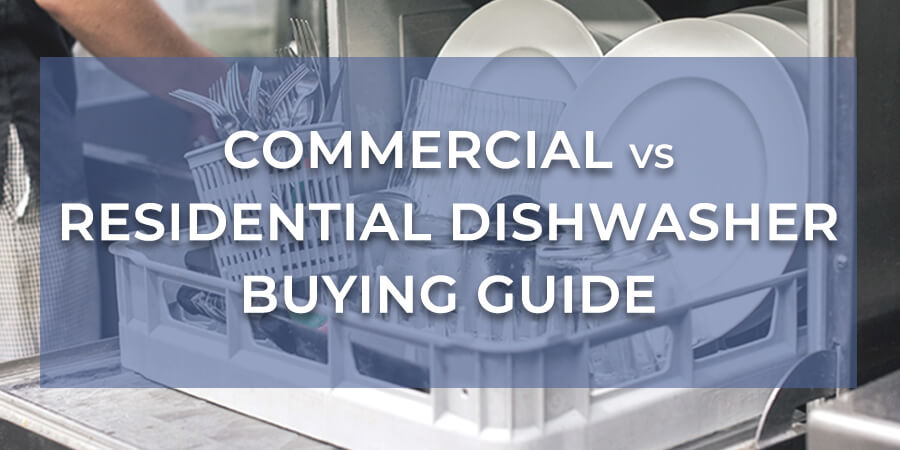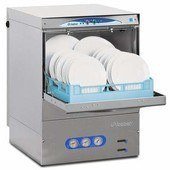 Commercial dishwashers can make a difference in how many people a restaurant can serve. The right dish/glasswasher can be the backbone of any commercial foodservice operation. They're highly efficient at taking care of large amounts of dish and glassware which makes them sought after in the residential market. However, there are a few things you need to know before diving into the purchase of a shiny new stainless steel dishwasher for your home. Below you will find a comparison of residential and commercial dishwashers. Many people have pulled off having a commercial glass or dishwasher in the home
ALWAYS consult the installation manual and a licensed professional when it comes to safety including but not limited to: electrical, plumbing, and chemicals.

Additional pumps or devices, such as booster heaters, may need to be purchased for installation. No additional equipment is needed usually, only the proper electrical and plumbing. Residential dishwashers are more cost-effective for in-home applications. When using in bulk and rapid applications, commercial dishwashers save both time and money.
1. Electrical & Plumbing
COMMERCIAL
RESIDENTIAL
Electrical Considerations
Some dishwashers require a higher electrical rating. For example, higher voltage dishwashers will require additional wiring or multiple breakers. Dishwashers with detergent pumps and booster heaters require additional wiring also. The large majority of dishwashers available on the commercial market require at least 208v.

A vast amount of commercial dishwashers require three-phase electrical hookups. Even commercial applications usually require a new installation for three-phase electricity.

A licensed electrician is required for any of the electrical installations.
Most residential dishwashers only require a 115-volt power line, and some are equipped with an actual power cord that can plug into a typical residential wall outlet. This makes installation very simple. It also means that most washers do not require any special breaker or wiring your home is not already equipped to handle.

A licensed electrician is required to install any electrical line that is a wall or breaker installation.
Plumbing
Commercial dishwashers cannot use plastic or PVC pipes and fittings due to the heat which normal plumbing typically cannot withstand. They also have a higher pressure, so typical orifices may not be strong enough.

Commercial dishwashers do not have a dry cycle. Glassware can typically dry within 30 seconds in a high temp washer, but they are still designed to drip dry to a floor drain with the racks positioned out.

Commercial dishwashers wash with high amounts of water. Due to this, they require a stronger drain pump and most often are designed for a floor drain.
Pressure couplings typically used in the installation process of a residential undercounter dishwasher are readily available at most plumbing retailers and only cost a few dollars. Most of the time they can be installed with only the aid of an instruction manual.

A typical sink drain generally suffices. If it does not, it will be specified by the residential manufacturer.

Residential dishwashers are usually built with an internal drain pump or drain system that propels the drainage water out of the unit. Therefore since most home dishwashers are made for undercounter purposes, they might require extra installation.
2. Dishwasher Types
COMMERCIAL
RESIDENTIAL
Warewashing Chemicals
Commercial dishwashers typically come in two varieties:

High temp and Low temp.

Low temp washers require chemicals in order to sanitize. These chemicals sometimes cannot be found at local stores, since they must be purchased through a licensed chemical supplier. This can be less cost-effective.
Residential chemicals are readily available at local department stores. (Please see below Steam Output and Ventilation.)
Niche Washers
Commercial dishwashers are generally designed for specific needs. For a bar setting, you may need to invest in a commercial glass washer machine.

Additional glass washing racks may be purchased to change the load-type of the washer, however, you must first research if different rack types are available for the model you are interested in.

The racks also require extra storage space. (Prepare for plenty of space- commercial racks are generally quite large.)
Residential dishwashers are designed to take care of any family-size load and accommodate most wares on the market

The market caters to the consumer by providing more and more utensils, plates, etc. that are residential dishwasher "proof".
3. Output Ventilation & Capabilities
COMMERCIAL
RESIDENTIAL
Steam Output and Ventilation
Commercial washers require any surrounding shelving and flooring to be stainless steel or masonry. The steam output will warp any surrounding wood (including flooring) and anything else in the same vicinity that is not metal, or stone, or is susceptible to water corrosion or corruption.

This can hold true for low temp washers as well. Even restaurants require the proper ventilation for safety concerns.

The chemical supplies used in commercial washers also require proper ventilation due to their harmful effects if inhaled. Check the product warnings and precautions before purchasing and using chemicals.
Residential dishwasher equipment is designed to not give off enough steam to damage surrounding cabinetry or flooring. The steam output can be regulated by government and association codes.

Residential washers typically rely on two types of chemicals- one for the wash and one for the rinse/dry cycle. Both can be purchased at local department stores for low costs. They generally do not require any special ventilation.
Capabilities (drying and three bowl sinks)
Commercial washers often use a tank or tub for storing heated water that is used as preheated water in between cycles. This streamlines the wash cycles and saves time, but is an unnecessary application to the one cycle washes typically used in the home.

As mentioned before- high temp washers, even though not equipped with a dry cycle, dry glasses in seconds, and ceramics in approximately less than 30 seconds. This is due to fast evaporation from such temperatures.

Plastic/rubberware usually cannot be washed in either high temp (due to definite melting or warping) or low temp (due to the harsh supply of chemicals).

Most commercial washers are not designed to remove large debris from a dish, glass, or utensil. The typical washing area of the commercial kitchen includes a three-compartment sink for someone to remove debris and/or large particles prior to being washed.
The standard water line for a residential washer is 3/4" in diameter. Meaning most sinks, if not already equipped, can be modified with simple tools to accommodate the drain of a dishwasher. (Likewise for the water supply pipe.)

Even with steam and heated dry cycles, dishes may not come out completely dry and may require hand toweling.

The sanitizing cycle of a residential dishwasher cannot compete with that of a commercial dishwasher. Stronger chemical supplies and higher temps are used with the commercial grade.
4. Commercial & Residential Cost Considerations
COMMERCIAL
RESIDENTIAL
Basic Economics (water, bill, upfront pricing)
Commercial dishwashers are designed to get dishes clean quickly. With rapid dry times, this is the best option for commercial applications, as it looks out for the recipients' health and comfort.

More and more of these washers are being designed with energy efficiency and ecological impact in mind. High temp washers with no chemicals have a limited impact on the environment. Although, chemical washers require special instructions for handling and waste management.

Water bills will be high because commercial washers require many gallons of water to operate. (153 gallons a cycle can be expected of a full-featured dishwasher.)

Due to the need for higher rated electricity and consumption, the electric bill needs to be taken into consideration. Look for the Energy StarTM seal when purchasing both commercial and residential dishwashers.

Commercial dishwashers can range from approximately one thousand dollars to several thousand dollars.
Residential dishwashers are designed with economics in mind. More often than not, they come with "eco-friendly" and economic cycles. Therefore, they're are designed to save money and have a limited impact on the environment. (This is not guaranteed with all residential washers. Be sure to read the documentation before purchasing.)

Look for the Energy StarTM seal when purchasing both commercial and residential dishwashers.
Insurance
Companies abide by different standards and expectations set by insurance companies because certain risks are taken into consideration. Some insurance policies are designed with food service in mind.
The average homeowner's insurance is generally designed in the opposite fashion and the homeowner takes as many precautions as possible.

Contacting your insurance agency will, if approved, increase your insurance.

Homeowners who do not seek approval from their insurance agency before installing risk losing their insurance.
5. Can You Install A Commercial Dishwasher In A Residential Home?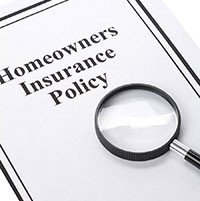 You could profit from owning a commercial-grade dishwasher if you find yourself constantly catering to outside guests, utilize or own a clubhouse, live in a multi-family home, or do any activity that could benefit from bulk washing your dishware. This is only applicable if all of the previously mentioned precautions are taken into consideration and you've consulted with both your homeowner's insurance and a licensed installer (for plumbing and electricity).
Lastly, another little aspect to keep in mind is if you have any commercial dishwasher equipment (even if it is an undercounter dishwasher) shipping to your home, be advised that if you don't pay for liftgate service, you will most likely be charged an extra fee to have it delivered with a liftgate truck. Even though your order may say free shipping, it doesn't mean that it includes the liftgate price because those are extra fees determined by the carrier delivering your equipment.
Share This!