Commercial Food Waste & Garbage Disposer Buying Guide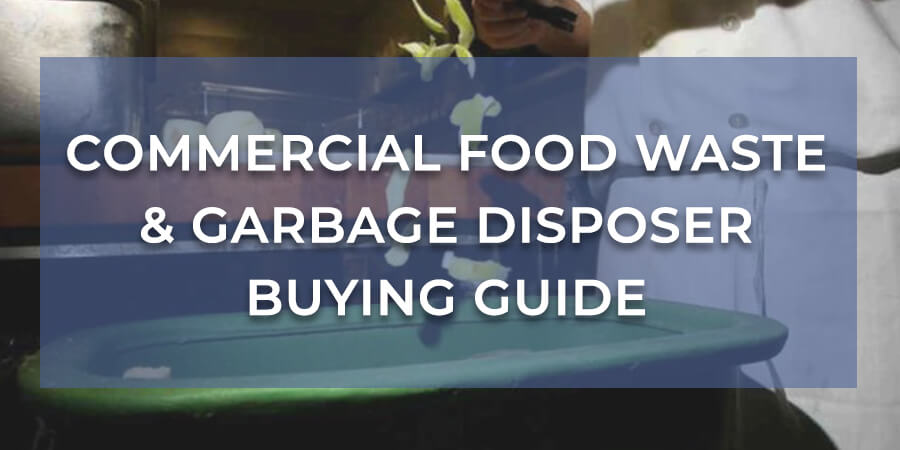 Food disposal through commercial garbage disposers is a common practice in the U.S. Pretty much everybody has a food disposer installed under the sink. These device ensures the effortless destruction of waste so that it can properly pass through your building's pipes.
With all these, there are people who have no clue whatsoever in regards with what food disposers are, what they do and why they're such efficient tools.
If you're a part of that category, then let us break the commercial garbage disposal device down in terms of outcomes and advantages. After reading this, you will be able to make an informed decision.
1. Why Use a Food Disposer
Food disposing systems are used in shredding garbage and spoiled food. They turn these into compost or liquid and send it spinning down into the sewage. Even though it doesn't look like it offers many perks, it surely does:
You won't be using plastic bags anymore: Plastic bags are bad because, first of all, they cost you good money on a monthly basis. Second of all, they are not environment-friendly at all. A food disposal unit does not pollute.
The pipes won't clog: Clogged pipes are nightmares for plumbers and house-owners alike. The unclogging process is quite pricey and takes a long time to be completed. Waste disposers do not clog the pipes.
You'll be saving on bills: Particularly on electricity and water. Disposers are extremely efficient. They don't use too many resources and can be turned off whenever there's nothing for them to do.
Your kitchen won't smell: When you've got trash under the sink, especially during the summer, the smell can be nauseating. When you use a disposer, you won't need to deal with that.
It can be cleaned easily: Usually, baking soda can do the trick. Most disposers clean themselves as they process the waste, so there you go.
2. Types of Commercial Disposal Units
1/2 HP Motor Size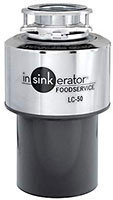 All businesses have different needs and when it comes to those that don't need to use their garbage disposal unit at such a high rate as many of the other segments do, there comes the lower horsepower models. Some examples of locations that might only want the lower powered model are: coffee shops, convenience stores, quick service restaurants and those alike.
Since there isnt as high of a demand for these units that don't require as much power, Insinkerator has 1 model and that model is the Insinkerator LC-50. You'll find this unit compares to most household units and has a flexible yet easy installing process.
Among other things, this model has a stainless steel grinding chamber and also a standard wall switch that operates the unit.
1 - 3 HP Motor Size
These are ideal for kitchen use. They are not too big nor too small and do their job without too much hassle. A disposer that has between 1 and 3 horsepower is suitable for use at a small diner, for example.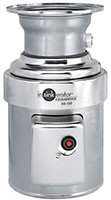 In this sense, the InSinkErator SS-100-47 could be a perfect choice. It has a 1725 RPM motor, it has three phases, and it's heavy duty. Its knives are made out of nickel-chrome alloy, which ensures resistance to corrosion.
It weighs 50 pounds and is plated with chrome and stainless steel. This is truly a great option for small restaurants that don't have massive amounts of excess waste food or garbage.
For larger quantities, a decent enough choice is the slightly bigger InSinkErator SS-200-35. You get a 2-horsepower motor with 1725 RPM and nickel chrome cutting blades. The item weighs somewhere around 70 pounds.
Even though it's quite big, it's actually pretty silent. The grind chamber is large, as the product is suitable for larger restaurants, cafeterias, and hotels, among others. For a 3-horsepower commercial garbage disposal, we recommend InSinkErator SS-300-25.
This works best for large restaurants, cafeterias, and fast food facilities. It weighs 119 pounds, and that's a consequence of its gigantic maw. It can consume hundreds of servings in a heartbeat.
As all other InSinkErator models, it is made with non-corrosive materials, both inside and out. With minimal maintenance, it could last you a lifetime, and that's not even a joke.
5 - 10 HP Motor Size
Commercial garbage disposers with 5 or more horsepower are to be used in really large buildings that need to dispose of unbelievable amounts of food or trash: large restaurants and schools, hospitals, hotels, etc.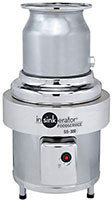 These are not for home use. They're quite voluminous, and it's less likely they'll fit properly under the sink. If you need such a monster, the 5-HP InSinkErator SS-500-28 is a good deal.
It weighs no less than 124 pounds. The capacity, accordingly, is really large. It has a built-in water saver, a manual switch for On and Reverse as well as automatic functions for both of these. It can destroy up to 2,500 meals in just one sitting.
A truly monolithic commercial garbage disposal device built for even bigger places is the unprecedented InSinkErator SS-1000-10. This 131-pound beast has a three-phase motor with 10 horsepower that can chew more than 3,000 meals or bulks of trash. Again, it's less likely that you'll need such an enormous food disposer in your house, but anyway, the choice is yours. The thing is, it is too large to be used in the household. Not even restaurants could be capable of using it 24/7.
This is absolutely ideal for non-stop restaurants, fast-food chains, hospitals with 2-3 stories, nursing homes, asylums and university cafeterias. Honestly, food disposal does not get easier than when performed with this great Goliath.
Sure, it is a bit pricey, but what would you expect? At least you know that it's an investment, rather than an expense. To wrap it all up nicely: this is, hands-down, the ultimate disposer and can make your life a lot easier than it was before getting one of these monsters for yourself.
3. Conclusion
Fortunately, there are many food disposers on the market today. No matter how big your establishment or house is, you are sure to find the fitting disposers for it. Make sure that you don't rush your decision.
Not all disposers are the same. They can differ in terms of type of feed (batch or continuous), the intensity of the noise they make as they grind the garbage, insulated-non-insulated and others.
Your job is to make sure that the garbage disposer you're choosing has the perfect size for what it is supposed to do. You cannot buy a small HP disposer if you have a restaurant where hundreds of people eat on a daily basis.
With all these being said, we hope you've found this buying guide informative and helpful. Consider the products we've presented you in order to rest assured you're going to purchase a qualitative machine that won't break after one month of use.
Share This!