Commercial Air Curtain Buying Guide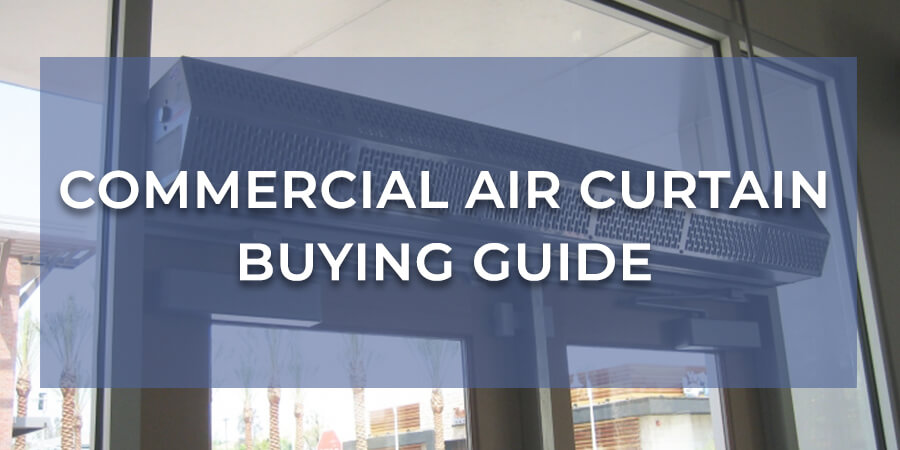 Although the concept of air doors sounds like something taken out of a vintage science-fiction movie, it is pretty mundane and easy to understand. Chances are you've passed through hundreds of air curtains (as they are also called), but had no idea. They are usually installed in business buildings, malls, hospitals, fast food drive-thru's, and other commercial & industrial buildings. They're seldom seen in houses.
Air Conditioning, of course, is important, particularly during the summer, when the air inside the building has to be cooled down low. During the wintertime, commercial & industrial buildings use heaters in order to warm up the air. No matter if it's summer or winter, however, you need an air door at the entrance to your building, and in the following, we shall see why you should do this.
1. What Is an Air Curtain?
Air curtains are devices that look very similar to the A/C ones. They are installed above the actual doors of a building. When they are turned on, they create an air barrier between the air on the outside and the air on the inside.
Why would I need such a barrier? It's simple. When the barrier is put in place, the hot air stays inside (in wintertime). The same thing applies to the cool one during the summertime, it helps keep the temperature low. Nothing gets in or out when the door is opened. The barrier also filters tiny insects and pollen, so these cannot get into your building. Here are some other advantages you can reap by using air doors:
You save money on bills: On electricity, to be more precise. Say it's winter and customers keep on opening the door to your commercial building. The cold air from outside will get in, so you'll have to keep the heaters running for a longer time. This translates as more money paid on electricity to keep them on.
Less pollution: Dust, pollen and other allergens can pollute the air inside your building. This can wreak havoc on your and your employees' lungs.
Invites people in: You probably know by now that when customer see an open door, they're all the more prone to entering the building. Well, this can easily be an additional cost without an air curtain installed properly above the door.
Facilitates in-out transit: This is particularly helpful for disabled people that cannot open the doors on their own. But of course, it is efficient for everybody. You'll get more customers, and they'll keep on drifting in and out without a problem.
2. How to Choose Your Air Curtain
Size is the most important aspect to take into consideration when you're about to purchase commercial air curtains for your space. Most people seem to think that if they install a huge one over a tiny door, they would reap God knows what benefits. Nothing could be farther from the truth. Installing a large air door over a small entrance is actually a waste of money. Why? Because half of that column of air would literally serve no purpose. You must purchase an air door that fits perfectly.
Another thing to pay attention to would be the price. You wouldn't want to spend more than one grand on a product you could've bought a lot cheaper someplace else. The price grows higher with the size of the air door.
Ultimately, you need to assess what kind of air door you need: heated or unheated? They have different uses, as it is normal. Heated air doors are perfect for places where it's cold, especially during the winter. Unheated ones are good during the summer.
3. Types of Air Doors
Heated Air Curtains
Heated air curtains are perfect accessories for a building during the harsh wintertime. By expelling a barrier of heated air from the commercial air curtain, the rooms will have a steady temperature, since the cold air from outside won't be able to get inside.
Again, this will save you some really good money on heating. As you might expect, air curtains come in different sizes. There are small, medium and big ones. You will have to purchase one in lines with the space you need covered.

If you have a smaller door you want a heat barrier on, then Mars Air Systems has the model LPV236-1EBC-OB could do the trick. This particular air curtain is 36 inches wide frontally and 11.75 in depth.
These specs make it suitable for not-so-large doors. The size also accounts for the fact that it is quiet. The speed of the 1/6 horsepower motor can be controlled by the user according to his/her needs. The wattage is 6,100 while the voltage is 208. It weighs 35 pounds.
The smallest one is the Mars Air System LPV225-1EBC-OB that comes at 25" in width and 11.75" in depth. The motor is 1/6 horsepower, as well. It weighs 25 pounds and has a wattage of 6,100 + a voltage of 208 Volts.
I'd say this is the best one you can get for the door of a small shop, for instance. I would not recommend it for wider/larger doors because it won't be as effective. If at all.
For a slightly larger entrance, the 48" Mars Air System HV248-1EBB-TS is a great choice. It weighs 145, so a lot more than the previous model. The motor is one horsepower and is single phase. It is 48" inches wide and has a depth of 21.38".
This is really great for revolving and/or automatic doors, since it wide enough to launch the barrier on the whole extent of the doors. The maximum height it can be installed at is 12 feet, which isn't bad at all.
If you need air doors bigger than 48", don't worry. There are 96" and even 120" doors you can purchase. For the former, the Mars Air Systems HV296-2EFN-TS is definitely worth considering.
It has two 2-horsepower motors and an outstanding wattage of 24,000 watts. It is 96" wide, 21.38" deep and 14" high. In a nutshell, it's a monster. This is suitable for large industrial buildings.
The design is nothing out of the ordinary, but it doesn't look bad either. It's your traditional sieve-like metal air door. And now to move on to the goliath of this buying guide: the gigantic Mars Air Systems LPV2120-2EFO-OB.
The greatest thing about this model is the fact that despite its huge 120" width, it is quite slim. It is only 11.75 deep, so it won't look like you've installed a jet engine above the door.
Equipped with two motors of 1/6 horsepower, you can rest assured that no cold air is going to enter the building and no warm one will leave it. It is a bit pricey, but it is totally worth every penny. This is truly an investment rather than an expense.
The next category of air doors we are interested in is:
Unheated Air Curtains
Unheated air doors are usually used for refrigeration rooms (in restaurants, for instance) or anywhere else where cold storage is a day-to-day requirement. Of course, they can be used by businesses, too.
They differ from the heated ones through the fact that these do not heat the air barrier. A good example of unheated air curtain is the Mars Air Systems LPV248-1UA-OB. It has a nice black color and sieve design.

The specs are the following: 48" in width, 10.75" in depth, and 8" in height. Thanks to being lightweight (only 48 pounds), it can easily be installed on a shop door. The motor has 1/6 horsepower, which isn't great, but effective nonetheless in a small space.
The commercial air door features a controller, so you'll be able to shift the course of the air barrier whenever you please without any hassle. If the doors of your building are larger, you can opt for the Mars Air Systems LPV260-1UA-OB.
This is 12" wider than its fellow LPV248. The design is the same since a single product comes in various sizes so that everybody can find the fitting air door. The motor is the same as the one put on the model above.
It is also 10 pounds heavier than the former air door. However, it is easy to install and doesn't need anywhere near as much maintenance as you'd think it would. Many people are at a loss when it comes to cleaning these air curtains.
Sometimes they end up spending a lot of money on "professional cleaners." Don't do that. Just wipe it on the outside, take the panels down and vacuum clean them. That's about it. Now let's move to the "heavyweight champions."
Keep in mind that purchasing extremely large air doors for relatively small entrances does not mean it's going to work better than one that would fit perfectly. First of all, half of the barrier will not be where the actual door is.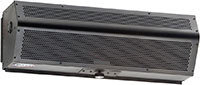 The first heavyweight commercial air door is the 98" Mars Air Systems LPV296-2UA-OB. It has got two motors (they amount to 1/6 horsepower) and weighs 98 pounds.
PRO Tip: Usually, air doors weigh 1 pound per inch in width. This piece of info can shorten the time you spend researching.
The LPV296 has a depth of 10.75" and a height of 8". Like pretty much all other models within this series, this has a controllable speed, too. It goes without saying that the doors with speed controls are better than the rest.
You'd think that such a large air door will produce a lot of noise, but here's the deal: it is very quiet for how corpulent it is. Also, it is quite cheap (under $1500), so you won't need to get a loan to afford it.
The fourth unheated air door in our list is even bigger. The Mars Air Systems STD2120-3UA-OB is 120" wide. If this isn't enough to cover those massive doors leading to where your office space is, then nothing is (except the next model).
This has the highest number of motors in this list: it has got 3 of them, with 1/2 horsepower. It is also one of the few that are coated with a special powder that prevents corrosion (and money spent cleaning it of it).
The maximum height it can be installed at is 10 feet. It will still be fully efficient at that height. This is great, because when an air door is installed at a lower point, it does not look good. But this way, it won't attract as much attention.
It weighs 185 pounds, due to the multitude of motors. And now, the crowning model of this buying guide, the enormous Mars Air Systems LPV2144-2UD-OB. This beast is 144" wide, 10.75" deep and 8" in height.
It has two 1/6 horsepower motors, weighs 142 pounds and therefore it is the largest air door we've presented in our guide. This model's performance is really great for large commercial & industrial spaces like warehouses, but will also work just fine when installed in hospitals, schools, football fields, etc.
You also benefit from excellent protection against environmental factors and flying insects with this one. Needless to say, this will be a godsend during the summer, particularly when you're in an area known for murderous mosquitoes all throughout the season. However, if you want to add double the protection against those crazy buzzing critters, you might want to also invest in a commercial-grade bug zapper that will help controls those pesky insects day in and day out.
4. Air Curtain Switches
One very crucial component to making sure your air curtain is running correctly is the air curtain switch. Unfortunately, air curtain switches seem to slip most people's minds when purchasing an air curtain for their location. You might think to yourself, why isn't this component included with the machine? The simple answer to that is, all air curtain locations are unique and may require a different switch type than other locations. Also, some locations may need a control kit, control panel, or a non-standard switch.
5. Conclusion
Air curtains are all over the place nowadays. Malls, hypermarkets, markets, business buildings, hotels, schools, hospitals, fast food drive-throughs – all of them have them. They are less popular for individual use, as in being used at one's house. The chances that you keep your door open all day long are very slim. That's why these are (relatively) exclusively commercial & industrial. As we've seen, there are a few factors you have to research when you're looking for a great commercial air door.
We have also provided many of the best Mars Air models on the market. They differ in size and specs, so you're sure to find the appropriate product on this list. We hope that this buying guide came in when you were unsure what to do. Now that you know what air curtains are all about and how they differ from type to type, there's only one thing you have to do: purchase your own high-performance commercial air curtain.
Share This!