Mars Air Systems - Commercial Air Curtains and Air Doors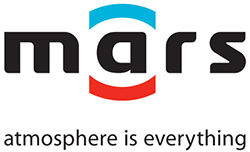 Mars Air Systems is an international leader of commercial air curtains and air door systems. Here at GoFoodservice, we are proud to have a close partnership with Mars Air to provide its full line of air curtains, parts, and accessories to our customers. Mars Air is a trusted manufacturer whose products are American-made with the highest production standards and best customer service. Adding a Mars Air Curtain System to your commercial building will help provide the necessary energy savings, temperature control, and sanitation to protect your investments and meet your business goals.
What Is an Air Curtain?
An air curtain or air door provides a continuous stream of air between exterior or interior openings and doorways in a commercial building. These openings include a variety of customer entrances, service windows, docks, cold storage rooms, patios, and much more. When installed, air curtains or "air doors" offer energy savings and give better control of your environment. They can reduce air separation, retain climate-controlled air, and reduce stress on HVAC systems. Air curtains also help combat the entry of smoke, flying pests, fumes, and debris into the business, which may carry a variety of germs, smells, and dangerous pathogens. Mars Air has been offering these air curtain systems for over 50 years, which are must-haves for green energy initiatives, comfort, and sanitation.
What Type of Products Does Mars Air Offer?
Mars Air Systems has a large selection of hot and cold air curtains in many sizes for a variety of industries. These industries include foodservice, hospitals, manufacturing, retail, and more. Apart from these traditional air curtains, Mars Air offers their UVC® Series with germicidal capabilities and a 99% surface kill rate. They also offer their HEPPAC® filter, which can capture 99.97% of microscopic pollutants as small as 0.3 microns. These solutions may be critical in a clean room, recovery room, or sanitation area where your bottom line is health and safety. Mars Air also has a wide variety of air curtain switches for doors and entryways, which can provide increased energy savings by kicking on only when needed. For any type of environmental business challenge, there is a Mars Air Curtain that will help meet your goals!
What Are the Benefits of a Mars Air Curtain?
Mars Air Curtains have a variety of uses for a commercial business. When several internal and external air doors or curtains are in use, they create a tandem system of green energy, temperature control, and improved sanitation for your building. Adding an air curtain to a busy entryway or doorway could provide additional comfort to your patrons or workers via reduced heat or air conditioning loss. When operating a foodservice business, an air curtain can keep out airborne and insect-carried pathogens that can cause illness and disrupt your operation. Mars Air Curtains can also pay for themselves! If you visit the Mars Air Systems website, there is a calculator that will help determine when you will break even on your product and when you will start seeing savings.
Why Choose GoFoodservice as Your Mars Air Systems Dealer
At GoFoodservice, we offer one of the largest selections of Mars Air Curtain products (over 500), with the customer service to support you through the entire buying process. With this large number of products available, we are not always able to stock all of the products at our location; but with our close relationship to Mars Air Systems, we can get you your air curtain made quickly and efficiently. Our dealer and manufacturer relationship will give peace of mind knowing your Mars Air Curtain products are newly made to your specifications, and just for you. And whether you're ordering a Mars Air Commercial Air Curtain, Mars Air Curtain Parts, or an Air Curtain Filter, we will take care of you all the same here at GoFoodservice.
Our team at GoFoodservice is trained to assist buyers in a variety of industries with specialized equipment such as Mars Air System products. We can narrow down options for you, answer product questions, and ensure you are making the right choices. We can walk new buyers through purchasing, help previous buyers with upgrading, and assist owners with finding the parts and accessories to maintain their equipment. And our close relationship with Mars Air Systems will ensure you are well taken care of throughout the lifetime of your purchase! Please browse our Mars Air System products on the website, or contact us for more information.
Learn More about Mars Air Systems
Mars Air Systems Best Sellers
Mars Air Systems Categories