4 Best Air Fryer Dehydrators for Your Restaurant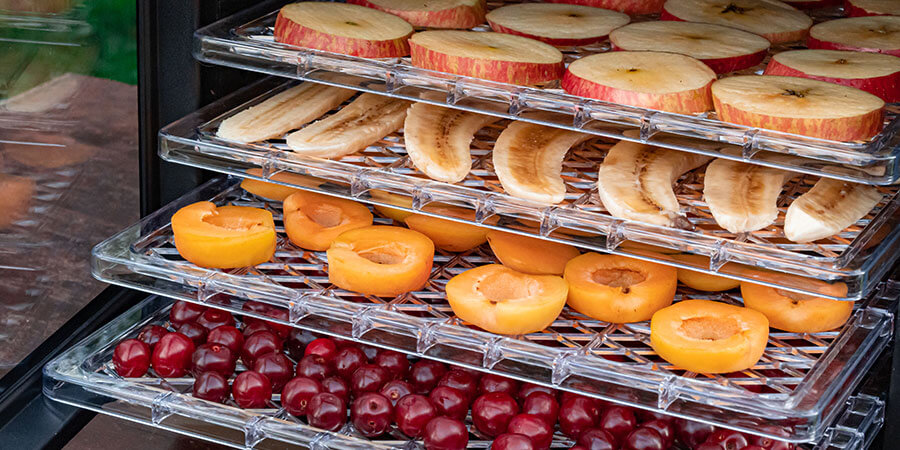 Do air fryers make good dehydrators? The answer is "Yes, they can!". But when looking for an air fryer that can handle dehydrating, there are a few things you'll want to consider:
Temperature: Dehydration and cooking temperatures differ greatly. In order to dehydrate food, you need to get it hot enough for evaporation to take place but not hot enough that the food cooks. The sweet spot for this is normally around 140* Fahrenheit. Not all air fryers can be programmed this low, so make sure you know the temperature range for any air fryer you plan to use for dehydration purposes.
Cooking Time: Dehydration takes much longer than air frying. In some cases, it can take up to 24 or even 36 hours (think jerky). In others, such as in the case of dehydrating fruits and vegetables, it may take just a few hours. Either way, you'll want to make sure that your air fryer can run continuously for an extended period of time.
Fryer Construction: Oven-style air fryers work best for dehydrating because they offer more space and that helps to generate more convection or airflow.
Which Air Fryer Can Be Used as A Dehydrator?
Technically, just about any air fryer can be used as a dehydrator.
As mybudgetrecipes.com notes, "It's true that some air fryers can be used as a dehydrator. Some air fryers have this setting pre-programmed in, and others allow you to reduce the heat setting enough so that you don't cook the food."
Many of the air fryers we've included in this list offer a dedicated dehydrator setting. But for those that may not, dehydrating food is still possible – all you have to do is turn down the heat to around 140 degrees Fahrenheit and let the food sit in the air fryer for several hours to up to 36+ hours, depending on the food.

Can an Air Fryer Be Used in a Commercial Kitchen?
Yes. It can. If you search the web for answers to this question, you might find a lot of "No's" out there – and it's understandable why.
Air fryers are essentially just small convection ovens that get really hot and circulate air to produce crispy food that feels like it was deep-fried. In recent years – especially during and after the COVID-19 pandemic – they've gained immense popularity. They've mostly been marketed and sold to home users rather than restaurants or commercial kitchens, but commercial units like those made by Quick n' Crispy actually predate the home air fryer as you probably know it.
In the words of hotairfrying.com, "Quik n' Crispy Greaseless Fryers are commercial models of basket-type hot air fryers. They run very hot and cook very fast…The product has been made for some time before 1990 — long before home hot air frying devices were available..."
Units like these have a large capacity and commercial durability, making them fantastic for smaller kitchens that don't want to deal with the mess of a deep fryer, or even food trucks for which the latter isn't practical. So with that in mind, let's dive right into some great commercial-friendly air fryers you can use to dehydrate foods.
Our Top Four Commercial Air Fryers for Dehydration
Dehydrating food in an air fryer is easily accomplished with units like these:
1. Quik n' Crispy 600020, GF Greaseless Fryer, 120v
This powerhouse commercial air fryer offers 2,200 watts and 120v of power and a large 12"x12"x2" cooking basket. It cooks with a combination of forced air and radiant heat, providing plenty of power for frying or dehydrating.
2. OMMO 17-Quart Countertop Air Fryer with Rotisserie & Dehydrator
This unit is durable and versatile, offering a capacious 17-quart cooking capacity, 360-degree rapid air circulation, and a dedicated dehydration setting to make dehydrating your favorite foods quick and easy.
3. COSORI Smart Air Fryer 14-in-1 XL 7QT
This impressive and popular unit has fourteen unique cooking functions, including a dehydration setting, and even offers an accompanying "VeSync" app so that you can control it remotely via a smartphone.
4. Ninja DT251 Foodi 10-in-1 Smart XL Air Fryer
This oven-style air fryer offers ten unique cooking functions and can accommodate up to 12 pounds of food, making it a great choice for busy restaurants.
Final Thoughts
Air fryers can make wonderful food dehydrators in a pinch. Several of the units we've linked to in this piece even offer dedicated food dehydrating functions.
But is an air fryer the best option for dehydrating foods? If you're looking to do a lot of dehydrating on the regular in your restaurant kitchen, dehydrating in an air fryer may not be the most efficient option; you may instead be better served by purchasing a dedicated commercial food dehydrator.
Share This!