Fryer Oil Test Kits & Devices
Safely manage the quality of the fryer oil in your kitchen with our selection of fryer oil test kits & fryer oil devices!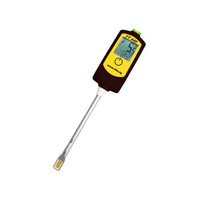 It's no secret that deep-fried foods are favorite staples on any American menu, but maintaining the optimal temperature and freshness of the frying oil can bring about its own set of challenges. With fryer oil test kits you never have to wonder about the quality or temperature of your fryer oil again, which is why GoFoodservice carries the fryer oil test devices your hospitality business requires. Our cutting-edge fryer oil test kits actually measure the content of your oil and alarm you anytime it's time to change it out! Never worry about serving your customers overcooked, undercooked, or less than fresh food again in your top-of-the-line commercial deep fryer! Come check out our selection of fryer oil test devices made by Vito Fryfilter, the top name brand in the industry. Whether you're serving French fries, fried chicken, or any other deep-fried delectable, ensure the perfect end product with an even frying temperature and optimal oil quality. Cleanliness matters when it comes to running your business, and that's especially true when it comes to the food you serve to your customers. GoFoodservice has the fryer oil test kits you need to ensure the utmost quality and safety of your fried foods.