Weston Meat Processing Equipment & Supplies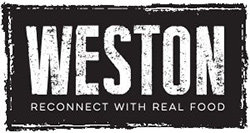 Weston Helps People Reconnect With Real Food
In a world full of filters and fillers, Weston's authenticity stands out. Weston's mission is to allow people to create their own real local food with the freshest ingredients. Those who enjoy creating goods with their own hands will find that Weston has all the equipment you need to make your own sausage, jerky, and other meat products as well as the supplies needed to package them up for sale. When you have something great, why not share it? Weston is grounded in family values and wants to do its part in keeping time-honored food traditions alive for future generations.
Some Foods Are Just Better When They're Made With Love
Weston knows that everything is better when it's made with love. Food just seems to taste better when it's made from scratch with tools like homemade pasta machines and manual sausage stuffers. Weston's products are all built with materials that carry the same level of integrity as the Weston brand itself. Heavy-duty construction and designs that are easy to clean are just some of the perks you'll find when you purchase Weston meat processing equipment and supplies. Plus, many of Weston's meat processing equipment and accessories come with a warranty. Now that really beefs up the deal!
Perfect For Personal Or Commercial Use
The great thing about Weston's meat processing equipment is that it's affordable and small enough to be used in a personal kitchen, but it can also stand up to the demands of commercial meat processing. Whether you're shopping for personal or commercial use, here are some of the most popular Weston products that we carry:
Meat grinders and meat choppers
Food dehydrator
Meat and sausage mixers
Vacuum packaging equipment
Pasta making machines
Sausage stuffers and jerky shooters
Meat tenderizers and marinators
Browse our selection of Weston meat processing equipment and supplies and start creating food recipes today that will be handed down as family heirlooms for many tomorrows!
Weston Best Sellers
Weston Categories