Wells Manufacturing Commercial Food Equipment & Accessories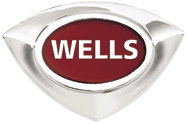 As one of our most commonly seen and used groups within the cooking industry, Wells Mfg is a name with close to a century of proven expertise. At GoFoodservice, we are proud to sell their products as we know that they live up to the consistently high standards which we set for everything that well and offer. We also make use of some very impressive different Wells Manufacturing tools, such as new and improved Wells gas valves as well as a whole host of new Wells parts. Since Wells Mfg by Middleby Group hardware could cover anything from Well pot washers to Wells built-in cookers, Wells warmers, or Wells refrigerators, we want to make it nice and easy for you to pick up a high standard of equipment in a fraction of the traditional time and cost.
We sell many useful parts for Wells Mfg including pre-filters, relays, and griddle elements. We also sell other beneficial parts, such as Wells thermostats, Wells dials pivot brackets, and Wells baskets. No matter what you need, you should have little to no problems in hunting down the best Wells Manufacturing parts for your equipment in a fraction of the normal time that it might take you. For more help and information on getting things done right, then, feel free to take a look at our numerous Wells Mfg parts. With a simple change of parts, you could add renewed vitality and life to a piece of equipment that was already beginning to cause you a headache. Don't put up with poor performance: take a look at what we have here, and make sure all of your Wells Mfg hardware can stay operational for many more years to come!
Wells Mfg Best Sellers





Wells Mfg BWB-1SE
900 Watt Electric Waffle Maker / Iron, Single, 7" Belgian
$2,744.00 /ea
Free Shipping

Wells Mfg H-115
1.65 kW Electric Countertop Range, Double Burner
$1,304.00 /ea
Free Shipping


Wells Mfg H-63
5.2 kW Electric Countertop Range, Double Burner
$1,536.00 /ea
Free Shipping
Wells Mfg Categories