Tide Cleaning Products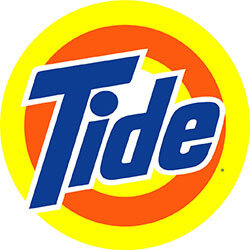 Tide is the world's highest-selling detergent brand, manufactured and marketed by the consumer goods giant Procter & Gamble (P&G). Tide remains to be P&G's #1 brand in the US, and for good reason: it was the first heavy-duty synthetic detergent in the United States capable of washing off heavy soil from dirt, pioneering a new era for cleaning detergents. First introduced in 1946 with its signature bright yellow and orange packaging and soon shipped internationally in 1949, Tide has become a timeless household necessity, both culturally ingrained and universally loved.
Today, with numerous formula changes and varieties, Tide remains a strong brand, constantly innovating to keep its well-earned reputation. Still the world's best solution to fighting fabric stains, dirt, and odor, it isn't a surprise that business owners would opt for Tide by the bulk. For maximum cost efficiency without compromising on its timeless quality, Tide Professional™ provides a wide range of powerful cleaning solutions to match your needs.
Floor stains can get pretty nasty and hard to remove, especially in high-traffic areas. For maintaining that ideal spick and span look, it's best to stock up on Tide Commercial Cleaning Supplies, guaranteed to rid floors of grease and dirt. A little goes a long way!
Fabric and linens, on the other hand, require a different approach to cleaning and removing dirt. Investing in Tide Commercial Laundry Supplies will definitely ensure spotless and germ-free fabric in record time, keeping clothes smelling fresh and clean for days on end. Tide Commercial Fabric Products can be entrusted with all kinds of stains, all in record time!
From Tide commercial cleaning products to Tide commercial laundry products, GoFoodservice can offer you your trusted and preferred Tide Professional™ solution. Give us a browse today!
Tide Best Sellers

Tide 02363
18 Lb Institutional Floor & All-Purpose Powder Concentrate Cleaner

Tide 02364
36 Lb Institutional Floor & All-Purpose Powder Concentrate Cleaner
Out of Stock

Tide 40212
46 fl oz High Efficiency Original Liquid Detergent (6/case)

Tide 40217
92 fl oz High Efficiency Original Liquid Detergent (4/case)

Tide 41825
46 fl oz Free & Gentle Liquid Detergent (6/case)

Tide 51042
5.7 oz Laundry Detergent 4-Load Concentrate Powder (14/case)

Tide 84998
9 Lb Original Laundry Detergent Powder w/ Bleach (2/case)

Tide 90391
25 fl oz Simply Clean & Fresh High Efficiency Liquid Detergent (6/case)
Tide Categories