Microban Professional Products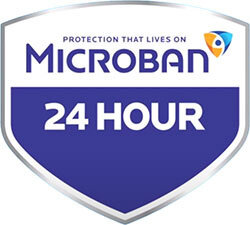 Microban is a strong leader in the cleaning supplies industry. This trusted P&G brand has been setting the standard for cleaning solutions since 1984. Through meticulous research and experimentation using innovative technology, their teams of scientists work hard every day to redefine what effective antimicrobial cleaners are. They do the hard work, so cleaning can be easy. Their patented formulas will help your restaurant sparkle, so you can feel confident in choosing Microban commercial cleaning products for your foodservice business.
GoFoodservice is proud to offer a selection of Microban Professional cleaning supplies. Every one of their cleaning solutions is guaranteed to kill 99.9% of bacteria in just 5 minutes. These effective Microban commercial cleaning supplies continue to work for a full 24 hours and keep bacteria from growing on surfaces even after multiple touches. Whether you need to sanitize tabletops or bathroom stalls, there are Microban Professional cleaning products for every cleaning need. You can find them all here at GoFoodservice.
Browse the available Microban Professional cleaning products to find the perfect cleaner for your foodservice business. Available in aerosol and spray bottles, Microban commercial cleaning products are perfect for use on high-touch areas such as door handles, countertops, and even upholstery! Whether you run an office cafeteria, a five-star bistro, or a grab-and-go food stand, proper sanitation is extremely important. Microban commercial cleaning supplies ensure your food is served from a hygienic environment, so you can keep your guests and employees safe.
If you are interested in learning more about how your restaurant can benefit from adding Microban Professional cleaning products to your cleaning supplies lineup, contact us today! Our team of professionals has years of experience in the foodservice industry. We are here to help you every step of the way.
Microban Professional Best Sellers




Microban Professional Categories