John Boos Commercial Kitchen Equipment & Accessories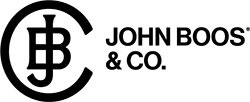 John Boos is one of the nations longest running manufacturers of commercial foodservice equipment and furniture. In 1887, the company got its start in Effingham, IL when the founder John Boos began selling the original Boos Block made by his father Conrad Boos. In the mid 1960's John Boos began manufacturing stainless steel products including work tables, commercial kitchen sinks, and many other custom fabrication products.
With their mastery of wood and steel over the years John Boos craftsmen take immense pride in their products and strive to produce top quality products in both form and function. With all of their wood sourced from the USA John Boos also pledges to commit itself to environmental safety and are a part of the NHLA. If you're looking for commercial foodservice furniture with a high level of craftsmanship then browse our selection of John Boos products and see firsthand the quality that has kept the company going for generations.
Best Sellers By John Boos
60" Three Compartment Sink w/ 2 Drainboards, 12" Deep Bowl, E Series
12" Stainless Steel Hand Sink w/ Back Splash Faucet
50" Three Compartment Sink, No Drainboard, 14" Deep Bowl, E Series
75" Three Compartment Sink w/ 2 Drainboards, 14" Deep Bowl, E Series
76" Three Compartment Sink w/ 1 Drainboard, 14" Deep Bowls, Pro-Bowl Series
29" One Compartment Sink, No Drainboard, 14" Deep Bowl, Pro-Bowl Series
40" One Compartment Sink w/ 1 Drainboard, 14" Deep Bowl, B Series
93" Three Compartment Sink w/ 2 Drainboards, 14" Deep Bowls, B Series
John Boos Categories