John Boos Commercial Kitchen Equipment & Accessories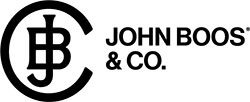 John Boos is one of the nation's longest-running manufacturers of commercial foodservice equipment and furniture. In 1887, the company got its start in Effingham, Illinois when the founder, John Boos, began selling the original Boos Block made by his father, Conrad Boos. In the mid 1960's, John Boos began manufacturing stainless steel products including work tables, commercial kitchen sinks, and many other custom fabrication products.
With their mastery of wood and steel over the past 125 years, John Boos craftsmen take immense pride in their work and strive to produce top quality products in both form and function. With all of their wood sourced from the USA, John Boos also pledges to commit itself to environmental safety and has become a part of the NHLA.
John Boos Bar Furniture And Equipment
Your bar can come to life with John Boos' stainless steel bar furniture. Welded for durability and crafted for easy clean up, John Boos bar equipment is the difference your bar has been looking for.
Underbar ice bins and ice chests
Underbar liquor displays
Underbar blender stations with dump sinks
Underbar drainboard units
Underbar sinks
Underbar glass rack storage
Underbar accessories and soda guns
John Boos Storage
Organize your way to a bustling kitchen with John Boos' storage solutions. TIG welded and NSF certified products make these metal storage units safe, durable, and easy to clean for any restaurant or commercial kitchen.
Aluminum keg racks
Aluminum bun and sheet pan racks, casters included
Slotted and solid stainless steel wall shelves, hooks and mop holders optional
Stainless steel microwave shelves
Stainless steel spice racks
John Boos Hygiene Products
Nothing is more important to your kitchen than hygiene and safety, which go hand-in-hand. Whether your commercial kitchen is on-the-go or stationary, John Boos has your hygiene in mind.
Mobile soak sinks
1, 2, or 3 compartment commercial kitchen sinks
Hand sinks
Mop sinks
Touchless wall-mount faucets
Hand sanitizer, soap, and lotion dispensers and accessories
If you're looking for commercial foodservice furniture with a high level of craftsmanship, pride, and attention to sustainability, then browse our selection of John Boos products and see firsthand the quality that has propelled the John Boos company for generations.
John Boos Best Sellers








John Boos Categories