Doyon Baking Equipment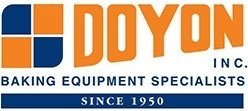 Anyone who takes part in baking as part of their profession will know how important getting the right tools will be to your success. If you are serious about building a long-term enterprise, then you should invest in some high-quality baking goods from Doyon. Formed in 1950, they are a long-term partner with GoFoodservice and we believe that this helps us to make sure you always can pick from the best standard of equipment without a single issue.
We care about making it nice and easy for you to pick up a high standard of baking equipment. This is why we use Doyon. Ever since the 50s, they have made it easy for commercial baking equipment to find its way to you at a price that you can very easily afford. From mixers and proofers to racks, sheeters, and bread pans, you can find just about everything that you may need here. Baking can be a tough thing to get right, but you will soon find that the collection of high-quality bread slicers, pizza warmers, commercial mixers, dough sheeters, and rounders all come in handy in so many ways.
Making Baking Less of a Challenge with Doyon
Doyon has long been a premium name within the industry, having been secured in 2009 by the Middleby Group. Since then, they have managed to produce even more equipment all with the simple aim of making the challenge and stress of creating quality baked goods a bit easier to go with. If you are serious about working with a high standard of baking equipment, then the sheer variety on offer here should make that nice and simple for you. Not sure what you need? Then you can take a look at our numerous best sellers and you should be able to find something just right for your needs in there.
Otherwise, take a look at each of our Doyon categories and you will easily find high-standard baking equipment for just about any need that you might have. With the help of a solution like this, you can make the production and development of a much better quality of products so much easier – and then pass on that quality and consistency to everyone who comes to your business. Baking can be tough, but with the right tools, it can be made a bit easier. So, give your staff a helping hand today, courtesy of the immense quality of Doyon!
Doyon Best Sellers

Doyon DRPR4
1.4 kW Countertop Pizza Merchandiser, Four 20" Racks
$3,283.00 /ea
Free Shipping

Doyon LMA620
Electric Reversible Dough Sheeter, Free Standing
$18,042.00 /ea
Free Shipping

Doyon AB080XA
175 Quart Commercial Tilting Spiral Mixer
$68,298.00 /ea
Free Shipping

Doyon AB080XAI
175 Quart Commercial Tilting Spiral Mixer
$101,443.00 /ea
Free Shipping

Doyon AB080XB
175 Quart Commercial Tilting Spiral Mixer
$68,298.00 /ea
Free Shipping

Doyon AB080XBI
175 Quart Commercial Tilting Spiral Mixer
$101,443.00 /ea
Free Shipping

Doyon AB080XE
175 Quart Commercial Tilting Spiral Mixer
$68,298.00 /ea
Free Shipping
Doyon Categories