Chef Specialties Salt & Pepper Shakers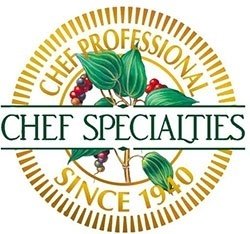 Chef Specialties helps flavor your commercial or residential kitchen with their salt and pepper shakers. The company was first started over 70 years ago, and established a milestone in food equipment as the first company to produce American-made pepper mills. They've been committed to helping you season your dishes ever since, and still make their products right in the U.S.A. for better quality control. Designed to be easy to handle and use with the most durable turnplate in the industry, Chef Specialties brand salt and pepper shakers are built to last for even the most busy kitchen. Each turnplate and retainer bar has been fastened with long screws for durability, while the spring tension system ensures a consistent grind every time you use it.
Chef Specialties Pepper Mills
Chef Specialties pepper mills are the cornerstone of the company's history and have a long legacy of innovation. Available in a variety of materials including acrylic, natural woods, and stainless steel, not only do Chef Specialties pepper mills have a durability that lasts, they also look good even after repetitive use. The company even backs their pepper mills with a limited lifetime guarantee on the grinding mechanism. Chef Specialties makes their pepper mills for tabletop use so they're able to withstand a demanding environment whether you purchase them for your home or commercial kitchen.
Chef Specialties Salt Mills
Salt mills from Chef Specialties are made to look great and perform well. Sleek in design, yet built to last with ceramic grinders, the salt mills come in a variety of materials, colors and sizes. The ceramic grinding mechanism withstands heavy use and was designed to prevent corrosion so your grind is consistent every time. Whether you have a chic little bistro, or a bright 1950's diner, you can find a Chef Specialties salt mill for your restaurant. The commercial salt mills also do well for the home chef, letting you season your dishes with a splash of elegance each time you reach for the mill.
Chef Specialties Best Sellers
Chef Specialties Categories