Aqua-Pure Water Products 3M™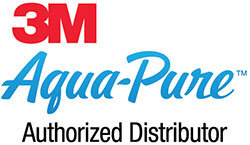 Get pure clean-tasting fresh water to cook and drink in your home with 3M™ Aqua-Pure residential filter systems. A 3M™ company, Aqua-Pure specializes in offering water filtration systems of any size for your home's sinks, water heater, dishwasher, and other appliances. Ideal for homeowners or landlords, Aqua-Pure water filtration systems gives you the purest water possible from a trusted name that's been a leader in filtration technology for over 50 years.
Aqua-Pure Residential Filter Systems
Clean tasting water is good for your family's health, and you can't go wrong with a 3M™ Aqua-Pure residential water filter system for your kitchen or the whole home. Aqua-Pure by 3M™ features a full range of systems that remove sediment, bad odor, lead, and other things that can contaminate your water. Choose the features that work for you, with options including flow rate, dedicated faucet, reverse osmosis, and more. You'll also find a variety of sizes and water capacities to make sure your Aqua-Pure residential filtration system is a perfect fit for the home.
Aqua-Pure Residential Filter Cartridges
After you've purchased a residential 3M™ Aqua-Pure water filter system, be sure you and your family are getting the freshest water with a genuine residential filter cartridge. Replacement Aqua-Pure residential filter cartridges help ensure your water remains fresh and appealing.
Aqua-Pure by 3M Best Sellers
Aqua-Pure by 3M AP917HD-S
Replacement Cartridge for 3M AP904 Residential Water Filter System, 1 pack
Estimated Lead Time: 02/15/2023
Aqua-Pure by 3M AP-DW80/90
Replacement Cartridge for AP-DWS1000 Residential Water Filter System, 2 pack
Only 11 in stock at this price!

Aqua-Pure by 3M Categories