Save Energy with the Right Restaurant Equipment / Energy Conservation Tips for Restaurants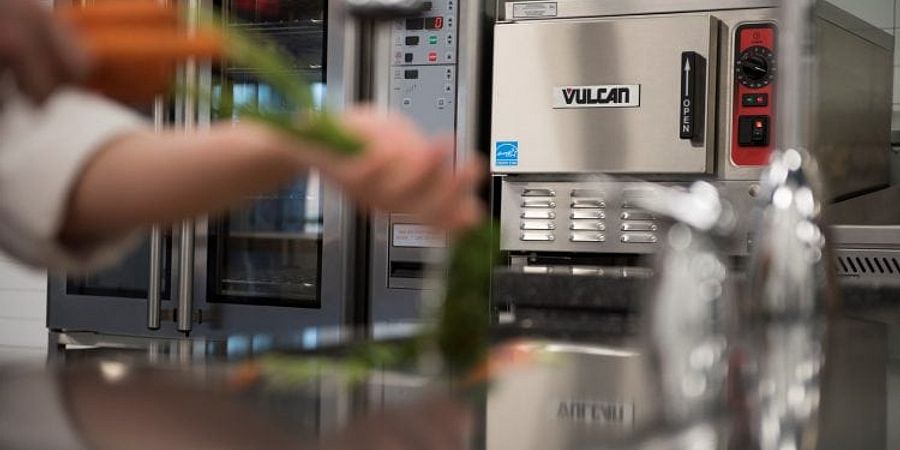 Energy Conservation Tips That Can Save Your Restaurant Thousands
Restaurants—no matter how big or small—need large amounts of energy to operate every day. Gas, air ventilation, temperature control, and large-scale appliances are just a few of the many contributors to your high energy bills month over month. While it may seem like a never-ending battle to lower these costs, it is a lot easier than you might think.
4 Energy Conservation Tips for Restaurants
With years of experience innovating some of the top energy-efficient equipment on the market, we've helped many businesses find and save money on their utility costs. Throughout the years, we've come to find that these four tips can help your business do the same. Start creating a more energy-efficient kitchen with these simple switches.
Tip #1: Use Energy Efficient Restaurant Equipment
To easily start saving on your energy costs, try replacing your kitchen equipment with energy-efficient models. Today, there are many new appliances that have modernized the average commercial kitchen. Energy-efficient restaurant equipment is designed to use less energy without compromising productivity or output.
Common commercial cooking equipment, such as ovens, steamers, and griddles are some of the most energy-consuming pieces of equipment you can find in your kitchen. Making the switch to high-efficiency ovens and steamers can greatly reduce your energy costs.
If you are looking to save both time and money in the kitchen, try updating your space with ENERGY STAR® certified restaurant equipment. These models produce higher pound-per-hour production and, in some cases, can offer shorter cook times.
Tip #2: Replace Light Bulbs
This quick and cost-effective tip can help you start saving on energy costs without too much time or effort for you or your staff.
Switching the lighting in your dining room, kitchen, appliances and offices to use energy-efficient light bulbs, such as T8 fluorescent and LED signage will help your business take a step in the right direction for energy-savings.
Tip #3: Perform Regular Equipment Maintenance
No matter if your kitchen is filled with energy efficient equipment or not, regular maintenance is crucial for energy savings. Creating a maintenance calendar for your staff to adhere to will help keep your appliances in tip-top shape so that they're always performing their best.
Cleaning the surfaces of your equipment isn't enough. Have your staff regularly check the oven, refrigerator, and steamer seals. This will help keep heat and cool air from escaping, which allows your machines to operate less frequently. Replacing doors and seals that aren't in good condition will help you begin to see savings on your energy bills.
Cleaning is also extremely important for kitchen equipment. Not only is it crucial for the integrity of your business, but it will also help your equipment run more efficiently. For example, if there is sediment at the bottom of your kitchen's fryer, it will run less efficiently. Debris at the bottom of an oven will not allow it to close properly. Buildup on refrigerator doors will not allow them to seal properly. By cleaning these common messes, you can help your kitchen run more efficiently.
For additional tips on how to clean your kitchen equipment, visit this blog post by Vulcan Equipment, titled: Cleaning Your Commercial/Restaurant Kitchen Equipment.
Tip #4: Turn Off Equipment Not in Use
While it may be convenient to run all appliances throughout the day, it can waste a significant amount of energy in your kitchen. Try turning off energy-heavy kitchen equipment, including gas and electric burners, electric broilers, and gas under fired broilers when they're not in use.
Turning these appliances off and on throughout the day may not be sustainable for your restaurant but implementing shorter operating hours for these pieces can help your business save on energy costs.
Start Saving Energy in Your Kitchen
Restaurant energy efficiency is easier than you might think. With the right tools, equipment, and knowledge, your restaurant and staff can start making energy-saving switches in the kitchen and save your business thousands of dollars every year.
Share This!