Commercial Range Cleaning Guide | 4 Tips You Need to Know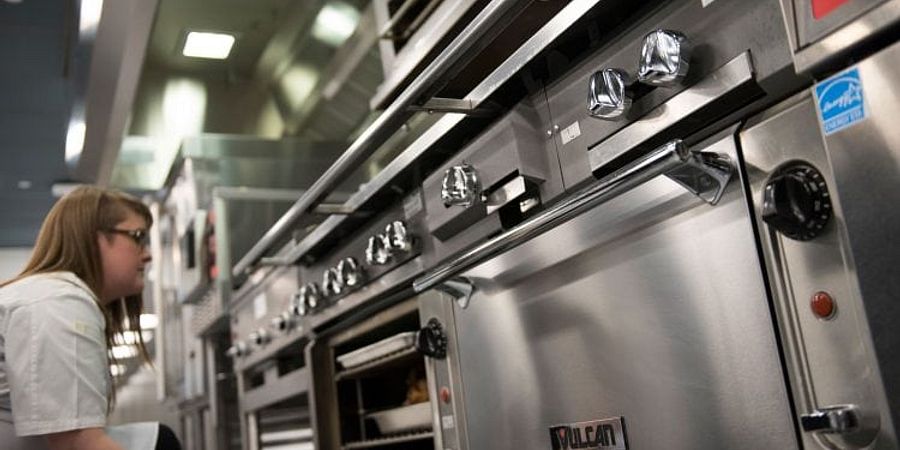 Cleaning your commercial range is crucial for maintaining a safe and sanitary workplace for you, your staff, your family, and your customers. Neglecting maintenance will not only create a dirty workplace, but can also create health risks for your customers, tarnishing your business' reputation.
Just like most equipment in your kitchen, your range needs to be maintained each and every day. Without proper maintenance, the lifespan of your range can decrease—fast.
To help keep your restaurant's range in pristine condition and extend its lifespan for years, we have developed this quick and easy range cleaning guide. Follow along to ensure your range is properly maintained.
4 Commercial Range Cleaning Tips for Your Restaurant
Whether you have a gas range or electric range, it must be cleaned every day. Oil, grease, and grime can start to build up around knobs, burners, and hinges, which can reduce the efficiency of your commercial range.
Cleaning Your Commercial Range
Step 1: Pull out crumb trays, remove dirty foil, and wipe down everything with a wet cloth.
Step 2: Remove stray bits of food that may have fallen out during sautéing.
Step 3: Wipe down ledges, back splashes, knobs, doors, and handles with a wet soapy cloth.
Step 4: Wipe grates with a wet cloth and knock off any food particles that may be stuck on with a wire brush.
Step 5: In the oven, wipe down the door, bottom, and sides of the porcelain interior with a warm soapy cloth. Racks can be removed and run through the dishwasher.
To ensure that your range is cleaned each and every day, create a checklist for your staff to follow at the end of each shift. Train the entire back of the house staff and managers on the best cleaning practices to ensure that every part of the range is cleaned properly and safely. Have managers perform checks before locking the doors.
With this simple routine, you can keep your investment solid for years on end
If you've invested in quality commercial kitchen equipment, you want to ensure that it remains pristine, so you can get the most out of it. While daily maintenance is crucial, it's important to choose your cleaning materials wisely. Abrasive cleaners that include borate, sodium hydroxide, or ammonia will leave a bluish and hazy cast on your metal range and can also cause surface scratches and pits.
Scratches are more than just a cosmetic problem. Even the smallest surface imperfections can become a breeding ground for all types of bacteria. They can even promote corrosion in the area.
Choose a cleaner like vinegar that provides a natural disinfectant.
The best time to start cleaning your range is when it's still warm. This is true for most cooking equipment. Because you are most likely dealing with oil and grease, warmth will loosen it up and make it easier to clean.
Never try cleaning your commercial range while it's still on, or before it has cooled enough to touch. Use caution to determine whether your range is safe enough to start cleaning.
You can immensely shorten the cleaning time by letting a few items soak while you scrub the surface.
For example, when you're cleaning the stovetop, let the grates, burners, and knobs soak in hot water and soap to soften the grime. While those are soaking, use a scraper to clean off burnt food from the surface of a range. For cast-iron grates, be sure to season them if you cleaned them using soap. Cast iron will rust if it is not reintroduced with oil.
Then, using a non-abrasive cleaner and cleaning cloth, scrub the sides, top, areas around the knobs, and handles.
After, rinse the soaking items and do a final scrub. While they dry, clean the drip trays with a degreaser and remove all build up crumbs and gunk.
Reassemble your range when everything is completely dry.
Protect Your Investment
Your commercial range is one of the most used items in your commercial kitchen and with these four simple cleaning tips, you can protect your investment for years on end.
Comments
Hello, nice post.
Share This!