Everything You Need to Make the Perfect Waffle Cone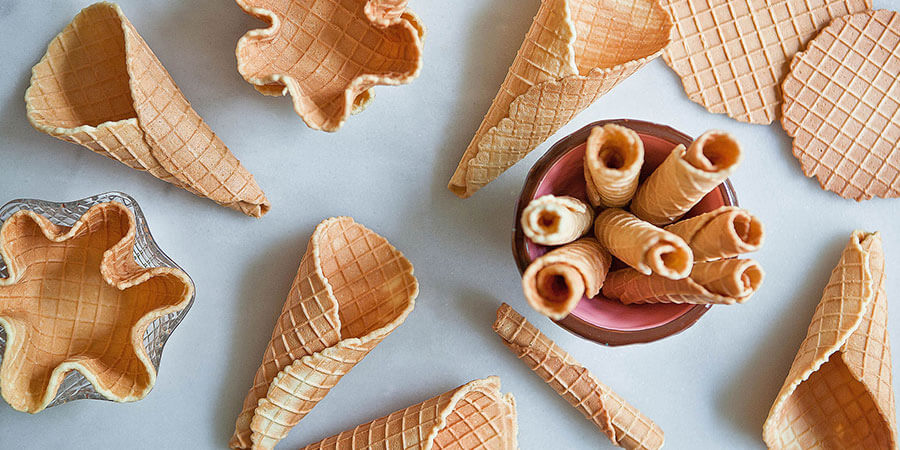 The average American eats about 22 pounds of ice cream every year, facts from the International Dairy Foods Association show, which means ice cream can equal some cool profits. Your summer sales can get a boost from ice cream, especially if it's scorching outside. Once you have the ice cream brand of your choice in your restaurant, the next thing to consider is how you want to serve it. The classic waffle-cone for ice cream is a favorite of many, and if you can order homemade waffle cones, you'll set yourself apart from other restaurants. You'll also have better margins, so you won't be paying an upcharge on pricy prepackaged cones. What goes into making the perfect waffle cone? The answer is easier than you think!
What it Takes for Perfect Waffle Cones
Making a delicious waffle cone comes down to two things: tools and ingredients. You may deviate from this formula but the standard waffle cone will use flour, sugar, butter, salt, milk, and eggs. Once your batter is mixed, it's time to actually make the waffle cones. Home cooks may opt to make waffle cones at home by actually baking them in an oven, but there's also the option for commercial kitchen waffle cone makers. You can make waffle cones in a waffle iron, to speed up the process, however, it's easier to use a dedicated appliance, such as a restaurant waffle cone maker.
A restaurant waffle cone maker is a medium-sized appliance that sits on the countertop. Choosing this option for cones lets you make waffle cones quickly and efficiently, without losing the homemade taste and crunch your customers expect. Many of these appliances have been designed with a space-saving design so you don't lose valuable space in your restaurant kitchen.
Features of a Waffle Cone Maker
A waffle cone maker will come in a single or a double cone maker style. You should look at the season's anticipated sales and your past ice cream sales to determine which option is better for your needs. The design of either is made purely for pouring and baking a waffle cone, and a traditional waffle cone maker will be made of heavy-duty die-cast housing and feature non-stick plates for easy removal. Many options on the market will have an audible beep and light indicator for when the cones are done.
Tools for Waffle Cones
Waffle cone batter is thin and nothing like the thickness of a traditional breakfast waffle.
You'll also see that the depth of the batter area is more shallow than a waffle iron, so you get a thin crepe-like waffle. You can then easily shape it into a waffle shape with a rolling and forming tool. These commercial kitchen accessories let you form the cone on the tool's platform, rather than on a baking sheet or countertop. The rolling and forming tool has a large waffle cone mandrel made of high-grade stainless steel that lets you form a cone shape. You can even make waffle cone bowls with a bowl shaper as well, so you can scoop ice cream right into them.
This summer and beyond, your customers will probably crave a sweet treat, and ice cream is a favorite of many. Don't serve them your ice cream in a dish, but instead offer them the full experience with a waffle cone or bowl!
Share This!