Coffee Lovers Rejoice! 38 Ways to Make a Perfect Coffee (Infographic)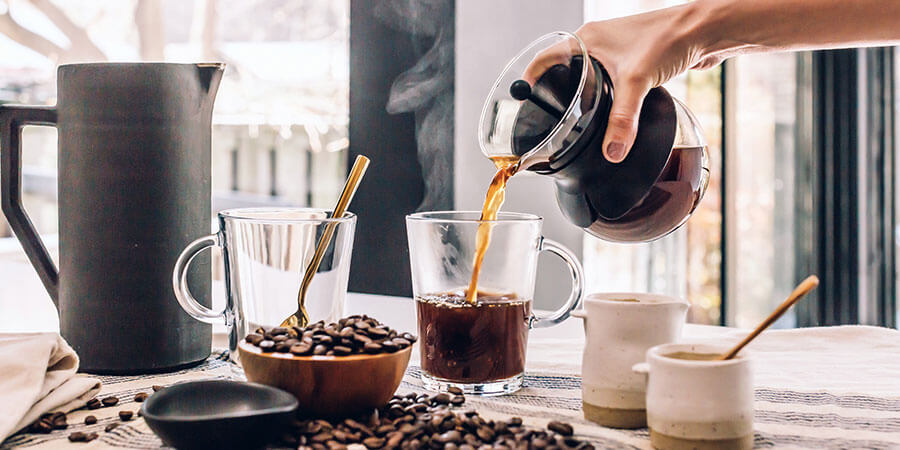 If you're a coffee-lover, you may have thought of experimenting with your morning cup of joe, but don't know where to start or what ingredients to use. If that's the case, here are fifteen different coffee creations you can make with household ingredients. Mix and match to your heart's content and enjoy a different cup every day to find which coffee confections you truly love
Coffee Drinks You'll Love
Ristretto
Ristretto is a stronger coffee because it requires a smaller ratio of water to coffee beans, at just twenty milliliters of water to .75 ounces of finely ground coffee beans. This is a drink for those who like their coffee stronger, but you can still feel free to add as much crema as you desire.
Doppio
Doppio coffee is surprisingly average in strength but still great for those who love double espresso shots. You'll need to mix sixty milliliters of water to two ounces of finely ground coffee beans and serve with crema on top, plus any sugar you want.
Lungo
For those who like their coffee less strong, you can consider making a lungo, which requires ninety milliliters of water to three ounces of finely ground coffee beans. This is a large but weak cup of coffee with less room for crema. If you need a pick me up in the morning, consider making something stronger.
Espressino
If you're looking for something a little more complex, you can try making espressino. This drink requires steamed milk, espresso, and some cocoa powder for good measure. You'll add thirty milliliters of water to one ounce of fine coffee grinds and another thirty milliliters of water to one ounce of steamed milk.
Café Affogato
When you're in the mood for something sweeter, you can make café affogato. This drink lets you add a scoop of ice cream to brighten up your morning and your coffee simply add a scoop of your favorite ice cream to a normal espresso.
Espresso Romano
If you're craving something sour instead of sweet, you can try an espresso romano, which will provide a citrus zing to your morning. Simply take an ordinary espresso drink and add a lemon wedge or another citrus fruit of your choice, such as an orange.
Cortado
If you have a little more time in your morning and want to enjoy a drink with more of a milk base than your average espresso, you can try a cortado. To make a cortado, simply take an espresso and add an equal amount of warm milk, topping off with some milk foam.
Cortadito
If the above sounds good to you but you're in the mood for something sweeter, you can try making a cortadito. This drink is just like a cortado but you'll Cubano instead of espresso, meaning you'll brew your coffee with the addition of brown sugar.
Cappuccino
Feeling low in the morning and need a pick me up? A cappuccino is a direction to go in, as you'll use a double shot of espresso, mixing equally with steamed milk and milk foam. This is a great pick-me-up drink because of the double espresso, but it's none too bitter because of the added milk.
Café Au Lait
If a cappuccino is too strong for your tastes, you can try the café au lait, which instead uses French press coffee. French press coffee is less strong because it's a more traditional coffee rather than espresso. This type of coffee also uses equal parts scalded milk.
Mocha
If you're not the adventurous type, there's always the classic mocha. This drink requires one part espresso and two parts hot chocolate, followed by a heaping helping of whipped cream smothered on top. This is a classically sweet drink for those who don't regularly drink coffee.
Irish Coffee
For those who really need a pick-me-up in the morning or like to drink coffee at parties and other events such as weddings, there's Irish Coffee, which is alcoholic. Irish Coffee consists of one tablespoon brown sugar, two parts French press coffee, one part Irish whiskey, and as much heavy crema as your heart desires.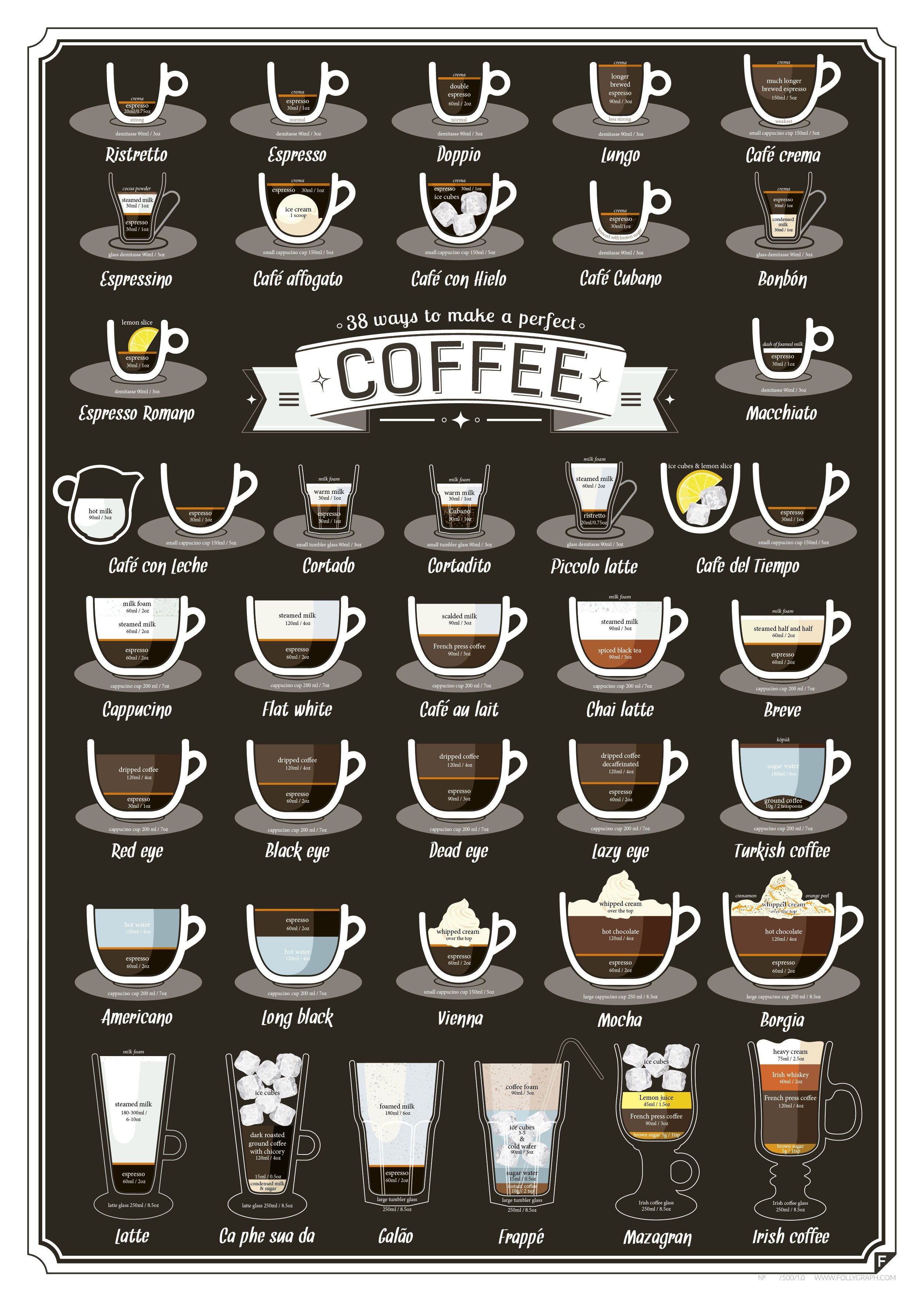 Comments
Nice blog . Good work.

Great blog. Thanks for sharing the 38 ways to make a perfect coffee infographic. Very educated.
Share This!