Waring Waffle Maker Guide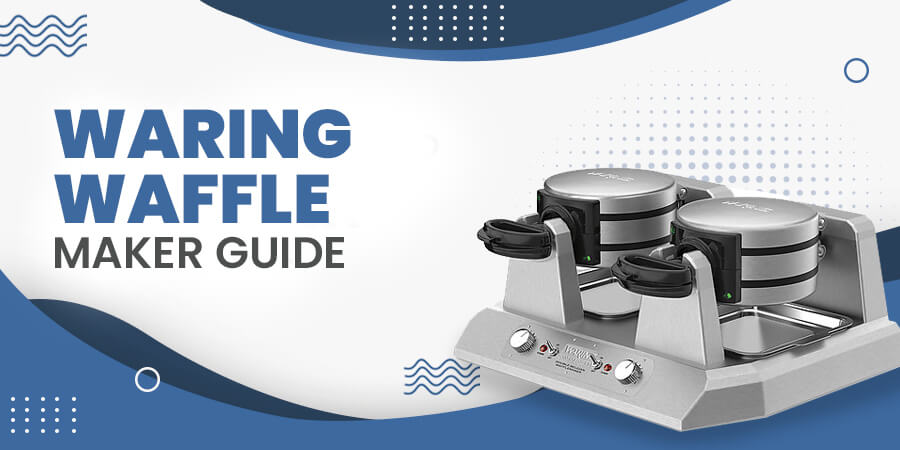 Everyone loves a waffle! Crispy on the outside and feathery soft on the inside, waffles are a delicious addition to any meal or menu. Waring commercial waffle makers are the industry's top choice for delivering perfect results on every order. This Waring waffle maker guide will explore the most popular Waring waffle makers so you can make the best choice for your kitchen. Whether you serve a waffle a day, or a waffle every minute, set yourself up for success with quality Waring Commercial Products from GoFoodservice.
Classic Waffles
If your kitchen favors the classic waffle or Belgian waffle, you can choose from several high-quality Waring waffle makers. These kitchen standards feature heavy-duty die-cast housing that will stand up to the busiest brunch crowds. Rotating models provide even cooking on both sides as well as the delicious browning that makes waffles perfect for syrup! Non-stick plates, precise heat controls, and built-in timers make the cooking process easy and enjoyable.
No matter how many waffles your kitchen makes at a time, there's a Waring commercial waffle maker to suit your needs.
Trendy Waffles
You can also expand your menu to offer a whole world of new waffle styles. GoFoodservice is excited to carry a range of fun, trendy waffle options that will expand your offerings. Make dessert waffles, waffle sandwiches, and trendy waffles that people love to post on their social media accounts with top-of-the-line Waring waffle makers.
Imagine adding these options to your menu.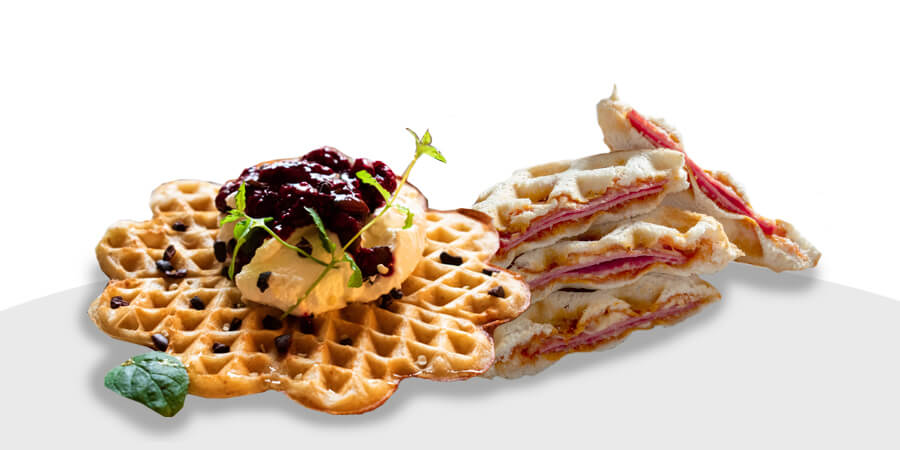 Mini Belgian Waffles
Make breakfast sliders, tiny sandwiches, or child-sized waffles with a mini Belgian waffle maker. The Waring WMB400X can bake up to 100 mini waffles every hour.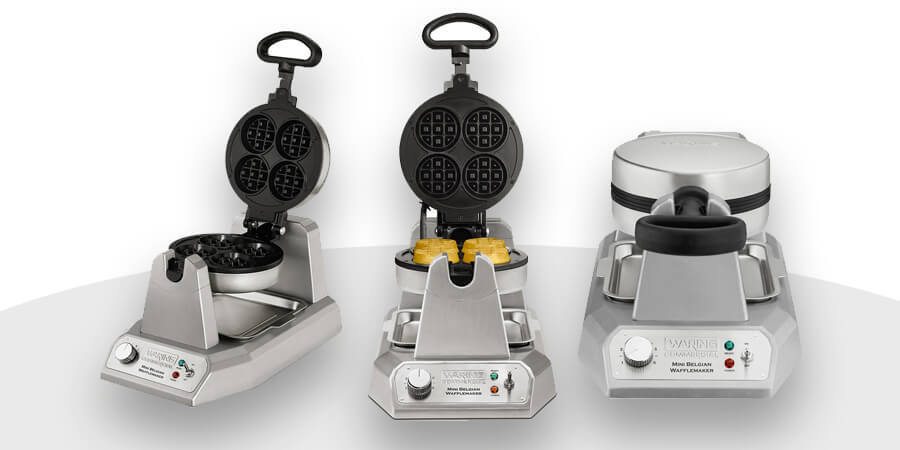 Fresh Waffle Cones
Enhance your fresh ice cream selection or make frozen yogurt seem extra special with a waffle cone maker. Waring waffle cone makers can produce up to 120 cones an hour!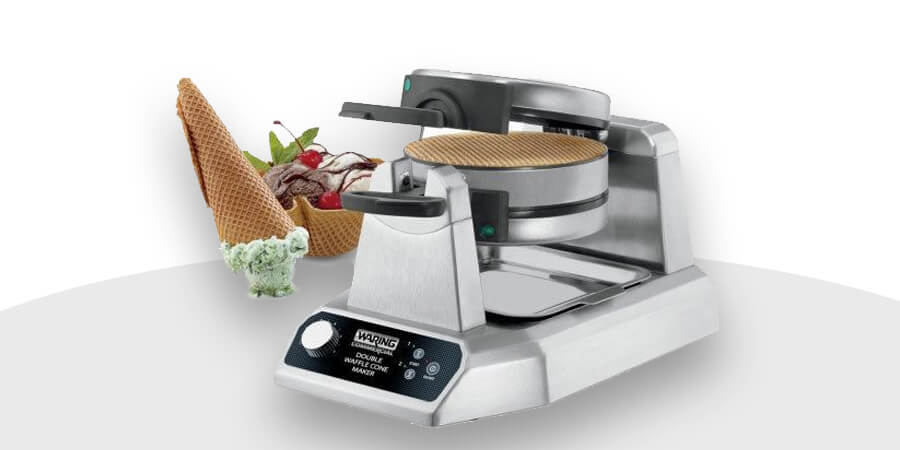 Waffle Gelato Paninis
Take your dessert menu to the next level with gelato paninis. The Waring WICSP180 Panini Press lets you cook ice cream, sorbet, gelato, and any other frozen treat inside a toasty, golden bun. The resulting panini is warm outside, cold inside, and absolutely unforgettable.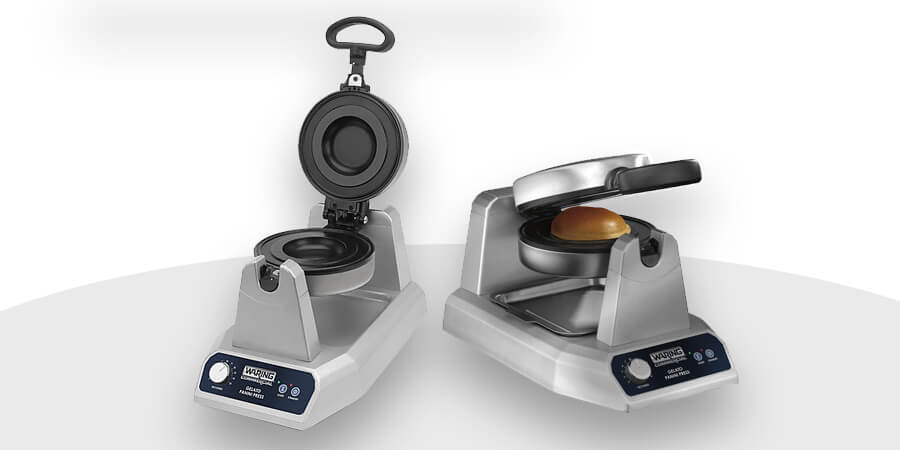 Bubble Waffles
Join an international trend with bubble waffles. Waffles made with the Waring WBW300X feature rounded bubbles instead of the standard square nooks and crannies. Try serving them in your standard manner, or use them as ice cream cones for a special touch.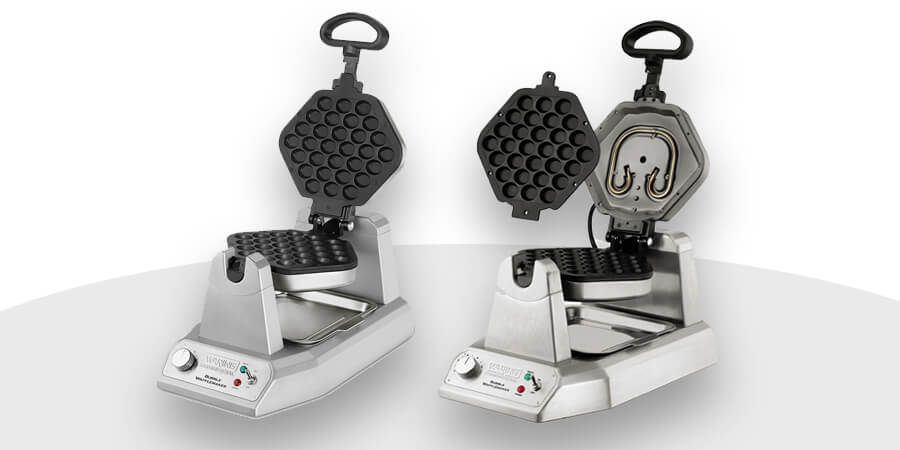 Waring's Easy Care and Reliable Results
Industry-leading - Waring commercial waffle makers are an industry-leading tool for making delicious waffles and other treats. Explore some of the benefits of adding Waring waffle makers to your kitchen.
Reliable cooking - Waring's rotating waffle makers provide even cooking on both sides of the waffle, every time. Built-in timers help you stay on top of flipping and removing the waffles, so you never need to throw away a burnt product.

Non-stick plates - Waring waffle makers are easy to use and clean thanks to triple-coated non-stick plates. Every waffle comes easily off the griddle. You can even explore a variety of non-stick safe forks and other tools to remove your cooked waffles.

Easy care - Your waffle maker is made of strong, die-cast materials, so it's at home in the busiest kitchens. Non-stick surfaces are easy to wipe clean at the end of the day. Plates are also user-serviceable so you'll never be out of order.
High output - Waring commercial waffle makers cook quickly, perfect for your fast-paced kitchen. You can produce one waffle every two minutes with a single waffle maker, and up to 75 waffles an hour with a quadruple model.

Warranty - Your waffle maker comes with a one-year limited warranty, as well as a 90-day warranty on plates. Waring and GoFoodservice stand behind their products, so you can count on the best, most reliable products for your busy kitchen.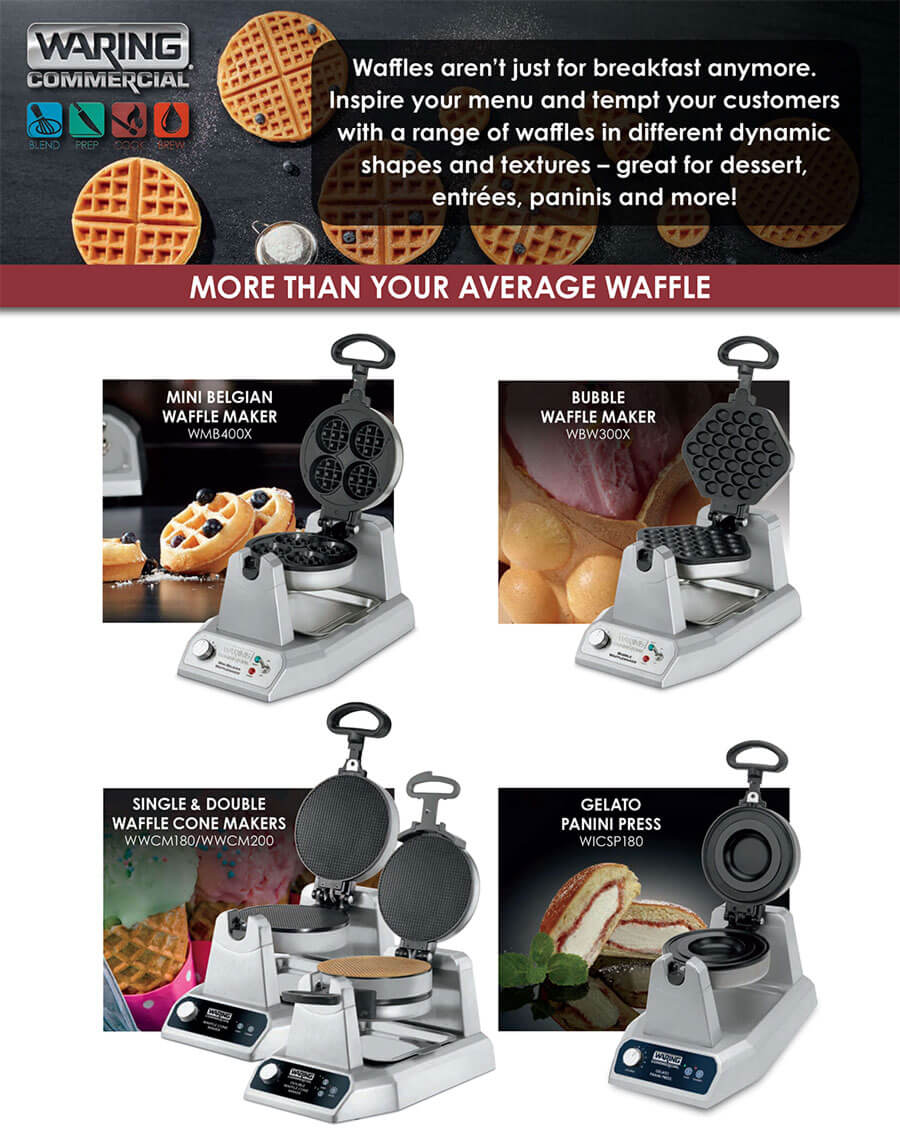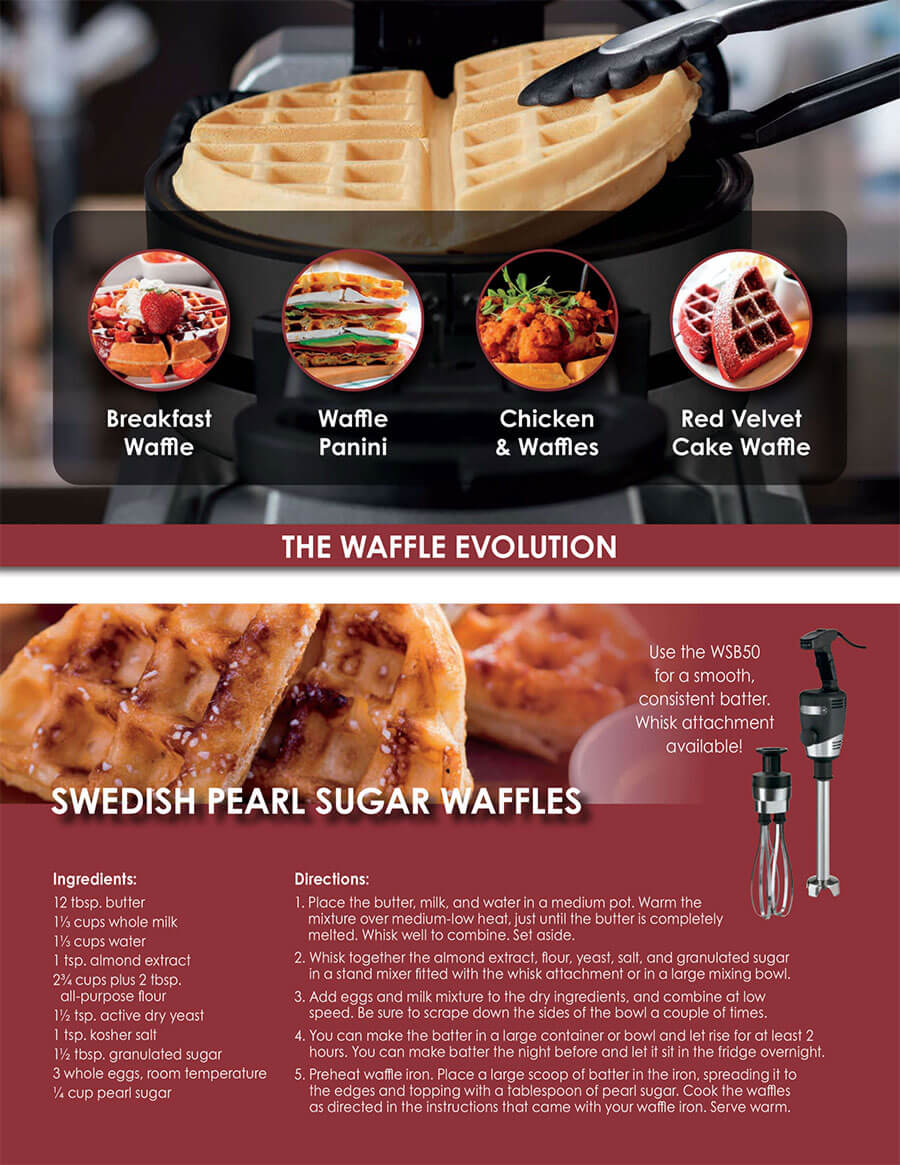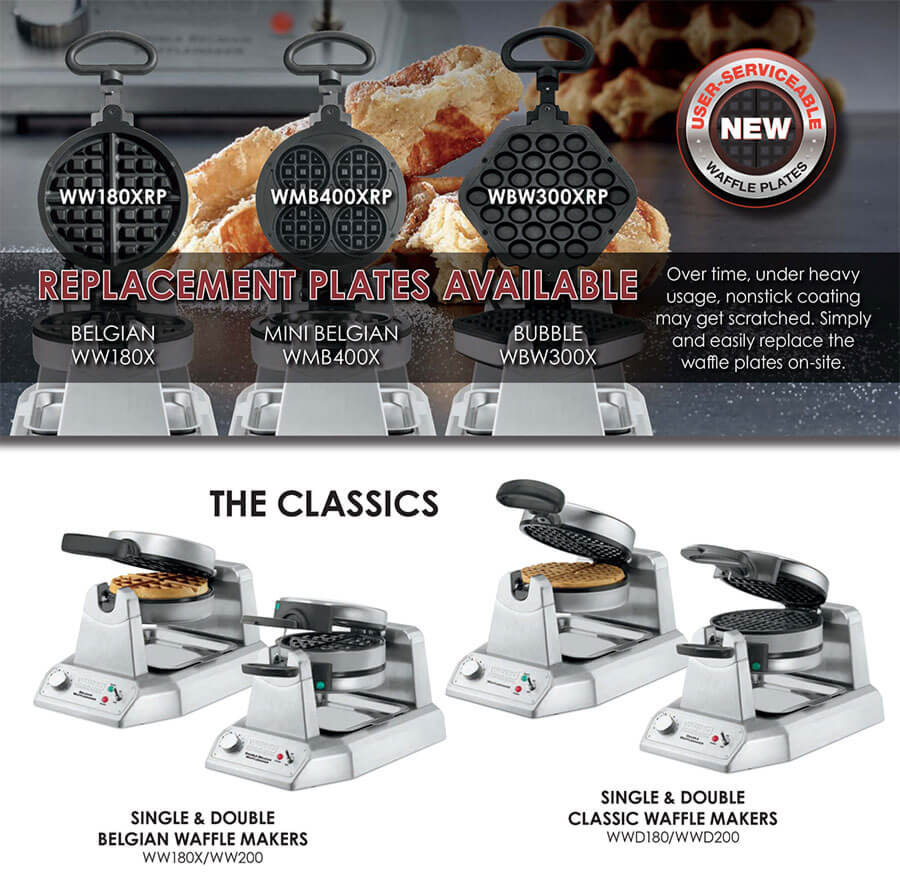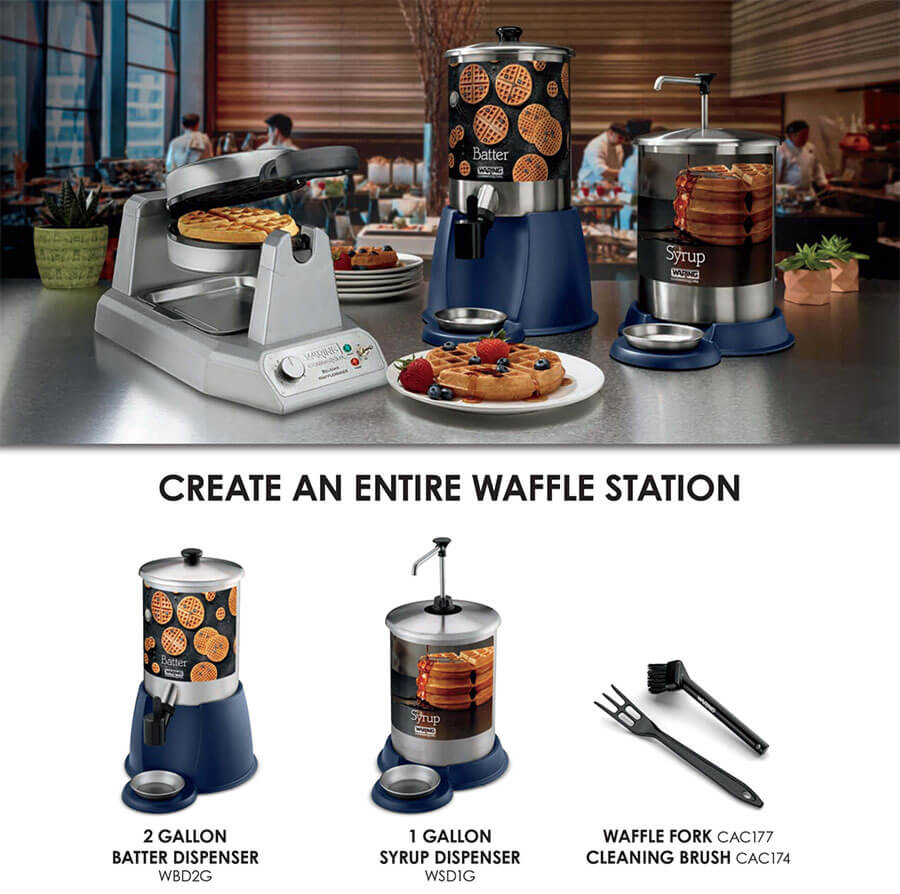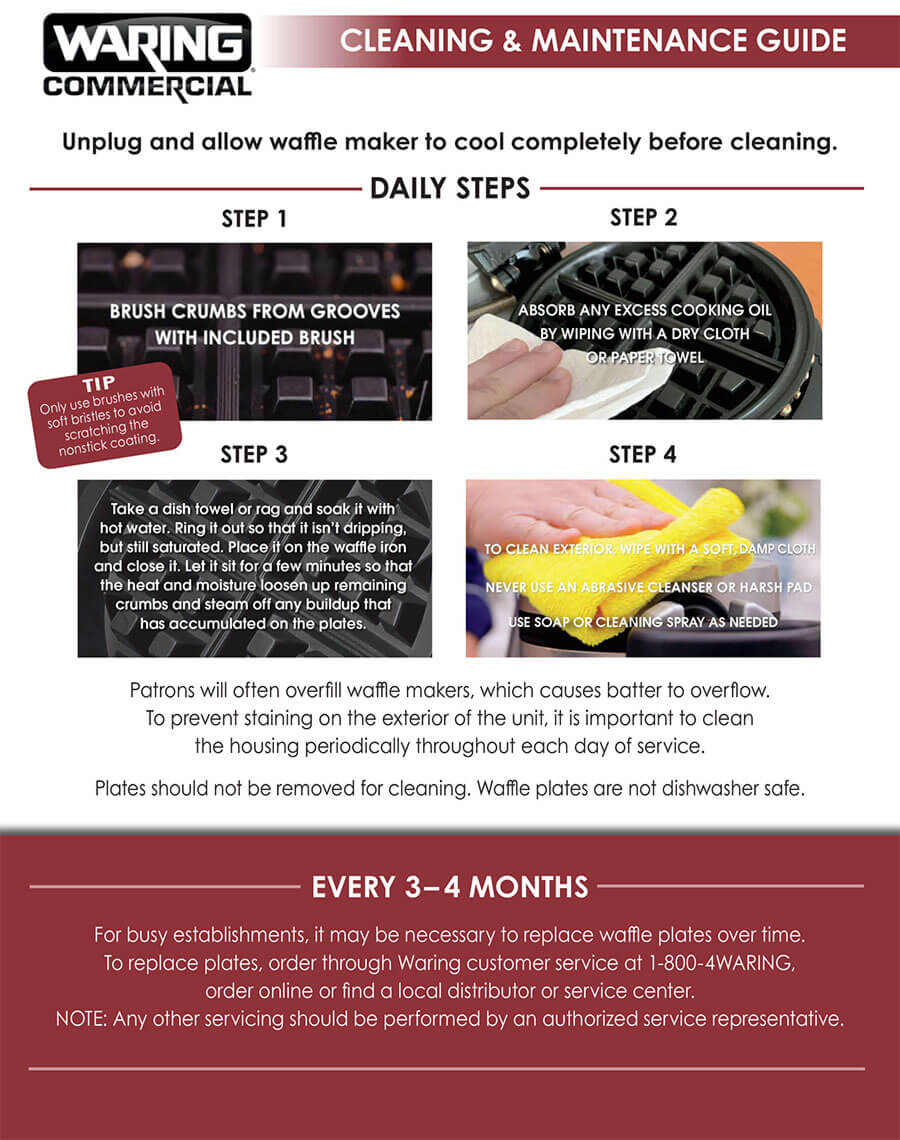 Share This!