Waffle Maker Buying Guide
A café or a bakery's menu wouldn't be complete without a wide assortment of waffles. Waffles have the ideal combination of softness and crunchiness, not to mention that they can be served with numerous delicious toppings. With the right waffle maker, you can create the best waffles.
However, the process of shopping for the right waffle maker can be difficult and time-consuming, in the sense that there are many waffle makers on the market to choose from. So, this makes you wonder: how do you make the right investment? We think that our guide is exactly what you need in this direction.
Important Considerations
1. Types of Waffles
You might know by now that there are several types of waffles. So, the first thing you should ask yourself is this: what waffle assortment do you want to provide to your customers? There are different categories of waffles based on where they originate from. Thus, let's see what options you have:
Brussels Waffles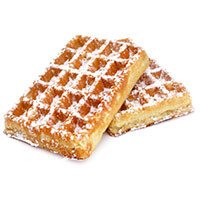 First of all, Brussels is renowned for its delicious waffles. Usually, the batter comprises of beaten egg whites, as well as yeast for leavening. This is what grants them their unique, fluffy texture that makes them so popular.
In general, they are served with fruit, whipped cream, powdered sugar or ice cream. Another distinguishing feature is that they have crisp and deep pockets. Additionally, their shape is usually rectangular.
American Waffles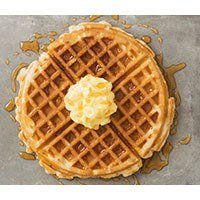 Moving on, the batter for American waffles is leavened with baking powder. This is why the final result is a thin and dense waffle. The honeycomb squares, also referred to as waffle pockets, are smaller, which is why they usually hold gravy or syrup.
In addition, the batter is plain, which makes American waffles really versatile. To that end, you can serve them with sweet toppings or serve them as a base for meals such as stew, chili, and the list may go on.
Liege Waffles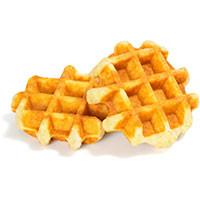 In comparison with Brussels or Belgian waffles, Liege waffles are denser and sweeter. The yeast dough used in the making of Liege waffles has actually been adapted from brioche bread dough. At the same time, a characteristic feature is the caramelized coating – which is granted by the pearl sugar.
At the end of the cooking process, pearl sugar is added to give the waffles this individual texture. Concurrently, due to its exterior coating, the waffles don't get soggy. This makes them ideal for fruit or ice cream toppings. But, truly, the options are limitless. The irregular, unfinished edges are also characteristic of Liege waffles.
Belgian Waffles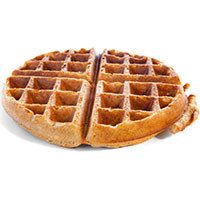 You might be surprised to learn that Belgian waffles haven't actually been invented in Belgium. In fact, Belgian waffles represent the North American alternative of Brussels-style waffles. They have large, deep pockets, similar to Brussels waffles; nonetheless, they are made with baking powder, as opposed to being made with yeast.
They are usually served for both breakfast and dessert – it's entirely up to the venue. Their edges are finished, and they come in different shapes – including rectangular or round.
2. Number of Waffles
The number of waffles represents another critical consideration when browsing for a waffle maker. Depending on the type of venue you own, you should factor this in. Expressly, waffle makers are available in single and double models, each being characterized by various elements.
Type of Waffle Maker

Characterizing Features

Single Waffle Makers

- They incorporate one top and one bottom grid, creating one waffle at a time.

- Recommended for low volume utilization.

- Can produce approximately 20-35 waffles per hour.

Double Waffle Makers

- Featuring two different configurations, these units have an output of roughly 40-60 waffles per hour.

- Excellent for high-volume service, as they can be utilized by two people at the same time.

- Usually, they facilitate independent temperature settings, so that the waffles can be customized depending on individual taste and preferences.

Stacked Double Waffle Makers

- Featuring two waffle irons, one on the top of the other, the waffles can be easily flipped.

- The design is a bit less accessible, which is what makes these appropriate for low volume self-service areas.

- The compact design makes them suitable for areas in which counter space is limited.
3. Grid Material and Ease of Maintenance
In regards to the materials used for manufacturing the waffle makers, these include cast steel, aluminum, cast iron, as well as non-stick coating. As for the size of the squares and pockets of the waffles, these vary depending on distinct units. In fact, some commercial waffle makers come with removable grids; which makes it easier to clean and sanitize the units.
On that note, each grid material has its set of pros and cons, especially when it comes to ease of maintenance. Have a look at the info below to make an informed decision.
Material Type

Advantages
Disadvantages

Cast Steel

- It's resistant to scratches and offers increased durability.

- Facilitates the even distribution of heat.

- Can be washed in the dishwasher.

- The bake time is longer than in the case of its counterparts.

- The preheat time is longer than its counterparts.

Cast Aluminum

- Energy effective

- Quick preheat time

- Quick bake time

- The surface is prone to scratches and dents.

- It should be washed by hand, which can be counteractive.

Nonstick Coating

- Effortless to clean and maintain.

- It releases the waffles intact, time after time.

- The coating is prone to get scratched or chipped.

- Must be washed by hand.




Cast Iron

- Optimal durability.

- After seasoning, the surface becomes non-stick.

- Excellent heat retention.

- The preheat time is long.

- You have to season it on a regular basis, to ensure it operates accordingly.
4. Shape and Size
What else should you consider during your search for the best waffle maker? Of course, both the shape and the size of the machine are important. Essentially, these have to do with the type of waffles you have decided to serve.
With that in mind, if you intend to serve Brussels waffles, then you should pick a unit with a rectangular shape. However, if you're planning on making Liege waffles, then a unit with an irregular shape will be better suited. As for Belgian waffles, they are usually round, requiring a round-shaped waffle maker. American waffles can be either round or square, allowing you to choose one of the two.
Additionally, make sure you assess the thickness of the waffles you plan on making. That is important when choosing a waffle maker. The same could be said about the actual size of the appliance.
5. Electrical Configuration
Furthermore, you have to determine the voltage that will support your operation of the waffle maker. This is of great importance when shopping for commercial waffle makers.
In general, electric waffle machines have a cord and a plug. Nonetheless, the plug depends entirely on the voltage. On a different note, specific dual waffle makers incorporate two cords/plugs, which necessitate two individual circuits for operation.
Hence, we advise you to read the specifications of the product you intend to purchase beforehand, to be sure that it will work for your needs.
6. Additional Features
Technology has definitely revolutionized the world of commercial waffle makers, as they come with numerous handy characteristics. For example, a feature you might find particularly useful is the timer.
In a normal kitchen, this might not make such a difference, but in a bakery or a café, at busy hours, it might be life-saving. That's because your employees can engage in other tasks as the waffles bake at the perfect temperature, for the ideal time.
So, when the waffle is fully baked, the unit will make a distinguishing noise. Therefore, the staff will know when to remove it, so that it isn't overcooked or undercooked.
On a different note, when it comes to high-volume self-service, double waffle makers featuring independent timers might be just as practical.
Concurrently, some units feature an adjustable temperature range. When combined with the timer feature, it enables you to personalize the texture of the waffles, depending on their specific tastes. Plus, investing in a waffle maker that has a wide temperature range gives you the chance to enhance your recipe and produce consistent results time after time.
Final Thoughts
Our brief waffle maker buying guide has come to an end – we are hopeful that it has addressed most of your questions. The good news is that now, you have all the knowledge to find a unit that will most likely address all your needs.
To that end, after deciding the types of waffles you want to serve, the number of waffles you plan on serving per day or in a given timeframe, and the features you want in your waffle maker, you'll be able to make the right investment for your business.
Share This!