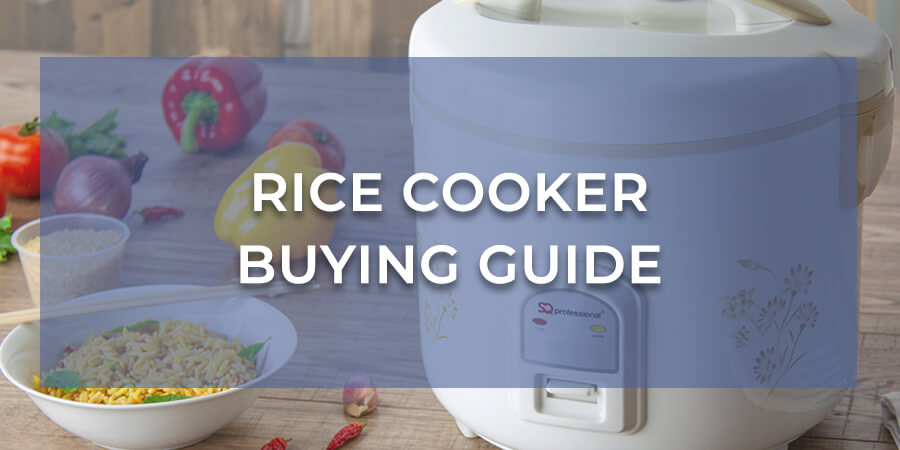 How to Choose the Best Rice Cooker for Your Commercial Kitchen
There are hundreds of tasty dishes that use rice. So, chances are you'll be cooking a lot of rice in your restaurant. Trying to cook all the rice for your dishes on a stovetop when you have a bunch of hungry customers in your restaurant is a little impractical. That's why you need a commercial rice cooker. Rice cookers function a little differently depending on what you get. You've got to know which features will help your kitchen function the way you want it to. We can help you out with that. Check out this helpful buying guide to find out how to choose the best commercial rice cooker for your restaurant.
1. Why You Need a Commercial Rice Cooker?
There are tons of dishes that are made with rice. You can use it to cook rice for dishes, desserts, and hot cereal. You can use the rice cooker for more than rice as well. They can steam vegetables and even cook soups. So, they are a good commercial appliance to have because they're so versatile.
2. Features You Should be Looking for
All rice cookers have different features that you should be looking out for. Here are just a few that you'll run into.
Rice Cooker Size
Rice cookers come in a variety of different sizes. For a commercial cooker the largest ones hold around 90 cups and the smallest ones hold around 40. If you're not sure how big of a cooker you need, go for a larger model. If you get a smaller one and fill it too high then it will boil over which will leave you cleaning up spilled water and rice. It's a mess.
Pan
Depending on how busy your restaurant is, you may not have too much time to clean. So, non-stick appliances are going to be your friend. Try to get a rice cooker pan with this feature because it can take a while to clean otherwise.
Steamer Tray
If you cook a lot of veggies with your rice dishes then it may be a good idea to get a rice cooker with a steamer tray. You can add the veggies to the steamer tray as the rice finishes up, or steam them by themselves. There are some models that are designed to allow you to steam the vegetables while you are cooking the rice.
Reheat
Having a rice cooker with a reheat function will save you so much time and money. You can cook all of the rice for your dishes in advance and then reheat it when it gets cold. It saves you from having to make as many batches throughout the day.
Quick Cook
If you're in the middle of a lunch rush with orders piling in, you may end up going through several batches of rice. It will take time to make new ones which can lead to angry customers. That's why a cooker with a quick cook function is so helpful. It removes the soak cycle out of the equation and goes straight to cook. It will cut your wait time in half.
Fuse Protector
When you're busy in the kitchen you won't always be able to have your eyes on your rice cooker. So, look for one that has a fuse protector. It will automatically trip the fuse when things get too hot and prevent a fire from breaking out.
3. Types of Rice Cookers to Choose From
There are a few different rice cooker options for you to choose from. There are some that cook the rice and then shut off and some that cook it and then keep it warm for example.
On/Off Cookers
On/off cookers does as the name suggests. It cooks the rice and then shuts off. There is no light so you'll have to listen out for the click indicating that the cooker has turned off. These cookers don't come with any of the fancy features like a non-stick pan or a steamer but they'll do what you need them to.
Cook and Keep Warm
If you get a lot of customers the on/off models may not be right for you. You've got to make the rice in bulk and keep it warm for a while. This being said, you'll want to pick up a cook and keep warm rice cooker. It cooks the rice and then cools down to a warm temperature to keep the food from getting cold.
Electronic Cook and Keep Warm
The electronic cook and keep warm units will keep your food from getting cold for up to 12 hours or longer. It's good for making rice or steaming veggies in bulk.
4. Models to Choose From
Now that you know what features to look for, we're going to give you a few models to look at. Panasonic, Winco, and Hamilton Beach are all great brands.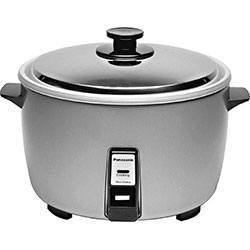 Panasonic SR-42HZP - The Panasonic SR-42HZP is a smaller model that can hold up to 28 cups of rice. It's got the safety fuse to prevent fires. It also has an automatic shut off and will keep your rice warm for at least 2 hours.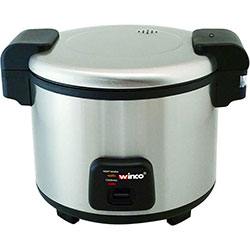 Winco RC-S300 - The Winco is both a rice cooker and a warmer. It will hold around 30 cups of uncooked rice and 60 cups of cooked. It's non-stick so you don't have to worry so much about cleaning. This model will keep your rice warm for up to 6 hours.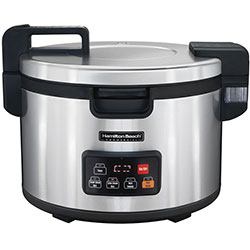 Hamilton Beach 37590 - If you need to cook more than rice this model has you covered. It also makes oatmeal, mac and cheese, and grits. It can hold up to 90 cups of rice and can keep food warm for hours. It's great if you need to make food in bulk.
Choosing Your Commercial Rice Cooker
There are a lot of dishes that use rice. Investing in a rice cooker for your restaurant will allow you to make these meals and more. Use this buying guide so you know what to look for in a rice cooker and pave the way for a more versatile kitchen.
Share This!