Restaurant SEO & Paid Search Guide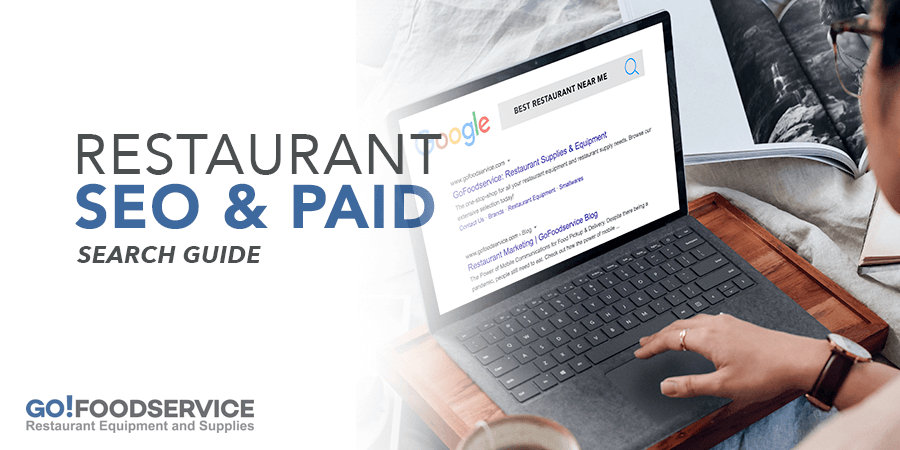 Once you have established a website for your restaurant, you want to be able to attract customers almost immediately. One of the best ways for your potential customers to find you online is to use SEO and Paid Search. You can have some of the best food in town, but how will people know if they aren't able to find you? Luckily there are ways to increase your visibility and sales with SEO and Paid Search marketing methods. Each time you run a search on a search engine like Google, you see plenty of search results that feature both organic and paid search results.
What is SEO?
When you type a query such as "restaurant equipment," in a search engine, you're then brought to a page of recommended results. These websites have been recognized as relevant content to your search term by the search engine. Did you know that these results are the product of SEO? SEO stands for Search Engine Optimization, and is the technique of creating relevant content for your website, so that the search engines will rank it higher in search results. SEO is the method of marketing that you engage in to get your website to the second or first page of results. The key to SEO is organic searching, meaning the search engine has ranked you naturally.
What is Paid Search?
Nearly every business needs to invest time and money into advertising. Some restaurant owners may decide to pay for online advertising, and one form of this is known as paid search. If you search "pizza restaurant Seattle," you will see two sets of search results: organic and paid. Paid search means that the website owner has paid to be displayed in the results for certain keywords, so you see their website when you run those particular searches. Google and other search engines designate what search results are paid by featuring them with a shaded background or an "Ad" icon.
Is Paid Search Better?
Which online marketing approach is best for your restaurant? Marketing experts often recommend both. Paid search is a quicker way to get on the first page of search results, but it isn't free. Organic search results through SEO can be free but involve a large investment of your time to make sure your website is relevant to the search terms you're targeting. The best way to evaluate which method you should choose, or whether you should choose both, is to look at your goals, competition, and time. Once you've determined these factors, you can make the best decision.
SEO For Your Website
Getting web traffic to your restaurant's site can be accomplished with quality SEO work, and you've got several options on how to make it happen. The key is to create relevant and well-written content across the board on your website, whether it is in the "About" page or blog posts. Here are several elements you can't afford to neglect in SEO:
Title Tags – Title tags are the name of every page on your website. Your browser displays the given name of the page, and these tags tell search engines what the topic of the page and what type of content they'll find there. For example, you may have pages such as About, Contact, History, Chef Biography, etc. These tags are important so search engines are able to index your site and give the best information to your potential customers in a web search. Keep the titles of each page brief and relevant to the page's individual content.
Meta Descriptions – The meta description is a brief summary for each page on your website. Quality SEO for a restaurant website means you have a meta description that's no more than 160 characters long. Here is where you can use your keywords for your business as well. Some search engines include an excerpt from your meta descriptions, which will let you stand out a bit in the results.
Blog Posts – Blog posts are one of the most effective ways to increase your SEO performance on a website. Each time you make a blog post with your restaurant's news, you can include your keywords in the text. Google and other search engines will look for recent, relevant content when they "crawl" the internet, and a well-written blog post can help you increase your online presence. Not only will you be able to display your brand personality a bit more, but you'll also be working on your SEO.
Page URLs – As you build your website's pages, you should make sure all of your pages have unique URLs with the name of the page in the address. Avoid naming pages page1.html, page2.html, etc, but instead strive for a URL like pizza-menu.html., so the search engines can get a better idea of what they'll find on each page of your website.
Page Content – The individual pages of your website give clues to the search engines about how relevant your website is to a user's search. One of the best places to work on quality SEO tactics is on each page of your website. Take care to have text that's free of typos and is well-spaced so it's easy to read. It goes without saying that you should also have text that's unique, and not copied from elsewhere online.
Keep one thing in mind when you prepare to do thorough SEO work on your website. You should always avoid keyword stuffing. Keyword stuffing is when you cram keywords into the context on your website to try to rank higher in search results. If the keywords aren't used in the correct context and lack relevancy, search engines can penalize you.
Building a Keyword List
Each time we run a search online, we're searching for a particular phrase or term. When it concerns restaurants, it may be "Pizza restaurants in Seattle" or "Seattle pizza place." Our goal in searching these words or short phrases is to get the best results for our needs. This is why keywords are vital to your online marketing, because with keywords, you're able to target certain search terms, and increase the likelihood you'll show up high in the results for the term.
Having a good keyword list will help you in your marketing moves, and improve your search results, if you use the keywords in a relevant, accurate way. To start your keyword list, think of the words that describe your restaurant. You can ask yourself questions to help narrow down the best keyword options.
What kind of food do you serve? Do you have a special menu for breakfast?
Where are you located? What areas do you serve
Do you offer takeout or delivery?
What's the style of your restaurant? Are you geared toward families? What's your main demographic?
You can find out what keywords people are searching by visiting Google AdWords' Keyword Planner and Wordstream. Just remember: less is more. It's better to target three to four keywords really well than 15 haphazardly, and risk getting penalized by the search engines. Once you have your keywords, you can start to investigate how you'll do Paid Search and SEO.
Share This!