Restaurant Online Ordering Guide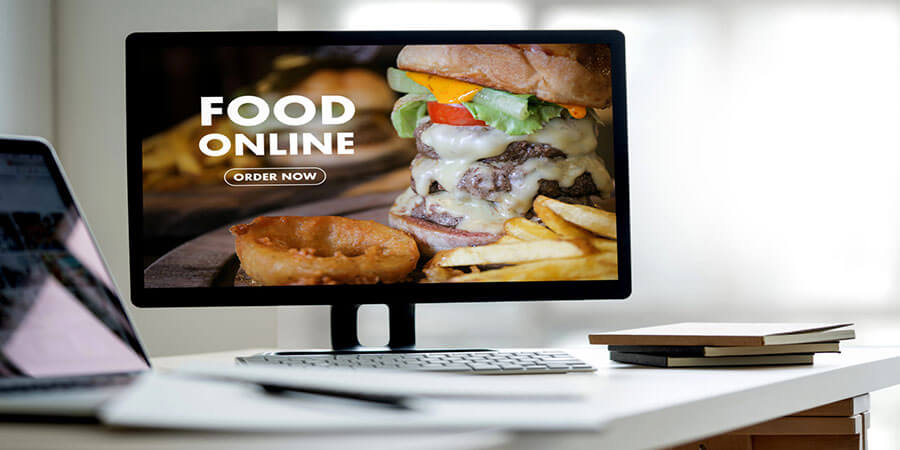 As you're in the process of making your restaurant's website, you may be considering adding an online ordering feature to make it easy for your customers to order their favorite dishes. Online ordering is one of the hottest trends in restaurant marketing today, because it yields valuable benefits for both restaurant owners and their customers. While take-out used to be king, the same can't be said these days, as more diners look to ordering their food online for convenience.
Benefits of Online Ordering for You and Your Customer
Decrease Order Errors, Increase Customer Satisfaction
Food mistakes made by your restaurant can really hurt your bottom line, as customers may not return to a restaurant that can't prepare their order correctly. Unfortunately, when you're ordering on the phone, sometimes things can be lost in translation, and the customer doesn't see the mistake until they're home. With online orders, customers are able to specify special instructions, such as limited condiments, dressing on the side, and how they'd like a hamburger cooked. Before checkout, customers can also confirm their online order to ensure all of the details are correct.
Convenience for You, Convenience for the Customer
With online ordering, your employees are able to spend less time on the phone taking down customer details, running payments, and confirming addresses. In a restaurant, every minute counts and your employees' time will be used more efficiently for other functions of the restaurant, such as bagging up the food or assisting your dine-in customers. It's typical of an online ordering feature for a website to include a projected delivery time and pick-up time, which means less follow-up from the customer who's anxious for their food.
By offering online ordering, you're making it possible for your customer to simplify their order process. While inside your restaurant, a customer may not have the adequate amount of time to peruse your menu and make a decision. With online ordering, they're able to browse your menu and see prices clearly for however long they want. The feature also helps businesses and offices place orders more efficiently, without having a long list of items for your employees to take other the phone. If you offer online ordering via a smartphone or tablet, you can let your customer place their order from anywhere, without needing to get on the phone or computer.
Online Ordering is a Solid Marketing Tool
Besides giving your customers a convenient way to get your food, online ordering is also a powerful marketing tool. If you join an online ordering service, you may be exposed to a new customer base who may have never heard of you before, but may want to try your dishes. This enhanced web presence is valuable and lets you establish yourself online. With online ordering, you can also up-sell and increase your sales by suggesting related items. A pop-up window can greet your customer before they finish their order, informing them of your new dessert specials. Just like your website can inform customers on your restaurants and its menu, so can using an online ordering service.
Does Your Restaurant Need Online Ordering?
Although online ordering is an attractive feature for restaurants' websites to have, you may not need to offer the service. Not every restaurant is suitable for online ordering, and you may find the time and money invested into adding it yields a poor ROI.
Restaurants That May Not Require Online Ordering
Fine-dining restaurants with expensive entrees
Pubs and bar & grills that offer a limited selection of food
Restaurants that have a high percentage of buffet customers
Diners and other places that specialize in brunch or breakfast
Choosing Online Ordering Services
Once you've decided to add this feature to your website, you'll need to determine how you'd like to go about making it available to your customers. Do you want to use a third-party service or have it implemented into your website with software? Seamless and Grub Hub are popular services for online ordering, especially in areas like New York City and Seattle. However, services that are available for your restaurant will differ by area. Here are a few considerations to think about when you're weighing your options of third-parties versus software.
Delivery Price – If you're using online ordering for delivery, can you implement a reasonable minimum order price for your customers?
Service Price – Does the service take a percentage of each sale, or is a flat fee? What's the pricing structure?
Features – What are the features available? Does the company offer mobile ordering?
Reporting – Will you be able to access data about customer orders to identify trends, track peak order times, and more?
Payment – How many payment types can you take with the service?
Technology – Will you be required to make a costly investment to your website to integrate the service?
Whatever decision you make, keep in mind that you're adding online ordering to increase sales, awareness of your business, and customer satisfaction. With those three elements in mind, you'll be able to choose the best options for your restaurant.
Share This!