Restaurant Marketing By Newspapers / Magazines / TV Guide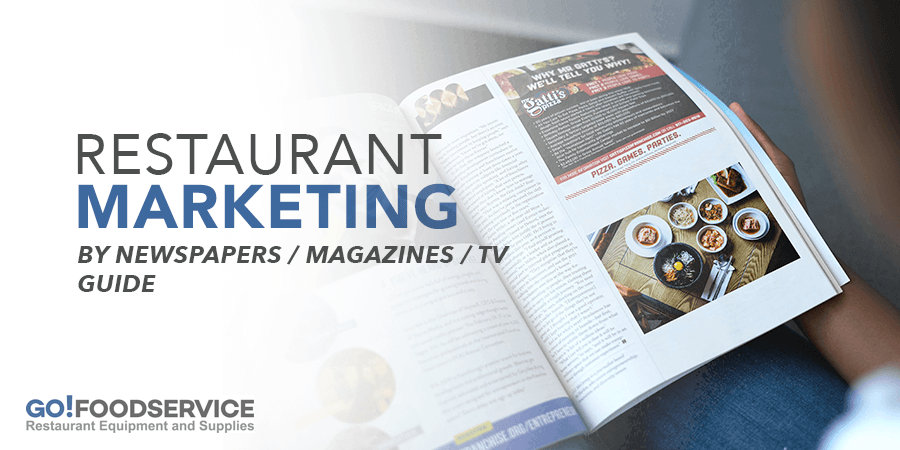 As you look to advertising your restaurant locally, two channels to consider are magazines and newspapers. These local publications help you get the word out, and this form of marketing is popular with restaurants of all cuisine categories. Although digital marketing is widely used with restaurants, this traditional way is still recommended by marketing experts. Just take a look at some major newspapers such as The New York Times and you'll see advertisements for restaurants with live music, happy hour specials and more.
Why Advertise in Local Print Publications?
When you decide to advertise in local print publications, you are reaching an audience that might not see your social media posts. With this approach, you're "covering all of your bases." Some newspaper companies may offer you a flat price for multiple days for your advertisement to run. Sunday is one of the most preferred days to advertise in newspapers, because budget-conscious individuals are already browsing the paper looking for coupons. You can offer a coupon or announce a new promotion on these days, and that might catch their eye. One thing to also remember is newspapers often publish lists of community events, such as fairs, festivals, etc, on Friday, which is another good day to have an advertisement appear. As for magazines, many metro cities can contain several niche publications. Some of these niche publications can include the below categories:
Mom, parenting and family
Nightlife, late night, and events
"Best Of" guides
Health
Neighborhood newsletters
Once you've learned what opportunities are near you locally for niche media, you can study to see how your restaurant can target the individual audiences. For example, if you were the owner of a vegan cafe, you might decide to advertise in a health-related magazine over a parenting magazine. One benefit to considering these local publications is the publishers might have lower advertising rates than your local newspaper, and may also distribute their magazine for free, which opens up your audience. Often "Best Of" guides featuring tourist-friendly activities are available in hotels, visitor centers, rest stops, and even chain restaurants, especially in tourist spots such as Florida, California and New York.
What to Consider When Running an Advertisement
As you prepare your advertisement for publication in local newspapers or magazines, you need to be conscious of the following things:
Budget: What's your maximum budget?
Goals: What goals do you hope to achieve? Do you want to increase your business? Encourage more loyalty signups?
Size: Media publications often have rate sheets featuring the various sizes of their advertisements. How big or small do you want to go? Will the choice you make still get your message across?
Design: Depending on the individual publication, you may not have an option for a multi-color or black and white advertisement. Which is best for you?
Message: What's the core message you want readers of the publication to take away from this advertisement?
Reach: Every publication will have its own reach, and you need to consider exactly how many people they will be able to share your message with, and also, what segment of that audience is your target demographic?
Local newspapers and magazines often want to champion businesses in the community, which means they'll be all too happy to run an advertisement. After you consider all of the factors above, and the needs of your restaurant, you can develop a campaign that should help get your restaurant in front of new potential customers by using one of the oldest forms of advertising.
Further Reading
What Are the Benefits of Magazine Advertising?
Share This!