Panini & Sandwich Grill Buying Guide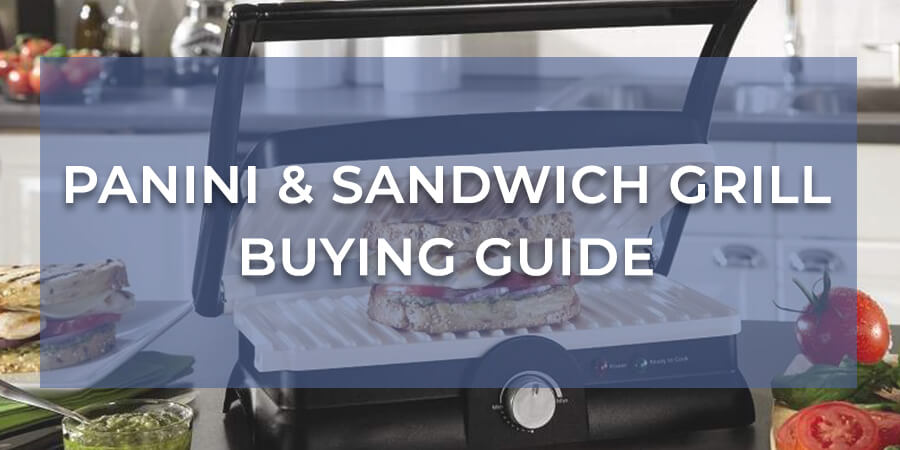 Sometimes, you want to fill your stomach with a nice, full-fledged dinner. Other times, however, you can't be bothered to cook and want something that can be done quickly and taken on-the-go.
Even though you may not have the time and energy to eat a proper meal, this doesn't mean you don't have to fill that space in your stomach somehow – and most of the time, a panini or a sandwich should do the trick.
1. Why Invest In a Panini & Sandwich Grill?
A sandwich as dinner may seem too farfetched; however, if you grill it nicely and add a couple of side dishes to it, any sandwich can receive the title of "exquisite dinner." It can also pass off as lunch when you are tight on time since it eliminates the need of having to "babysit" the sandwich in the frying pan. You simply place it on the grill, and the device will do the rest.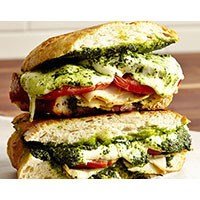 Plus, if you are not a fan of doing the dishes, a panini & sandwich grill will also be a very convenient purchase. Most of them only require a quick wipe, so you won't even need to deal with bothersome dish cleaning.
Investing in the best sandwich press should bring your sandwiches and panini to the next level. It will apply just the right pressure so that your sandwich won't flatten (at least not more than it should), and it will apply the right temperature to warm up all the ingredients. The bread will be crisp and hot instead of soggy and flat, and the cheese will be nice and melted instead of a so-so mess.
For sandwich lovers, these changes may be subtle, but they will definitely make a difference. The only problem is that it may make your sandwich or panini so delicious that you will not be able to stop eating.
2. Panini & Sandwich Grill Types
Sandwich grill types are categorized based on how often you plan on using them as well as the types of food that you want to prepare. Here is how you can differentiate between them:
Medium-Duty Panini & Sandwich Grill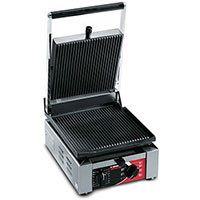 A medium-duty panini grill is perfect for intermittent use in locations such a cafés, delis, or small sandwich shops. They were made to handle frequent use – meaning, more often than you would with a light duty sandwich maker, but not so frequent as to replace a heavy-duty grill. If you have to warm sandwiches, cook meats, or warm tortillas several times a day, then a medium-duty sandwich maker may be a good investment for you.
One example of a medium-duty appliance is the Elio-220 Single Panini Grill. With a cast iron grill treated with a special stick-resistant coating, this one should be enough to allow you to make several sandwiches a day. It's very easy to clean (you will only need a wipe after every use), and it's compact enough to fit even in a limited space.
Heavy Duty Panini & Sandwich Grill
If you have to use the device constantly throughout the day, a heavy-duty sandwich grill should be what you are looking for. These have more durable hinges, heavy bodies, and were made to handle rigorous use in any commercial kitchen.
One good example would be the Eurodib SFE02360, with its stainless steel exterior and heavy duty, cast iron cooking plate. It also has enough "firepower" to ensure that it won't break down even if you use it on a continuous basis.
3. Features To Consider
Aside from choosing between a medium-duty and a heavy-duty panini & sandwich grill, you may also want to consider a few other features that make every item unique. Here are some of them:
Plate Material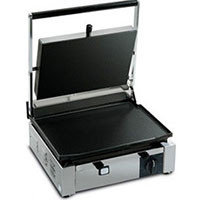 Not every sandwich grill is the same – at least not when it comes to the plate material. You may usually have to choose between aluminum, cast iron, and non-stick. Aluminum and cast iron are durable (especially iron) and very quick to heat (especially aluminum), but they will need periodical seasoning so that the food won't stick. No-stick plates, on the other hand, won't need seasoning, but they will also be more prone to damage than the other two.
You may also go for combo plate materials. For instance, while the Sirman CORT F grill is made out of cast iron, it still has a special non-stick cover that allows you to use it even without seasoning.
Plate Configuration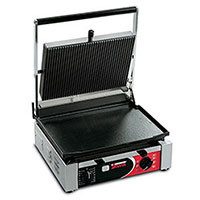 Panini & sandwich grill plates will usually come in two configurations: smooth and grooved. A smooth plate will cook the bread evenly while a grooved plate will offer those grill lines that appeal to us so much when it comes to sandwiches. You can find these plates in all kinds of combos: grooved top and bottom, smooth top and bottom, smooth bottom and grilled top and so on.
The Sirman CORT LL, for instance, has a grooved top and a smooth bottom, promising to provide both an appealing look and even panini grilling. Plus, since it has a cast iron grill that is stick-resistant, there will be no risk of the food sticking to the device.
Single or Dual
A single panini & sandwich grill will take up less space and is a great option for those who are limited on countertop space. However, if you are in a situation where you have to cook for several people at the same time, then a dual-plated panini grill might be a better option for you.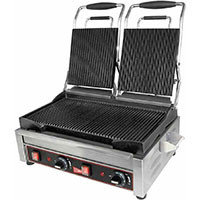 The Grindmaster Cecilware SG2LG panini & sandwich grill is a fine example of a dual-plated device. It can cook simultaneously on both sides, cutting from the time lost cooking them separately.
4. Final Thoughts
A panini & sandwich maker can save you a lot of trouble, no matter if you use it on a personal or on a commercial level. Every model comes with its own features and uses so that you may select them accordingly. Whether you want it to be cast iron or aluminum, single or dual, there are many options for you to choose from.
Share This!