Nacho Chip Warmer Guide: Your Guide to Toasty, Delicious Nacho Chips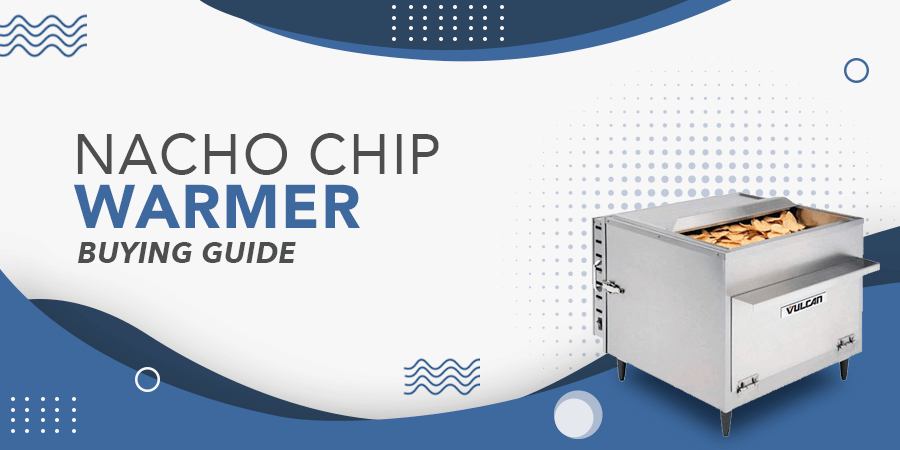 Anyone who frequents Mexican restaurants knows that there is nothing better than sitting down at your favorite Mexican joint and seeing the bowl of toasty, warm nacho chips coming your way as if they've just come out of your Abuelita's oven. Now, not everybody has an Abuelita or the time to bake their own tortilla chips by hand. The good news is that there are some excellent nacho chip warmers on the market to ensure you, your family, and/or your customers can enjoy warm, fresh, and delicious nacho chips.
What is a Tortilla Chip Warmer?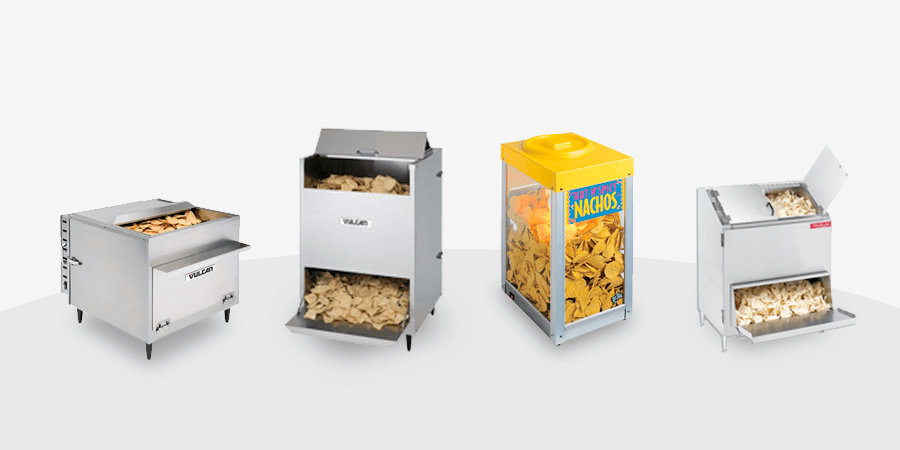 Tortilla or nacho chip warmers are what most Mexican restaurants use to serve up chips that feel and taste as if they are freshly-baked and fresh out of the oven. A nacho chip warmer works to warm tortilla chips and then keeps them warm.
Chip Warmers are equipped with a natural convection heat system, the chip warmer uses a fan to circulate air to quickly and evenly heat chips. The units utilize circulated (convection) heat (not moisture) to keep chips at the ideal temperature, with dispensing doors in front. Most chip warmer models follow the "first chips in, the first chips out method", allowing for optimal freshness. Although there are some chip warmers that follow a different style for chip retrieval, we will explore that later on in the article.
Chip Warmers vs Chip Merchandisers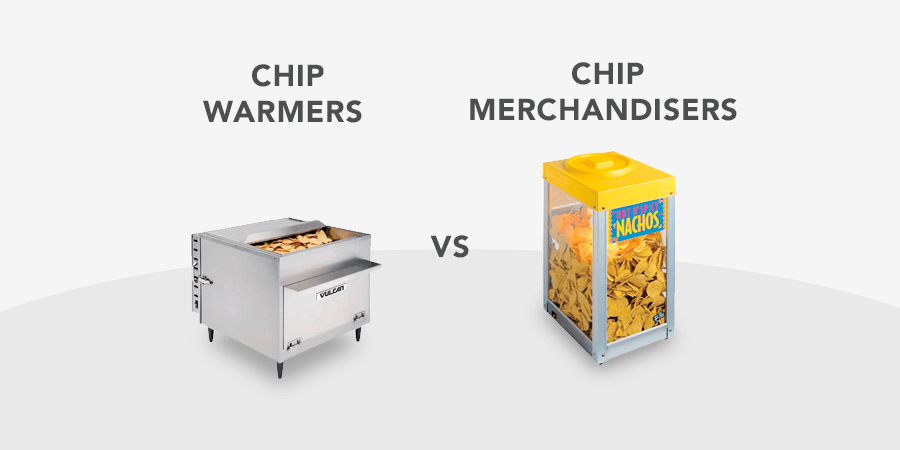 As you've likely guessed by now, chip warmers simply heat chips up and keep them warm and toasty.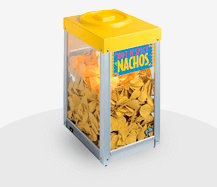 Chip merchandisers keep chips warm but also puts the chips on display in a see-through glass container for customers to see. The Star Mfg 12NCPW, 7 Lb Electric Countertop Nacho Merchandiser:
Is bright yellow painted steel top and vivid, colorful signs to help build impulse sales

Panels provide excellent visibility of product no matter where it's placed in the store
Heated stainless steel bottom keeps the product fresh and warm
A 75-watt flood lamp illuminates the inside of the cabinet to further warm the product and enhance product appearance
A stainless steel chute minimizes breakage when loading product and allows for easy serving
Top loading with rear dispensing door
Stainless steel and aluminum frame
Includes nacho and popcorn signs
Holds approximately 7 lbs of chips
Commercial Chip Warmers vs Residential
Commercial chip warmers are used at restaurants, sporting events, and movie theaters to warm chips and keep them toasty. They are very large and sturdy. The El Primo Countertop Pass-Through Tortilla Chip Warmer does the following:
Ensures customer satisfaction with your tortilla chips with the Texican TCD-1PT tortilla chip warmer

44-gallon capacity, which is equivalent to 9-10 warmer drawers.
Stainless steel construction inside and out.
Suitable for self-service or table services
Designed to be used on countertops, freestanding, or set into wall openings
Just minutes to clean and maintain.
It's simple, just load the chips from the back and serve from the front.
Double pan access doors open up to form a shelf easing the loading of chips and helping to prevent breakage
First in, first out design allows you to serve chips in peak condition
Thermostatic temperature control reduces operating costs.
There are small and large chip warmer options available for commercial use.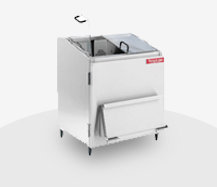 The Texican CD-45 22 Gallon Chip Master is a small commercial chip warmer, ideal for taquerias, back bars, and small to medium-sized restaurants.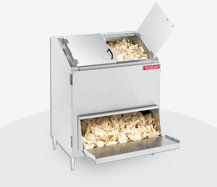 On the other hand, large chip warmers like the Texican TCD-1 44-Gallon El Primo Countertop Tortilla Chip Warmer offers a 44-gallon capacity, that's equivalent to 9-10 warmer drawers. For large restaurants and chip-serving operating, a large nacho chip warmer is an efficient way to save some space while still meeting the chip demands of a large number of customers.
There are also smaller, residential chip warmers that you can use at home, whether you love having toasty nacho chips or you're hosting a SuperBowl party. The residential chip warmers are a lot more compact and a lot more affordable than commercial chip warmers.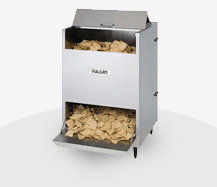 There are different styles of commercial chip warmers. For example, the Vulcan VCW46, 46 Gallon Electric Countertop Chip Warmer allows chips to slide out instead of some of the other styles where you reach into the chip warmer to scoop the chips out. The sloping front of the unit allows secure closure and easy opening, while the wide top opening doors allow for easy loading of chips.
Restaurant chip warmers
The top use for a restaurant chip warmer is to keep chips warm, toasty, and delicious. Chip warmers allow restaurant cooks to prepare large batches of chips ahead of time and then keep the chips fresh until the restaurant closes. Chip warmers can save restaurants time and give guests a delightful product.
Chip warmers are most commonly used at Mexican restaurants because they serve tons of nacho chips. What do you typically eat first at a Mexican restaurant? Chips. What's the best part about those chips? That they are warm. The often-free appetizer is the perfect way to give a warm (literally) welcome to customers.
That's the job of the chip warmer: customer satisfaction one chip at a time and to maintain a high quality of chips, clean daily.
The better your chip warmer is, the less chance of the need to replace broken, dry or stale chips at restaurants, bars, concession stands, and other foodservice operations.
Share This!