How To Properly Use Salamander Broilers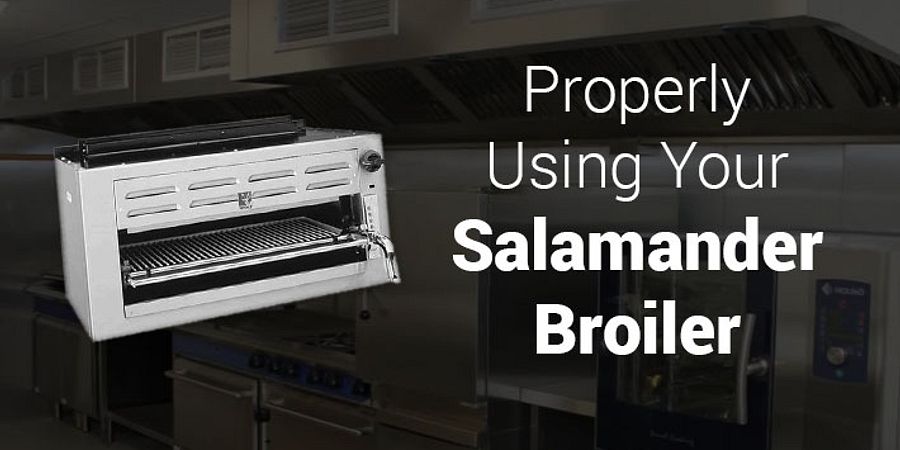 Broilers are known to perform at very high temperatures using an overhead infrared heating component. Typically found in professional kitchens, the salamander broiler is usually above the main oven, for easy access to the chef. Due to the intense heat, a broiler can produce, it is necessary to have heat-resistant plates and utensils when using the broiler.
Depending on the model, this broiler is either powered by gas or electricity, and is used for grilling and toasting, melting cheese, and browning of grain dishes. Popular models or broilers include the Vulcan 36RB-N, Radiance TASM-36, and the Bakers Pride BPSBi-36N
How to Use Your Salamander Broiler
Newer broilers are very simple to use despite incorporating top-of-the-line technology. With our extensive selection of broilers, there are a few differences between some of the products. Consequently, there are a few minor steps that may not be universal for all the broilers. However, listed below are the basic steps that are applicable for most broilers.
Properly turn on the broiler. This step may seem like a simple task, but the salamander broiler may take some time to heat up fully. So you must allow time for the broiler to heat up before you can start to use it properly.
Utilize the dual heater. Most salamanders have dual heaters. So you can cook different pieces of food at various temperatures.
With basic switches and flexible risers, the salamander is relatively easy to operate.
How to Clean Your Salamander Broiler
A common problem that most kitchens have is the difficulty of properly maintaining their salamander broiler. The main consequence of not properly taking care of your salamander is the sanitation and health risks. If you are not adequately cleaning and maintaining your broiler, you could be breaking health code violations. Not only could this put your restaurant at risk, but you are also risking the safety of your loyal customers. Listed are step-by-step instructions on how you should clean and maintain your salamander.
Properly dispose of the content in the pan.
Once you remove all the big pieces of excess, just clean the pan with warm water and dish soap.
Do not use steel wool to clean stainless steel surfaces.
The frequency of cleaning your salamander will mainly depend on how often you use the broiler. But typically, you should go through the cleaning process once a week, to avoid any sanitation and health risks.
Mastering the Salamander Broiler
Now that you fully understand how to use and clean the salamander broiler properly, all you need to do is adequately and frequently follow through with all of these simple steps. It can be easy to just skip over a few steps, but each of these steps is designed to make sure your salamander runs correctly and consistently.
GoFoodservice is determined to bring you the best in commercial restaurant equipment. Make sure you look through all our salamander broilers from top brands including Southbend and Vulcan Cooking Equipment. If you have any questions about our salamander broilers or any of our commercial kitchen, don't hesitate to contact us.
Share This!