French Fry Cutter Buying Guide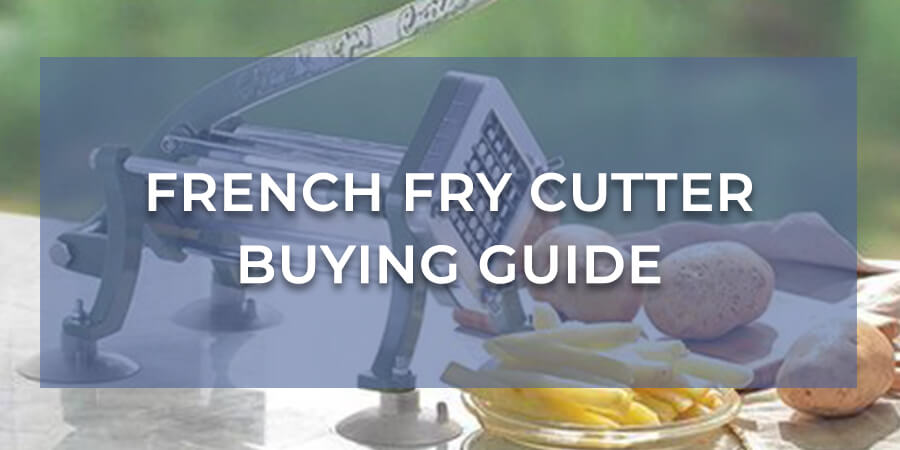 When customers walk into your restaurant and don't know exactly what to eat, they'll probably go for that good old plate of French fries. Undoubtedly, this type of food is one of the most popular out there.
Moreover, French fries can be paired with almost any other kind of dish. Therefore, you'd want your business to have a good French fry cutter available. Naturally, this is not the only reason, as potatoes and fries are something common in a kitchen, even though it's in a restaurant or such.
So, you could consider the French fry cutters as a necessity of every business that's in the food and food commercializing industry. Thus, it's only natural that today, we present you with our French fry cutters buying guide. Many people think that cutting fries is not that simple; it's an art and it sometimes requires the proper tools as well.
Without any further ado, let's see what you have to look into when considering a French fry cutter.
Types of French Fry Cutters
Before we get into more usual stuff, such as the price and the material, we'll start with two important things – namely, whether you need a manual or an automatic product and if you need a standard or heavy-duty one.
Of course, this has to be decided in accordance with your business' type and requirements – you can't have a manual French fry cutter when you own a fast-food and every single item on the menu has fries in it.
Standard Duty versus Heavy-Duty French Fry Cutters
Standard Duty French Fry Cutters
This type of French fry cutters come with easy to use and simple mechanisms that allow the operator to cut many fries in a short amount of time. Usually made with heavy frames, they are designed to be mounted on countertops or even on walls, for increased stability and ease-of-use.
Naturally, a standard duty French fry cutter is not entirely recommended for the commercial needs – however, this depends on the number of cut fries you need in a single day. For example, if one dish on your menu happens to have French fries in it, then you could rely on a standard duty model.
On the other hand, if your business is required to cut hundreds of potatoes every single day, then you will need more than one standard duty cutter and as many operators as cutters – that's why you should go with a heavy-duty model.
Heavy-Duty French Fry Cutters
This type of French fry cutters comes with more rugged frames, but with more power and volume output as well. Most of the heavy-duty French fry cutters are automatic and come with well-designed cutting mechanisms that can withstand more than one hundred potatoes a day.
Moreover, most of them are ergonomic, in order to make their use more comfortable – of course, we are talking about the manual heavy-duty French fry cutters here. These might save your budget but won't be able to keep up if you have a high French fry demand.
In terms of automatic heavy-duty French fry cutters, you could choose an electric or air-powered model.
Manual versus Automatic French Fry Cutters
Manual French Fry Cutters
When it comes to manual French fry cutters, the operator will have to use a handle in order to cut the potatoes – thus, he or she will be able to cut specialty cut fries, wedges fries, straight fries, and so on and so forth.
These are ideal for cafes and restaurants. Even though they are manual and require an operator, they are able to cut potatoes into more types of fries than most of the automatic cutters out there, making a manual product ideal for businesses that have a diverse fry menu.
Automatic French Fry Cutters
As mentioned, the automatic French fry cutters are powered by electricity or by air. Obviously, this type of French fry cutter is ideal for businesses/ restaurants/ fast-foods that have to cut hundreds, maybe thousands of potatoes every day.
Those powered by air are equipped with cylinders that push the potatoes into the cutting blades; both the electric and the air-powered French fry cutters reduce the strain on the operator and make the process less tedious.
Now that we finished with the most important aspects of a French fry cutter, it's time to move on to the usual stuff – yet, they are as important as the previously mentioned aspects and require your focus when determining which product is the best for your business/ restaurant.
So far, we've discussed the aspects that you have to take into account alongside the requirements of your business – now, we'll talk about what most French fry cutters need to be equipped with or have as characteristics.
| | | |
| --- | --- | --- |
| Type | Powered By | Suitable For |
| Manual | Operator | Cafes, Restaurants, Homes, Small Businesses, etc. |
| Automatic | Electricity or Air | Chain Businesses, Fast Foods, Busy Restaurants, etc. |
The Materials of the French Fry Cutter
First of all, you have to keep in mind that you will use such a product solely for cutting potatoes – and you'll do that on a daily basis. Therefore, you must choose the product that is made of high-quality and resilient material.
Overall, the French fry cutter must be able to perform both heavy and light tasks and in a continuous manner as well. Naturally, the materials have to last for a long time – but they shouldn't cause discomfort to the operators.
In terms of materials, your best choice is the classic stainless-steel or even the cast iron, as both are very resilient and don't give up that easily when it comes to daily tasks.
The Blades of the French Fry Cutter
When it comes to blades, you'll probably want to check how easy they can be removed. It may sound odd, but you want to make sure that, if the blades go dull and your employees notice this in the morning, you won't have to halt the production for one entire day just to change the blades of your French fry cutter.
Moreover, you should pick a product that comes with quite sharp blades, as you don't want the operator to keep on sharpening them every couple of weeks.
Both of these aspects should be taken into consideration when making your purchase – as you'll want to clean the blades as well, not only sharpen them.
Ease of Cleaning of the French Fry Cutter
Obviously, it's not only the blades that need cleaning once in a while – the whole machine will require some dusting, so to say, especially after an intense day of potato cutting.
Naturally, if you go with an automatic heavy-duty French fry cutter, it is most likely that it isn't dishwasher safe – it probably won't fit in such a machine, to begin with. Therefore, you have to make sure that the product you choose is easy to clean. As mentioned many times before, your employees will be using this product daily; therefore, you want it squeaky clean every single time you come around and inspect the kitchen.
The Cutting Types of French Fry Cutters
As you know, different types of fries don't just appear out of nowhere – and your usual French fries can't be turned into wedges just with a snap or a magic trick. Obviously, you will need the right sets of blades as well.
Of course, this can be done without changing the machine entirely – however, before you purchase it, you have to make sure that the manufacturer is selling different types of blades or that the blades of the unit that you're going to buy can be changed.
It's important to remember the fact that the blades and the push blocks of a certain French fry cutter won't work on a different brand cutter. Therefore, when buying a new set of blades, make sure that it is from the same manufacturer or compatible with your unit.
In terms of cut types, we have: 1/4" straight, 3/8" straight, 1/2" straight, four-wedge, six-wedge, eight-wedge, curly, ribbon, garnish, and chip.
| | | | |
| --- | --- | --- | --- |
| Cutter | Cut Desired | Push Block | Blade Set Assembly |
| Straight | 1/4" | 1/4" & 1/2" | 1/4" |
| Straight | 3/8" | 3/8" | 3/8" |
| Straight | 1/2" | 1/4" & 1/2" | 1/2" |
If you own a restaurant, it's only natural that you need all of the mentioned cuts – you can't put 1/4" straight French fries as garnish or chips on a plate. That's why it is not enough to have the best French fry cutter out there. It's important to have the proper accessories, in our case the blades, as well.
The Price
Well, you can generally pay how much you want on it – but if you want a resilient product that can do its job without needing any tweaks or extra effort from the operator, then it is recommended that you consider it an investment.
Obviously, a knockoff might get you through the week, or month in the best case, but you and your restaurant will do much better with a branded, original French Fry Cutter.
Final Thoughts on French Fry Cutting Equipment
We can safely say that cutting fries is not that easy – and choosing a French fry cutter isn't easy as well. That's why we hope that our buying guide here has helped you determine which type of product is the best for your business.
Share This!