Commercial Shelving Buying Guide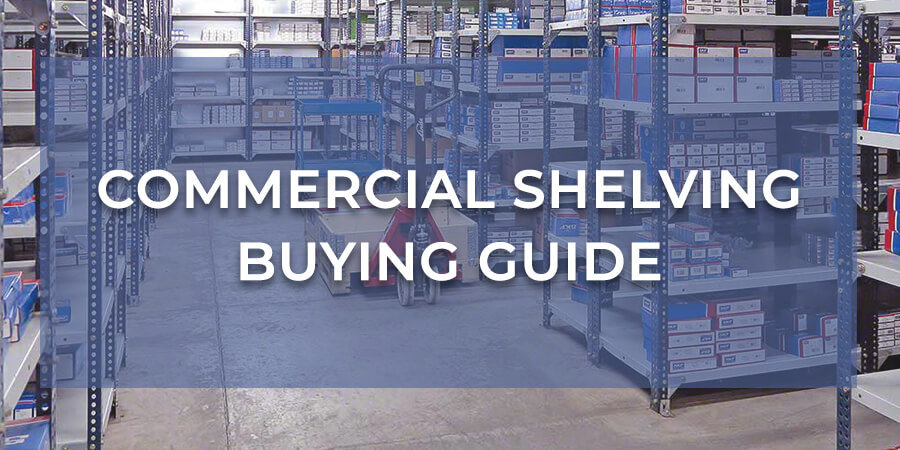 Running a business comes with numerous challenges. One of them is coming up with efficient solutions to daily problems in order to simplify things. This also applies in the case of shelving. For instance, if you have limited space at your disposal, you should maximize it and use it at its greatest capacity. To do that, you should get the right type of commercial shelving, which would address your individual needs.
Expressly, we could say that any business that prepares, handles or serves food should have appropriate shelving. Let's briefly outline the advantages associated with purchasing the right commercial shelving. For one thing, by keeping everything in sight, you can significantly reduce food waste. At the same time, you can notably optimize the productivity of your staff, as the food will be easy to find. And lastly, you will keep the food away from potentially harmful contaminants and other substances.
Commercial Shelving Materials
Presumably, the first thing on your agenda should be checking the material of the shelving you're considering. There are various manufacturing materials utilized, each of them coming with its set of pros and cons, as with pretty much any other purchase. To that end, our advice to you would be to consider what you plan on storing, as well as where.
For example, if you're a restaurant owner, then the odds are that you need a shelving solution for both dry and wet ingredients, as well as other items such as buckets, cleaning solutions, so on and so forth. Cleanliness should be a top priority, in this case, to optimize the lifespan of the equipment.
Let's have a look at the main types of materials, their pros and cons, as well as the scenarios in which they are efficient.
Material
Benefits
Drawbacks
Best For
Chrome wire
- Presumably, one of the most affordable shelving solutions, it is commonly used in most restaurants.
- It enables the air to easily circulate around the food so that the development of mold is prevented. At the same time, this prevents condensation.
- Easy to assemble and to personalize.
- In most cases, it can easily accommodate up to 150 pounds per shelf, making it quite versatile.
- Even if it is rust-resistant, this doesn't make it rust-proof. Since rust-particles eventually end up in the food, you could have problems if the shelving develops rust.
- Shouldn't be used in humid environments.
- Excellent for dry storage and heated environments, garages, stockrooms, and other retail applications.
Epoxy coated
- It can be used in walk-in coolers and humid environments;
- It is a durable shelving solution. Since it is rust-proof, you don't have to worry about corrosion.
- Durability comes as a guarantee.
- For the most part, this type of shelves can accommodate 150 pounds per unit.
- Even if this type of material is durable, there is still the risk that the epoxy coating will wear off over time, especially if you're storing metal on the shelves.
- Best for walk-in coolers, ware-washing areas, and other options of moist storage.
Polypropylene
- It is rust-proof and significantly durable. This is a good alternative for most environments, being really versatile.
- Being constructed from metal, it features a polypropylene outer coating, which optimizes the durability of the material.
- The longer warranty compensates for the notable upfront investment.
- It requires a significant upfront investment.
- It is compatible with most storing scenarios and specifications.
Anti-microbial material
- Essentially, any manufacturing material can feature an anti-microbial coating.
- The benefit of this extra layer is to safeguard the shelving from mold, extra humidity and condensation, thus preserving the lifespan of the shelves and maximizing the safety of the food.
- No drawbacks whatsoever.
- Recommended for humid environments, in particular, where mildew and mold could pose health threats.
Stainless Steel
- Recognized as one of the most durable and long-lasting shelving materials.
- Natural corrosion-resistance; therefore, it withstands heavy-duty, rough applications, being suitable for literally any type of environment – wet and dry alike.
- It is pricier than other options.
- It is suitable for any type of environment – wet and dry alike.
Main Types of Restaurant Shelves
Now that we've covered the primary materials used for manufacturing commercial shelving, we have to discuss the main types of restaurant shelves you can choose from. Before making a decision in this respect, we advise you to take the time to point out the specifications of your business, the needs of your staff, audience, so on and so forth.
Solid Shelves
The first category of commercial shelving is that of solid shelves. As the name outlines, this type of shelving features a compact surface, which doesn't have any openings or anything of the kind. This means you can basically store anything on this type of shelve, there's no risk that it will drop, or any liquid will spill through the rails or anything of the sort.
At the same time, it's worth outlining that solid shelves are easy to clean and maintain, especially when compared to their counterparts. Your staff won't have to worry about cleaning the grime that is likely to get trapped between the wires.
Nonetheless, even solid shelves come with one fundamental drawback. Expressly, the primary disadvantage is that solid shelves don't have the same degree of breathability as vented shelves, for instance. Therefore, solid shelves are mainly suitable for areas in which high humidity levels aren't a problem. Otherwise, you will end up dealing with mildew, condensation issues, and the list may go on.
Triangle Shelves
If you have limited storage space at your disposal, then you might consider the option of triangle shelving. These types of shelves are made to easily fit corners so that you can genuinely maximize all the space you have at your disposal.
Vented Shelves
And lastly, you can go for vented shelves, which are designed to meet the needs of humid storage environments. Their main benefit is that they supply a decent amount of air circulation between the shelves and the units you store on them. What is more, in regards to visibility, they also offer an unmatched advantage, in the sense that they allow you to identify whatever items you have left for inventory purposes.
Nonetheless, the evident downside associated with vented shelves is that of time-consuming maintenance. That is to say, they are much more difficult to clean than solid shelves, for instance. At the same time, depending on the size between the vents, some items are likely to drip or spill, causing inconvenience.
Specialty Commercial Shelving Options
Furthermore, there are other shelving options worth considering – which are known as specialty commercial shelving. These are designed to meet the individualities of a niche. For example, if you're running a bakery, then you might require storing large items such as sugar and flour in bulk. This is just an example. However, here are the options you have at your disposal.
Wine Shelving
This type of shelving is specifically designed to accommodate several bottles of wine. The main benefit of this shelving is that it securely keeps the wine bottles in place so that you can safeguard your investment.
At the same time, this shelving enables the circulation of the air, which contributes to preserving the quality of the wine bottles. You should know by now that the temperature at which wine bottles are stored plays a role in the quality of the wine.
Dunnage Racks
For storing heavy-duty items, dunnage racks are likely to do an excellent job. That's because these are made to easily accommodate up to 2,000 pounds, depending on the type of unit you invest in. In general, these shelves are made either from aluminum or plastic, featuring excellent anti-rust properties.
Security Shelving Racks
If you want to increase the security of certain items, which are more valuable, such as expensive wine, alcohol, and other items, then security shelving racks represent the right option for this purpose. You can clearly point out the units that are locked inside while ensuring that they are safe and out of reach.
Keg Racks
When kegs are full, they are quite heavy. Therefore, you have to come up with an appropriate storage solution. This is where keg racks come in – they are made to easily accommodate heavy kegs of beer, allowing the kegs to be moved when needed.
Wall Mount Shelving
And lastly, wall mount shelving can be quite helpful and convenient, especially when you have a compact storage area or a relatively small kitchen. The best part is that there are plenty of options to choose from, in the sense that the wall mount shelving is available in multiple materials and designs.
Final Thoughts on Commercial Shelving
To conclude, these are some of the main considerations you should factor in while shopping for the right commercial shelving option. As with any other important purchase for your business, it's fundamental to take the time, make a list of your needs, the specifications of your storing environment, your budget, and afterward pick the right product accordingly.
Share This!