Choosing the Right Range Top Configuration for Your Restaurant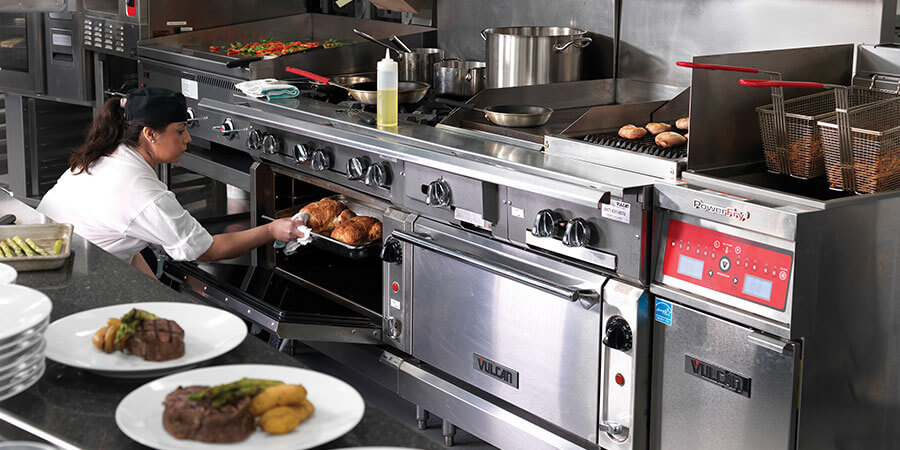 Commercial kitchen ranges come in a multitude of different configurations and options to fit the needs of every food service kitchen. Given the importance of this piece of equipment to your operations, it pays to think carefully about what you really want before making a major purchase.
Electric or Gas
This decision will be determined by the source of power available in your building. Gas ranges are built for either natural gas or liquid propane (LP). Electric ranges are offered in different voltage options (208, 204, and 480), so you need to know what your building supplies.
While there are benefits to both gas and electric, many chefs still consider gas cooking to be the gold standard. Its immediate readiness, precise temperature control, and shorter cook times make it a chef favorite. Gas is also less expensive to operate over time. Lighter duty ranges typically have lower BTU levels while heavy duty ranges have the highest BTU level.
Size Should Fit Volume
If you are replacing an existing range, you may be limited by space in your kitchen or gas supply constraints. Hopefully, you have enough space to fit a range that accommodates your production needs. Ideally, the dimensions of your range should be determined by your menu and the average volume of customers you serve daily.
Commercial ranges come in widths from 12 inches to 72 inches. A fairly busy kitchen generally should have a 48 or 60-inch cooktop because this size allows for plenty of burners or specialty tops and multiple people using the equipment at one time. The number of burners is also important to consider. Six to 10 burner models are most popular in commercial kitchens.
Range Top Configuration Options
Most of these stovetop options are available in combination with each other. It is very popular for kitchens to combine open burners with other cooking surfaces such as griddles, hot tops, or charbroilers.
Open Top Burners:
The circular French top plate of an electric range top and the cast iron grates of gas cooktops are the most enduring ways to heat food. They are simple to use, familiar, and versatile.
Griddles:
Food is cooked directly on the surface of these large flat plates. They are available with several options to fit your specific needs – including grooved plates and different metal types for surfaces (such as chrome, steel, and exclusive materials).
Charbroilers:
Known for its grill markings and smokey flavor profile, adding a charbroiler to your restaurant range can benefit any kitchen. Cast iron grates make for a fast and even heating surface and prove to stand the test of time.
Hot tops:
These are thick flat metal plates that are heated by your energy source. They can get extremely hot – (up to 800 degrees) and are excellent for preparing food in large pots. They also work well if high temperature searing is needed in smaller kitchens.
French tops:
These are similar to hot tops, but they are hotter in the middle and cooler on the sides, allowing for the cooking of multiple foods simultaneously, at different temperatures. Large pots slide easier across the surface for better, safer handling.
Making a Choice
If you are purchasing a counter-top model, your decisions are over once you've selected your top configuration. However, buying a freestanding range will require a few more decisions about what you want in the base —regular oven, convection oven, refrigerated base, or storage base.
About the Author
Vulcan is relentless in the pursuit of exceptional commercial appliances. Through quality cooking equipment, steadfast service, and more than 150 years of expertise, we employ thoughtful innovation to meet the unique needs of each and every one of our customers. As a leader in food service equipment, our quality products serve to inspire chefs and operators to pursue their passion and meet their unique cooking needs.
Comments
This is a very nice blog. Keep Sharing.
Share This!