Chafing Dish Buying Guide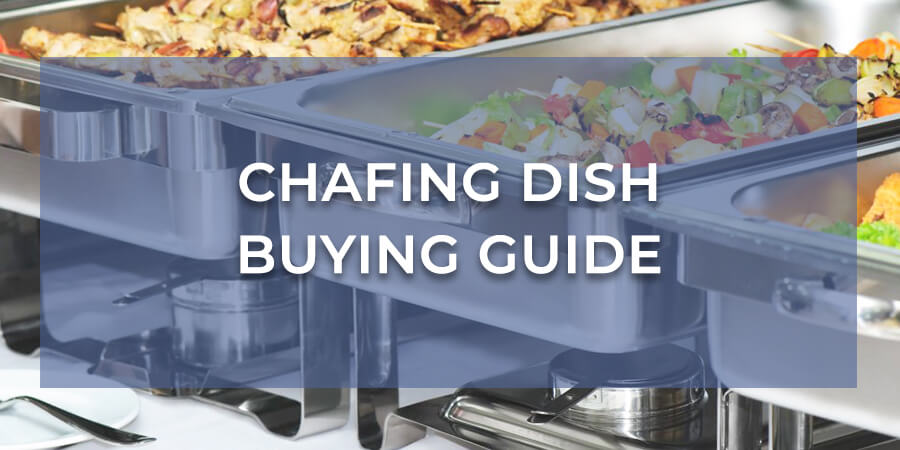 In the catering world, chafing dishes are of utmost importance. That is to say, we could argue that chafing dishes are a necessity for companies that provide cater-style meals, as they maintain the food at the appropriate temperature during the entire duration of the event. A chafing dish is actually a sort of indirect heat stove, which utilizes chafing fuel to keep the food fresh, thus, maintaining its flavor.
You should know by now that investing in high-quality kitchen equipment is mandatory if you want to optimize your performance. Not only that the right units considerably simplify things, but they can also make the food better-tasting, more appealing, more flavorful, and so on. Chafing dishes are merely an example of those qualities.
To that end, today we will focus just on that: chafing dishes, what to consider when you're browsing for high-quality products, as well as chafers and chafer accessories. Keep on reading to find out more.
How Are Chafing Dishes Categorized?
First, chafing dishes can be classified by shape. Obviously, each specific shape is designated for particular purposes. Thus, depending on how you plan on using the chafing dish, you should factor in this characteristic.
| | | |
| --- | --- | --- |
| Shape | Characteristics | Best Used For |
| Rectangular | This is, perhaps, the most commonly met shape for chafing dishes, due to its versatility; | It could be used for entrees. |
| Round | For the most part, round chafing dishes are preferred for desserts, and not only; | It is suitable for desserts, sauces, and side dishes; |
| Oval | Characterized by a contemporary, polished look, it is just as versatile as the rectangular shape. | Used for main entrees. |
| Marmite/Soup | Due to its specific shape, this is created to accommodate liquids. | It is best for holding warm soup, stews, gravies, sauces, hot cereal, and so on. |
| Square | This isn't as common as its counterparts; however, it is spacious, having a modern look. | It is compatible with side dishes and appetizers. |
Types of Chafing Dishes
Furthermore, we could categorize chafing dishes depending on the type of unit. Here are the primary types of chafing dishes, alongside their key features.
| | | |
| --- | --- | --- |
| Type | Characteristics | Best Used For |
| Drop in Chafer | This type of chafing dish is permanently installed on the tabletop or serving countertop. | It facilitates an upscale presentation, being highly suitable for hotel breakfast buffets, or other types of permanently installed food stations. |
| Chafer Griddle | This type of chafing dish maintains the food flavorful and hot during serving time. | It is perfect for pancakes, sandwiches, and other meals presented at hotels, special events, so on and so forth. |
| Coffee Chafer Urn | Meant to accommodate liquids, coffee, tea, and other hot beverages; the perfect solution to avoid serving lukewarm drinks. | Coffee, tea, hot chocolate, so on and so forth. |
Chafer Cover Types
Furthermore, as you look for the right chafing dish for your specifications, you'll have to choose from different chafer cover types. As a rule of thumb, we encourage you to assess the needs of your audience before selecting a type of lid. For instance, the roll-top lid is convenient and accessible, enabling customers to easily serve themselves at buffets. On the other hand, a lift cover type of lid creates a beautiful, polished presentation.
However, let's have a closer look at their specifications.
Retractable/Roll Top Cover
The best part about this type of lid is that it doesn't necessitate lifting, holding or removing it. That's thanks to the front handle, which facilitates ease of use. When it comes to two-sided services, you should select a model that enables you to retract on both sides.
There is a range of retractable covers featuring a 90-degree and 180-degree opening to provide serving versatility. Thanks to the slide locks, the lids remain in place. You should remember that, in general, in the case of roll tops that don't flip down 180 degrees, they're perfectly suitable for one-sided service.
Lift off and Dome Covers
If you pick this type of chafer, this means you can completely lift off the lid. There is actually a handle on the top of the lid that enables you to do so. In many cases, the chafers come with a cover holder, which is usually an integral part of the unit.
Hinged Cover
Essentially, the main characteristic of a hinged cover is that it has the look of a lift-off unit, minus the need to completely remove and replace the lid. As a matter of fact, numerous models on the market feature a stay-open feature, at different angles – namely 45 and 90 degrees. Concurrently, the hinged covers that double facilitate a boost of versatility, which always comes in handy.
Depending on the manufacturer, some units have slow-moving hinges, or hydraulic hinges, as opposed to regular hinges. Not only that they can be set at 45 or 90 degrees, but these are also convenient as they close gently and quietly if a guest lets go of the handle without closing the lid, as well.
The main advantage of this is that this notably diminishes the wear and tear on the cover. What is more, the atmosphere and vibe of the dining event are better preserved.
Covered Handles
In this case, the covered handles come in handy for numerous reasons. Not only that they maximize safety, but they are also quite convenient. In order to facilitate safe handling, in general, the handles are covered with nylon, or a similar type of material, to ensure that no incidents occur. Plus, the easy-grip comes as an advantage.
Glass Top Covered
As the name points out, a glass top lid features a clear window. Thus, you can easily see what's inside the dish. Without needing to lift the lid, people can determine whether they want that dish or not. This type of lid is visually enticing, in the sense that it can make a meal quite attractive.
What is more, since the glass top is covered for most of the time, the temperature of the food remains fairly the same, without dropping significantly.
Critical Consideration: Fuel vs. Electric Heat
Evidently, there are several ways in which different chafing dishes maintain the food at a given temperature. We'll describe the most commonly met ones – namely fuel, electric, and induction models.
Fuel Chafers
Typically, fuel chafers are equipped with Sterno fuel cans. Nonetheless, this isn't the norm for all units, as others incorporate other types of gel chafing fuels or wick fuels. In fact, there is also the possibility of choosing an environmentally-friendly type of fuel.
We could say that chafing fuel represents one of the most inexpensive options. At the same time, most caterers prefer this type of heat, as it is compatible with outdoor events.
Induction Chafers
Induction chafers are also worthy of your attention. The main advantage associated with this type of unit is that they stay cool to the touch. This eliminates the risk of accidental injuries that could occur without any notice at events. At the same time, the aesthetic appeal is worthy of consideration, as induction chafers look sleek and upscale.
In comparison with the other options, we could say that induction chafers do a great job at keeping the temperature constant. That's because of the even distribution of hot and cold spots, which is the key to consistency.
Electric Chafers
And finally, we have electric chafers, which heat up the food without depending on an open fire. Such a unit is perfectly suitable for the spaces in which open flames aren't permitted. They are also compatible with restaurants and other types of institutions.
At the same time, electric units enable you to monitor the temperature at all times, while allowing you to ensure the food is preserved accordingly.
Nevertheless, since electric chafers necessitate access to an electric outlet, you should consider this detail when planning for your next catered event.
What about Expansion Options?
Regardless of the type of chafing dish you choose, of the heating style, cover, and shape, you shouldn't overlook the aspect of expansions. Perhaps, in the foreseeable future, the opportunity will present itself, and you'll need to expand your chafer inventory. It's best to be prepared for such scenarios, as you never know when they might arise.
To that end, you should assess the manufacturer's specifications concerning distinct styles you might consider purchasing in the future, as your business is expanding. Concurrently, if you're thinking of investing in other chafer accessories, such as teapots, coffee urns, and other types of buffet serve-ware, we encourage you to pick them in the same style, in order to create a consistent image.
What Other Chafer Accessories Might You Need?
In general, when it comes to investing in high-quality commercial equipment, you should always buy the right accessories, as they matter just as much. So, what accessories should you consider investing in, when it comes to chafing dishes?
Chafer storage and transport
Obviously, safely storing and transporting your commercial equipment is the key to its longevity and durability. This is presumably the main reason why you shouldn't overlook such details. In the long run, these are the ones that really make a difference.
To that end, investing in a chafer box is a sensible decision, as it will safeguard your appliances in the case of bumpy rides or anything of the kind. These boxes are quite durable, being specifically made to protect these units. Usually, they are made from sturdy, heavy-duty plastic, which is also resistant to impact. At the same time, they come with additional handles that facilitate ease of handling and transportation. For convenient storage, we advise you to consider stackable units.
Chafer Holders
Our list continues with chafer holders. The purpose of these units is to safely and easily accommodate your chafing dish so that it stays in place as it is being used. This is essential for both safety and convenience purposes.
Maintenance accessories
Catered events have the highest standards, usually. This is why you should invest in the appearance of the chafing dishes you use. Aside from picking out well-made, polished units that look impeccable, you should also consider the right maintenance practices. In this view, you should get appropriate cleaning and polishing cloths and solutions.
These are gentle than regular cleaning solutions; therefore, you won't have to worry about scratching the surface of the chafing dish. At the same time, they are efficient and easy to use.
Other Details: Chafer Trims
While it's true that the type of trim on the chafer won't influence its functionality in any way, aesthetic appeal matters when it comes to buffet meals and servings. At special events, the tables should be arranged in an aesthetically appealing manner, to make everything more enticing and appealing to the customers.
To that end, there are specific types of trims you can choose from, namely bass trim, gold trim, and chrome trim. Of course, when it comes to design, it would be unsuitable to make claims concerning what is more beautiful than the other – this is where your personal style and preference comes in. Therefore, given that you want to provide an upscale type of service, you should consider this detail when browsing for chafing dishes – some are more luxurious and high-quality than others. The bottom line is that it is essential to factor in your target audience's expectations and choose the right products to impress them.
Final Thoughts on Chafing Equipment
There are several elements that matter most when it comes to a successful buffet setup. The most significant one is the chafing dish you pick, but the accessories are just as important. However, you should analyze the characteristic of the unit you're considering investing in. That'll enable you to create a successful buffet, time after time.
At the same time, aside from presenting the food in a visually appealing manner, you should also ensure that your servers know how to properly utilize a chafer, to provide customers with a positive experience.
Share This!