An Effective Website for Restaurants Guide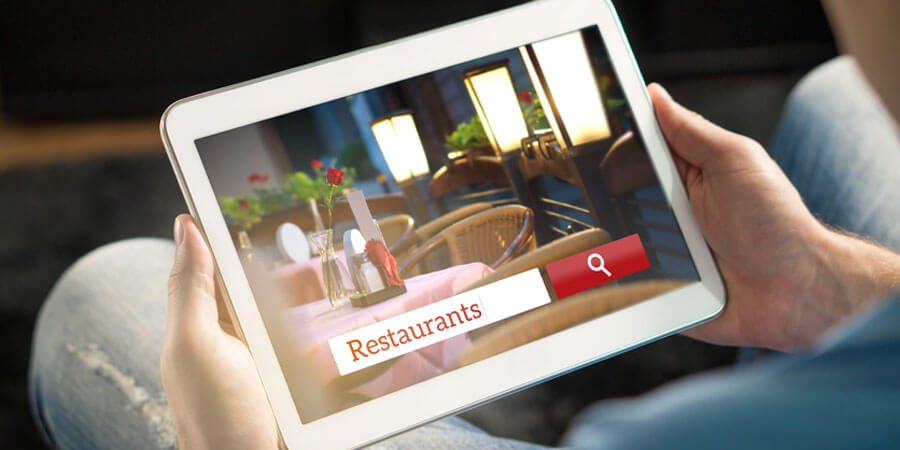 In the 1990s, in the early days of business websites, having a website for your restaurant wasn't considered as vital as it is today. Perhaps your customers didn't have the internet at home or didn't use it enough to make having a website worth it back then. You could rely just on word of mouth and print advertisements to get the job done. You may have invested in a mailed local circular for advertising, and if people needed to know your hours or location, they called your business or looked it up in the phone book. It was easy back then; however, thanks to the internet's power in marketing, those days are over. The restaurant industry has seen the need for online marketing, and a website goes right alongside print marketing.
Why Do I Need A Website for My Restaurant?
Your customers need to find you, and they're going to try to do so online! According to a study by SinglePlatform, the restaurant industry receives the most attention from online consumers. The study shows that more consumers search for restaurants online than for any other consumer category. This includes clothing retailers, baby products, and more. Having a website is now just as important to your restaurant as choosing the location or hiring staff.
Whether you're a seasoned restaurateur or new to the game, you can appreciate that the days of marketing your restaurant have changed in recent years. It's not enough to have an ad in a local magazine or newspaper, now you're expected to have a website. There may be over 1,000 restaurants in your area, and it's up to you to make your business get noticed. One of the most essential parts of your business is marketing yourself well to customers, and a website is an integral part of that.
It's time to get attention online, and that means having a website that stands out, educates the web visitor, and most of all, entices them to visit your restaurant!
What Makes A Restaurant's Website Effective?
When you visit a website for a local business for the first time, what do you expect to see? You may want to see photographs of their products or maybe know their hours. The same can be said for your customers. They will visit your website to find out information about your restaurant including its hours, location, and more. By providing all of the information they seek upfront, you're making it more likely they will eat at your restaurant.
A Good Design for Computers and Mobile Devices
What happens when you go to a poorly-designed website that is hard to navigate? You click away quickly, right? An effective website is one that is easy to browse and well-designed. When it comes to web design, you want a website that is accessible on both computer browsers and mobile devices. Your customers use both of these options to look for you and you want to make sure they can see your website easily.
A 2013 infographic by The Restaurant Association of America found that 63% of individuals surveyed used a smartphone or tablet to look up restaurant information regularly. This number can just go higher, as our devices become a primary tool for use in our everyday lives. A website should have a central navigational menu so consumers can access any information they need quickly.
All of the Important Information About the Restaurant
A website is one of the most important marketing tools you have, so you need to get it to use it well. Current and new customers will visit it looking for information on your restaurant, and you want them to leave your website with a desire to visit your business. This is why you need to provide them all of the information they need. Your customers need to know the following about your business, and what's the first place they'll look? Your website.
Hours: When is your restaurant open? When are you closed? Do you close for lunch?
Current Menus: Do you offer breakfast, lunch, and dinner? What about brunch? Do you have a kids menu? Do you accommodate special dietary needs?
Services: Do you offer delivery or carry-out, or are you strictly dine-in? What are your delivery areas? Is a delivery minimum?
Contact information: What's your restaurant's phone number and email?
Location(s): Where are you located? Do you have multiple locations?
Events: Do you host any special events, such as parties? Do you offer catering services?
Specials: Do you currently have any coupons or special offers available? What about Happy Hour?
Social Networks: Are you on Facebook or Twitter? How can customers connect with you to stay up to date on news for your restaurant?
Updates: Has anything changed for your restaurant? If your hours, events, or other things have changed, you should be sure you update your website first.
It Delivers A Good Impression for Visitors
Think of your website as a virtual business card. It may be the first impression a consumer receives for your business. You want to get these potential customers in your door, and your website lets them see why they should visit. This is like a "getting to know you" session, where visitors can see pictures of your food, the type of cuisine you serve, the general "vibe" of your restaurant. This where you can show them why they should visit, we'll tell you how to make sure they want to visit.
Examples of Great Restaurant Websites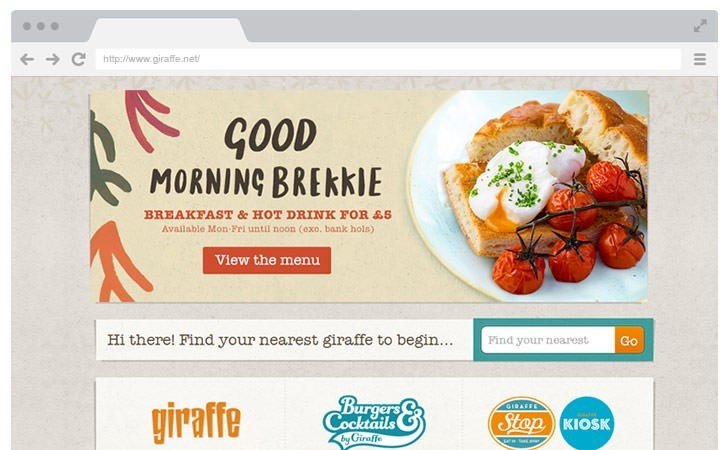 For management companies who own different types of restaurants, this website showcases how to interlink them all.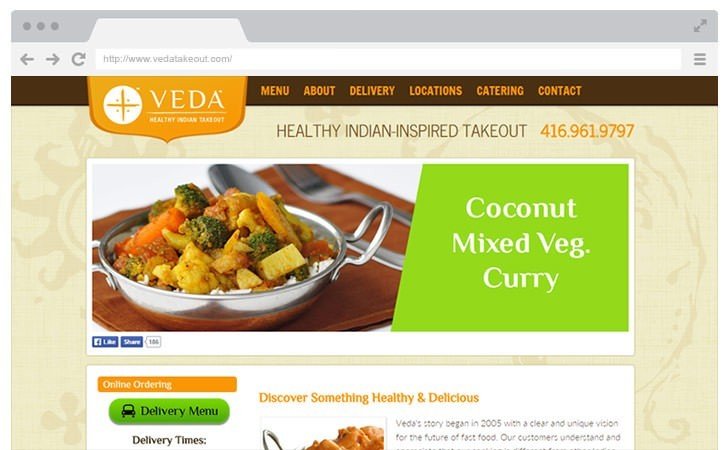 This great website features easy access to the delivery menu and delivery times for a restaurant that primarily delivers its food.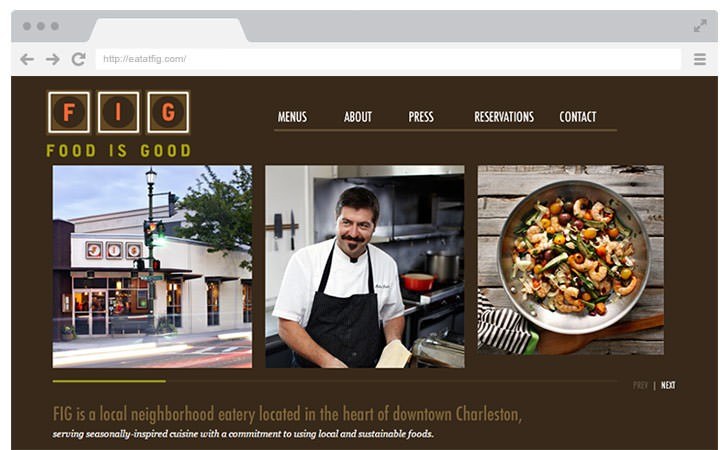 What a great way for a local restaurant to feature its chef, food, and location. This really makes you want to visit this Charleston landmark!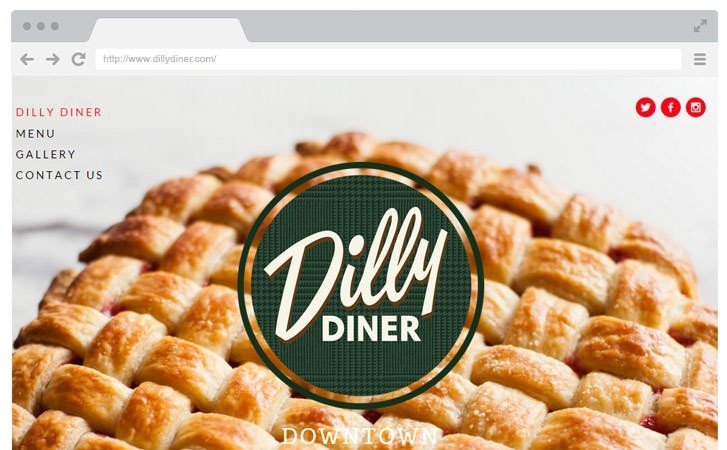 While this website displays some visually interesting features it also catches your attention with it's catchy phrases.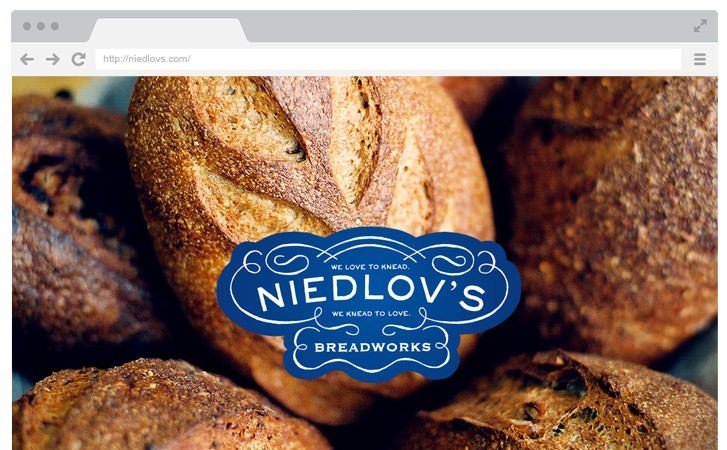 What a great way to show off their product with this full size background image.
Share This!