Spring USA Roasting Pans
Browse through our selection of commercial roasting pans!
Brand
Capacity
Height
Length (Inches - Left to Right)
Width (Inches - Front to Back)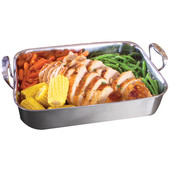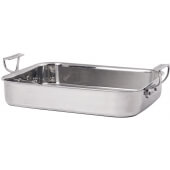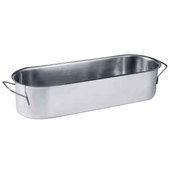 Our top-quality roasting pans are available in various sizes and materials from industry-leading brands at the most competitive prices available. Check out our selection today! When it comes to finding the right baking and roasting pans, it pays to invest in the right quality. Used on such a regular basis, you might find that these pans will ensure you can get a consistent level of performance. Since they are made using stainless steel, you can enjoy a much more professional cooking experience simply by using these bake-ready, roast-ready trays for any purpose that you might have in mind. One of the main reasons why so many people choose to use these baking and roasting pans is that they come suited for the required cooking style. Whether you are cooking using a roasting pan or you want a rotisserie pan, we will make sure that you are never short of the required tools to make this work on your behalf. With up to 10 quarts in space in our biggest pans, you can make sure that you only use pans that have enough quality to withstand commercial, regular usage. On top of that, they all come from top quality brands such as Bon Chef and Spring USA, making it easy for you to get the best standard of cooking carried out.
If you are serious about making sure that your place of work can always rely upon the right pans, then this is the place to start. It will take a lot of work, but if you do it right then you are much more likely to get the kind of consistent service that you need. If you want to make the right kind of impact upon your staff, then supplying them with pans that they can use again and again without any issues is so important. So take a look today: you might find baking and roasting just got a lot easier!