Eurodib Hot Dog Roller Grills
Browse through our selection of commercial hot dog rollers, hot dog roller grills, & hot dog rotisseries!
Brand
Height
Hot Dog Capacity
Wattage
Width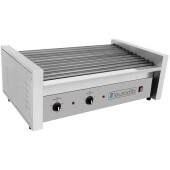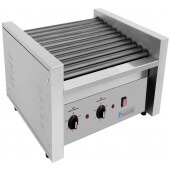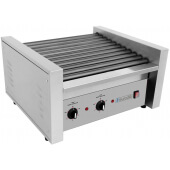 In any venue that is serious about success, variety is kind. Not only variety but a variety of cooking options. For example, if you are looking to offer hot dogs as part of your offering, then one of our brilliant roller grills is a must. Our team at GoFoodservice knows how important it is that you can get quality and value for money. This is why we have put our expertise in place to make sure that we only offer the best possible quality of high-end roller grills for commercial usage, helping to make sure you can see huge boosts in popularity and revenue.
Everyone loves a hot dog, and with this hot dog roller grill & taquitos roller grill selection you can easily cook up a feast with a fantastic and effective 1000W+ electric hot dog grill. Each grill can take numerous hot dogs & taquitos of various sizes, making sure that you can very easily get a large collection of dogs cooking in a matter of minutes. So, make sure you can cope with demand and give people some properly cooked hotdogs; nothing microwaved! Make this the best solution that you have to help people see why so many choose your venue for their mid-day refreshments.
If your place of work is looking to help make sure it can give customers the utmost value, our commercial hot dog rollers are 100% the best place for you to turn to. With various power levels going as high as 2880W, we have something for every power level needed. It's a must for those who are looking for something a bit more powerful and effective; if you want to give people these wonderful grilled dogs cooked in the proper cinema-style, this is the way to go. Each of our brands from the quality Nemco to the wonderful Eurodib and Star will make sure you can create a satisfying brand of hot dogs with the minimum of fuss. Have a look through our hot dog rollers selection and make sure you can find something that fits your exact needs.
Not sure what you need? Then contact us today and we'll be more than happy to see you get the right option. Also, if you are already an owner of a roller grill you should look to check out our excellent parts and accessories section to help you find the parts you need. Either way, we look forward to helping your business gain the traction and popularity that it can through these wonderful meat treats!