World Centric Compostable Dinnerware & Flatware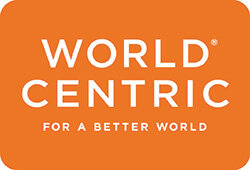 Founded in 2004 and headquartered in Rohnert Park, CA, World Centric provides 100% plant-based, eco-friendly, compostable products for the foodservice industry to reduce environmental impact. Using innovative materials and design, World Centric has developed over 250 foodservice and retail products across tableware, cutlery, and food packaging.
As a Certified B Corporation and California Benefit Corporation, World Centric upholds rigorous standards of social and environmental responsibility and donates 25% of profits to organizations addressing social and environmental issues. All of World Centric's products will eventually turn into soil in commercial composting facilities. They also aim to offset carbon emissions with more than $2.1 million allocated for donations in 2019.
If going green and being a sustainable business is on your restaurant's to-do list, World Centric is the partner you need in your commercial kitchen, bakery, or coffee shop.
Eco-Friendly Disposable Dinnerware
Two things that don't typically go together are the words "disposable" and "eco-friendly." World Centric is an exception to that rule. Their hearty, environment-loving line of disposable tableware will not only meet the needs of you and your customers but also the environment. Much like your experienced commercial kitchen staff, World Centric products don't give in to the heavy demands of food and beverages!
Compostable dinnerware products include:
Wheat straw burrito bowls
Soup bowls and paper bowls
Compartment plates and regular plates
Round plates, square plates, and oval plates
Disposable flatware
Eco-Friendly Disposable Cups
Drinks stay hot or cold in World Centric's revolutionary plant-based cups. Don't worry, they withstand the pressure and avoid leaking. It almost sounds too good to be true, but that's just World Centric!
Compostable cup features:
Made of plant-based plastic, kraft paper, plant fiber, and sugarcane
Paper or clear plastic
6oz to 24oz
They also have eco-friendly disposable straws, hot beverage sleeves, and take out boxes. Remember, all of their products are 100% compostable - even their plastics! That's why when you choose World Centric, you choose the future.
World Centric Best Sellers
World Centric Categories