Waste King Commercial Garbage Disposals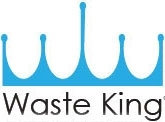 Are you a business who needs to take serious action on the quality of your in-house waste disposal? Then let Waste King help you out. At the royalty of the waste disposal industry, Waste King has been an active part of many kitchens for the best part of 50 years. Waste King's expertise and knowledge has helped them to form a well-deserved reputation as industry experts on water dispensation and garbage disposal.
From finding new capacitors to changing out the space bearing, we want to make sure you can find all the Waste King parts, Waste King tools and Waste King accessories that you need to make the most of your Waste King food disposer equipment. For more help and information in making the right choice and really ensuring that your business can take that all-important next step forward in terms of product offerings, then be sure to start here with GoFoodservice's Waste King selection.
You should find it increasingly simple to make the right choices, all built around the importance of efficiency. From new Waste King parts to improve efficient to a new Waste King garbage disposer itself, we will make sure that you can get all the help needed to keep your workplace cleaner. Starting today, you can make a telling difference on the overall impact.
Waste King Best Sellers

Waste King 2000-3
2 HP Commercial Food Disposer, 25.25", 3 Phase
$1,865.00 /ea
Free Shipping
Out of Stock
Waste King Categories