Unic Coffee & Espresso Machines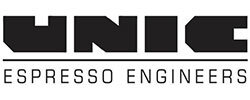 UNIC is a family run business that has been designing coffee and espresso machines for over 90 years. The UNIC brand started in 1929 with its first factory in Nice. After four-generations, the UNIC brand remains a trailblazing pioneer in the espresso industry.
With a global team and offices located in several major cities across the globe, UNIC has made it their mission to deliver simple, cost-effective solutions to your coffee or espresso business. With UNIC, you'll find quality coffee and espresso equipment that delivers consistent performance along with a refined coffee extraction process that will keep customers coming back in for more.
Unic Key Features
UNIC's innovative designs incorporate state-of-the-art technology that streamlines the user experience while providing quality coffee that exceeds customers' expectations.
Color LCD touchscreens
Multiple steam wand options
Stainless steel components
Lessened recovery time with overabundant steam supply
Cup warming trays
Simplified milk frothing capabilities
Temperature controlled foamers
Teflon steam arms for easy cleaning
Programmable temperature control
Built-in safety features
Unic Espresso Machines
With options for every size business, your customers and employees will have their expectations exceeded by UNIC's user-friendly, efficient, and consistent espresso machines. UNIC's innovative designs have earned them patents for their brewing systems and machine varieties, making them a leader in the world of espresso. Their rotating filter holder system automatically expels the used coffee pod into the wastebasket, saving you time and effort. Additionally, UNIC keeps your well-being in mind with its built-in safety features like an automatic shut off when water runs out. Clean up is also a breeze with each machine's included cleaning kit.
Unic Espresso Grinders
A variety of grinders give users the options for on-demand coffee, whether it's for professional use or the home barista. From 1.1 pounds to 3.3 pounds, UNIC's espresso grinders are the perfect addition to any coffee bar.
Unic Warranty
All UNIC products come with a one-year parts and labor warranty.
Unic Best Sellers








Unic Categories