Tropics Mixology Bar Drink & Cocktail Mixes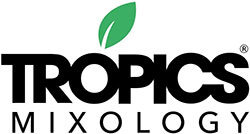 Tropics Mixology bar mixes are expertly blended to create the perfect beverage, every time. Whether your kitchen focuses on special events or offers cocktails alongside your typical food menu, pre-made cocktail mixes allow you to provide consistently delicious drinks. From catering and event centers to hotels and bars, drink mixes help your kitchen perform to its highest potential. You can explore a full range of Tropics Mixology combinations. Tropics Mixology offers carefully crafted blends that are ready to drink with liquor added on-site, as well as gourmet ingredients that are perfect for your own concoctions. There's something for every menu.
As a professional kitchen, you understand the impact that ingredients make on your food. Tropics Mixology creates tasty, simple blends that highlight the power of fine ingredients. These blends are made with real fruit to showcase pure, natural tastes. You'll never find any artificial sweeteners such as high fructose corn syrup, so the delicious flavor of fresh fruit and quality spirits can shine through. You can also say goodbye to technicolor drinks: Tropics Mixology doesn't use artificial colors in their mixes, either.
Tropics Mixology cocktail mixes are free-flowing from the bottle and ready to serve with your choice of premium liquor. Your bartenders will love the versatility of these blends. Tropics Mixology's Golden Margarita Mix is the perfect choice to mix with tequila for a house margarita, but this blend can also be used with rum for daiquiris. Cocktail mixes are also ideal for serving as non-alcoholic drinks. Tropics Mixology's Pina Colada Mix and Spicy Bloody Mary Mix can both be poured as-is. These mocktails offer a special touch for underage diners, designated drivers, expectant mothers, and anyone else who wants a finely crafted beverage without the alcohol.
In addition to their pre-mixed recipes, you'll also find that Tropics Mixology drink mixes are valuable building blocks for your cocktail menu. You can use their standard mixes to add something extra to drinks, or branch out and create something new. With a full shelf of Grenadine Syrup Mix, Sweet & Sour Bar Mix, Sweetened Lime Juice, and Triple Sec Bar Mix by Tropics Mixology, you can recreate classic cocktails from around the world. These top-quality ingredients are also perfect to use in your unique house recipes, or simply to mix up something new for the customer who's not sure what they'd like.
Thanks to their focus on delicious natural ingredients, Tropics Mixology offers industry-leading taste and reliability. Get in touch to learn how you can transform your drinks menu with Tropics Mixology mixes. We love talking about bar mixes, so please reach out with all your questions!
Tropics Mixology Best Sellers
Tropics Mixology Categories