Louis Tellier Commercial Food Preparation Equipment & Tools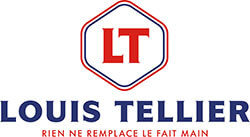 Tellier has been improving efficiency in the kitchen by letting their creativity bring forth innovation for over 70 years. The founder, Louis Tellier, created the world's first professional food mill in 1947 and quickly came up with the idea of starting his own business together with his son Jean. Tellier's background as a French Navy sailor during World War 1 had honed his mechanical skills, allowing him to create many designs to be used in the kitchen. In 1960, the company had its first worldwide success with the invention of their french fry cutter. Revealed at the Paris Fair, their device quickly went on to win a prize at the Stockholm International Design competition and helped further popularize one of our favorite potato side dishes.
As food hygiene became more and more important Tellier unveiled their next breakout success 16 years later with a stainless steel can opener that was easy to dismantle and clean. With this Tellier's device could avoid the contamination and food poisoning that could be caused by other professional can openers at the time. Over the years the company would continue to bring innovative devices to the kitchen and today Tellier continues to proudly showcase it's products at international tradeshows as they design products for both the home and professional kitchen.
Louis Tellier Best Sellers
Louis Tellier Categories