Tecnoeka Commercial Convection & Combi Ovens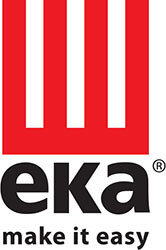 We pride ourselves on offering top-of-the-line commercial cooking equipment to help take your culinary creations to the next level. That's why we're thrilled to be an authorized seller of Tecnoeka, a premier manufacturer of high-quality commercial ovens.
Tecnoeka has been a leader in the foodservice industry for over three decades, with a reputation for innovative design, superior performance, and exceptional reliability. Their state-of-the-art Combi Ovens and Convection Ovens are the perfect addition to any professional kitchen, providing unparalleled versatility and precision to help you achieve consistently delicious results every time.
Their Combi Ovens combine the power of convection heating with steam cooking capabilities, allowing you to bake, roast, grill, steam, and more all in one compact unit. With precise temperature and humidity control, as well as programmable cooking modes and intuitive touchscreen interfaces, Tecnoeka's Combi Ovens make it easy to create a wide range of dishes with consistent, restaurant-quality results.
Their Convection Ovens, on the other hand, offer powerful, even heating for everything from baked goods to meats and vegetables. With durable construction, easy-to-use controls, and a range of sizes and capacities to choose from, Tecnoeka's Convection Ovens are an ideal choice for any commercial kitchen.
We understand that purchasing commercial equipment is a big investment, which is why we're committed to providing exceptional customer service and support every step of the way. Our team of experts is here to help you find the perfect Tecnoeka oven to fit your unique needs and budget, and to answer any questions you may have about installation, maintenance, or troubleshooting.
So whether you're running a busy restaurant, bakery, or catering operation, or simply looking to up your cooking game at home, Tecnoeka's Combi and Convection Ovens offer the performance, reliability, and versatility you need to create amazing dishes with ease. And with GoFoodservice as your trusted supplier, you can feel confident in your purchase and enjoy years of exceptional cooking experiences ahead.
Tecnoeka Best Sellers
Tecnoeka Categories