Slushee USA Slushy Mixes, Syrups, and Accessories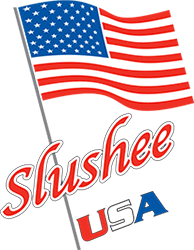 Ever since 1996, Slushee USA has been proudly serving mini-marts, gas stations, restaurants, concession stands, and many more businesses around the country with a wide selection of high-quality slushy mixes. With delicious and natural options, including 100% fruit juice mixes, customers are sure to find all of their favorite flavors at Slushee USA. For coffee and chocolate lovers, Slushee USA also offers an assortment of frozen or hot beverages, like cappuccino and hot chocolate mixes. With a variety of drink supplies, including paper cups and plastic lids, you can stay stocked up on all of your slushy needs and more with Slushee USA.
Our Slushee USA Products and Availability
GoFoodservice offers a large selection of Slushee USA products and equipment for a variety of hot and cold beverages. Our lineup of best-in-class Slushee USA products includes:
Slushee USA Bar Drink Mixes
Slushee USA Disposable Paper Cups
Slushee USA Disposable Plastic Cups
Slushee USA Cappuccino & Hot Chocolate Mixes
& more!
We carry an array of top-quality products from Slushee USA to meet your businesses' unique needs. If you have any questions about these products or their availability, please contact us.
GoFoodservice's Featured Slushee USA Products
Offer your customers the choice of frozen, fruity mixes or the comfort of hot chocolate or cappuccino with our selection of premium Slushee USA products. At GoFoodservice, we supply everything your business requires to serve delicious beverages, including 100% fruit juice drink mixes as well as serving cups. With Slushee USA mixes, you can take the labor and guesswork out of creating gourmet alcoholic or non-alcoholic beverages. Save time and streamline your workflow while guaranteeing the best-tasting drink menu your business has ever served!
More About Slushee USA – The Best Slushee Mixes and Machines
For more than 24 years, Slushee USA has provided frozen drink mixes to a wide range of business establishments, including convenience stores, bars, night clubs, restaurants, and schools. The company has managed to rise above the competition by offering premium quality products, such as 100% fruit juice mixes with no added sugar. By standing by their commitment to quality and taste, Slushee USA has been able to supply deliciously frozen and warm beverages, both to their community and to hospitality establishments nationwide.
If you're interested in learning more about how our Slushee USA products can fit your commercial kitchen operations, don't hesitate to contact us today.
Best Sellers By Slushee USA

1 Gallon Piña Colada Slushy Mix (4/case)

1 Gallon Variety Pack Slushy Mix, 100% Juice / No Added Sugar (4/case)

1 Gallon Mango Slushy Mix (4/case)

1 Gallon Pink Lemonade Slushy Mix (4/case)

1 Gallon Sour Green Apple Slushy Mix (4/case)

1 Gallon Strawberry Slushy Mix (4/case)

1 Gallon Lime Margarita Bar Mix (4/case)

1 Gallon Lemon Lime Slushy Mix (4/case)
Slushee USA Categories