Skyfood Commercial Food Equipment & Food Prep Tools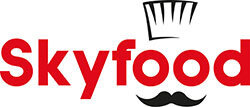 For the last decade, Skyfood has easily been one of the most reliable names in the food preparation industry. Few companies can be quite so extensive in their ability to meet operational standards, with all of their food preparation tools simply making your life much easier. Commercial kitchen work can take a lot of effort, and often can leave you quite uncomfortable due to the sheer number of tasks which require you to solve. If you want to make your life a bit easier, then you can turn to the hugely impressed Skyfood and pick up a modern standard of food prep equipment.
At GoFoodservice, we are proud to offer Skyfood equipment because, to us, they are the embodiment of quality and consistency within the industry. From their meat grinders and choppers to their new commercial blenders, they make the side of food preparation that so many struggle with a lot easier to work through. They also make life much easier when it comes to the presentation of your food, too. With their easy to use commercial milkshake machines as well as their outstanding full service heated display warmers, Skyfood make it nice and easy for you to keep the place looking good and to ensure that your food flies out the door.
Attract More Customers with Skyfood Food Prep Equipment
Few companies are quite so reliable when it comes to creating a quality food presentation process as Skyfood. As they help you to make a huge impact on the quality of your food, they also help you to rip through the challenging tasks that wait for you, such as getting your food ready to be enjoyed. From making meat easier to prepare through helping you sheet, divide and/or round your dough without anything like the effort needed manually, Skyfood makes many tasks within the kitchen a whole lot less challenging.
They also sell very important equipment for quality care, such as bone saws and commercial peelers. This helps you to get the preparation right so that no skin or bone manages to linger in a meal, which could really help to make sure a good meal turns into a great one for the customer. So, for more help in picking up the highest standard of food preparation, be sure to take a closer look at what Skyfood has to offer. Not sure what you need? Let us know: we would be more than happy to assist.
Skyfood Best Sellers






Skyfood PA-141
Freestanding Cheese Shredder / Slicer, Electric, 880 Lbs/Hr
Skyfood Categories